Hi guys!  Greetings from crazy town.  So many things to do, so little time to do them.  And since I know you're in the same boat, we'll make this quick.  And snazzy.  Yeah?  Ok cool.
So I'll be on FOX Good Day Charlotte again tomorrow morning talking about fun barware for gifts and entertaining this holiday season, plus a couple familiar wines 😉  It's the 7-9 am show and my segment should be airing around 8:15 a.m., so set those DVR's now to record the show!
The two wines I'm bringing back are the top two fan favorites from the little wine tour I've been on… The Barone Fini Pinot Grigio and the Josh Cellars North Coast Reserve Cabernet Sauvignon.  You can find info on the Barone Fini from my previous post on summer wines under $15 HERE.  Remember… it's the one that beat out the $30+ Santa Margherita Pinot in a taste test… and it's only $12.  So good, so perfect for entertaining!
And the Josh Cellars Reserve was featured on my Fall wines post HERE.  Check that out for more info.  It's a really lovely wine… especially for this time of year.  Be sure to check those links to my previous posts to read more about them and find the links to purchase online!!
The barware I'll be featuring are really good for gifts for anyone who's just starting to get into entertaining or building a home bar… maybe someone who's just moved into a new place?  They're all really pretty and cool and lots of fun.
There's a cocktail mixing kit by Rabbit.  And it's honestly a fantastic version of what a lot of companies try to do.  When I first started out building my home bar and was learning how to make drinks and entertain, etc… I went out and blindly bought the things I thought I needed… and ended up wasting a lot of money.  Most of the kits out there include a bunch of nonsense garbage.  But this makes sense to me.  It's specifically geared for the cocktails we stir and not shake, so it's very classic in that way.  You get a glass beaker, a metal stirrer, a metal strainer, and 4 measurement/recipe sticks.
Let me explain the sticks… you place one into the beaker and it has the measurements all lined out for you as to where you stop pouring your liquids.  And three of the sticks have built-in / written out recipes for classic cocktails.  It's a really smart way to do it.  One side of each recipe/measuring stick gives you measurements for 1 cocktail, and the reverse side is for 2.  So fun.
Below is a picture and link to purchase it on Amazon now… just in time for Christmas. wink wink.
Next are these white, melamine coasters by RBT.  They come with a gold stand for pretty storage, so they can work with most decors.  I like that there's a non-slide pad on the bottom of each.  That may be my favorite part only because we know how much Abbey spills things.  They're just really classy, pretty and practical coasters.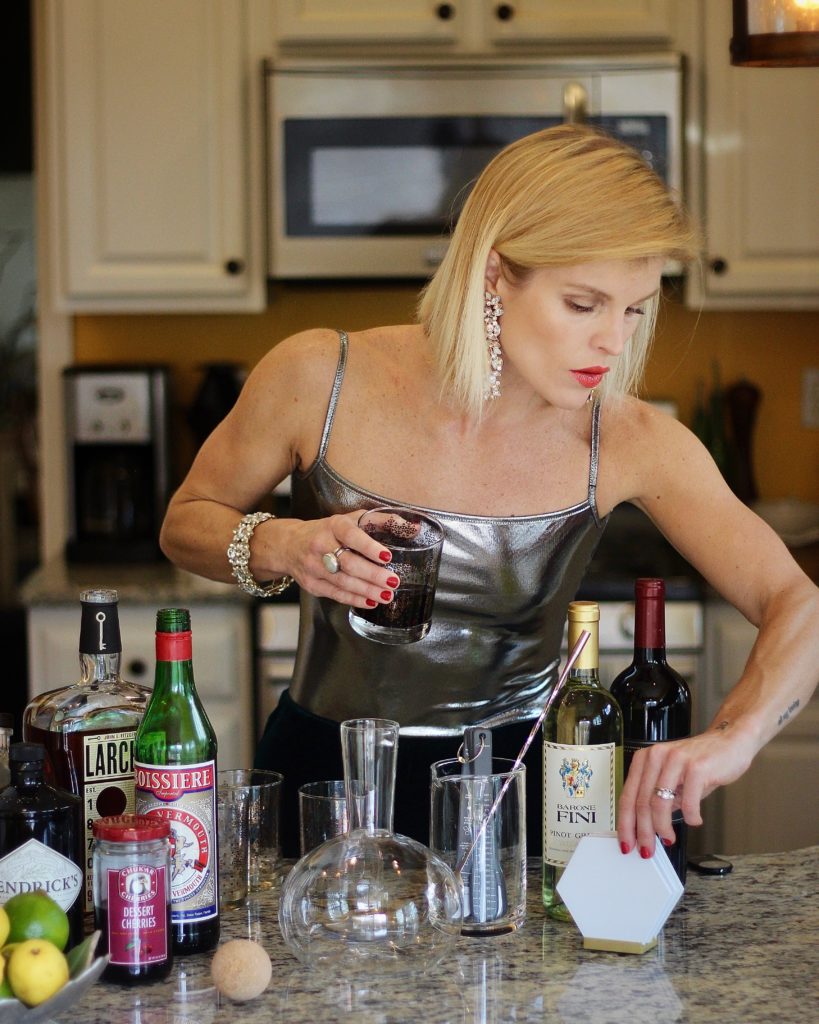 Check them out below and click to buy!
The last bit of barware I'm showing tomorrow on FOX Good Day Charlotte is a gorgeous glass decanter by MAKO.  It's one of the best I've seen out there, to be honest.  Its shape is beautiful and also practical.
Real quickly, I'll explain why we decant… Wine, once opened, needs to breathe… and breathing happens when air comes in full contact with the wine.  See, that wine has been trapped inside that tight bottle for who knows how long, and it's unfair to expect it to perform to its full potential without letting it stretch first.  So the minute you pour your wine from its bottle into the decanter, you're already doing it some good.  Just the air it's getting in that pour alone is giving that wine LIFE, y'all.  Then letting it sit in the open decanter, as opposed to letting it 'breathe' in the bottle for even 20 minutes before sipping, makes the hugest difference.
I also secretly plan on using this as a flower vase as soon as my my wine doesn't need it.
We'll see how that goes.
They don't sell this one on Amazon currently, but here's a link to purchasing it directly from MAKO's website.
Purchase MAKO glass wine decanter here.
And that's it!  That's all the cool stuff you'll see my share tomorrow live on FOX Good Day Charlotte from 7-9 a.m. (I'll be on around 8:15).
Next post I plan to share some of our house's recipes for some of those classic cocktails you'll be using with your new, fun barware.  Stay tuned 😉
Hope ya'll are having a great December… please remember to stop, breathe and enjoy it.  It's the most magical time of year and it'll be gone before we know it.
xo