A popsicle post in September?  Wha?!?  I know, I know, it may seem odd.  Buuuut…. let's face it- September is still pretty hot and sunny.  At least where I am.  (And also LA is a damn hot mess right now…totally still summery over there.)  And really… September is still summer, Labor Day or not.  As much as I'd like to think it's not… it just is.  My birthday is in September and Fall is my favorite time of year, so once September 1st rolls around, I go right for the sweater and boots and start thinking Pumpkin, and then step outside and realize I'm an idiot.  A hot, sweaty idiot.
September is just another August, but with a better publicist.
Plus, my good friends at Thermador asked for a popsicle recipe, and I'm very good to my friends.  So, what I have for you is something I've posted before but deserved a re-post, re-vamp, and re-shoot.  It's a healthy Fudgesicle.  Or Pudding Pop.  Or whatever you choose to call those frozen, creamy chocolate treats we ate as kids.  And these are actually vegan… and honestly… they taste just like a 'normal' chocolate treat.
No. Better.  No joke.  I ain't vegan.  Nor is my family.  But we (young kids included) LOVE them.  Now, if that isn't the best testament, then I don't know what is.
These suckers could pass as a meal.  That's how much good for you and satisfying stuff is inside them.  And I don't know about you, but I'll happily accept the idea of eating a chocolate popsicle for a meal any day.  Any time of year.
So, whether or not you follow a vegan lifestyle, whether it's fake summer or real summer, and whether you're in a sweater and boots, or shorts and a tank… or both, just make these.
I promise you'll enjoy them.
Unless you drop them.  In which case, I cannot help you.
…
( H E A L T H Y . V E G A N  )   C H O C O L A T E   P U D D I N G  P O P S 
In a blender, combine the following…
1 cup raw, unsalted cashews (doesn't matter if they're whole or in pieces)
the top cream from 1 (~14 oz) can full fat coconut milk, roughly 1- 1 1/2 cups total (reserve the coconut water (what's at the bottom of the can after you scoop out the thick, white cream) and see the tip at end of the post for what to do with it!)
1/4 cup + 1 TB agave nectar
1/2 cup cocoa powder (unsweetened)
a couple splashes vanilla extract
pinch kosher salt
Blend until completely smooth.  This may take a bit, and a lot of stops to scrape the sides, but it will come together- I assure you.
Once it's completely smooth, no lumps whatsoever, pour into large popsicle molds.
If you don't have popsicle molds, you can use small, disposable cups, covered with tin-foil and stabbed with popsicle sticks.  I'm able to get 4 of this size with a little leftover for either a 'cup popsicle' or a small serving of actual chocolate pudding 😉
Freeze for at least 8 hours.
When you're ready to remove them, place the entire mold into a bowl of hot water and then slowly pull the tops out while squeezing from the bottom of the molds until they come out.
(And I prefer to remove them all at once, then wrap in plastic wrap to be put back in the freezer to save from having to go through the mini thawing process all over again.)
Then comes the best part… take a bite of your sweet treat and enjoy every moment… knowing that you're eating a whole lot of yummy goodness.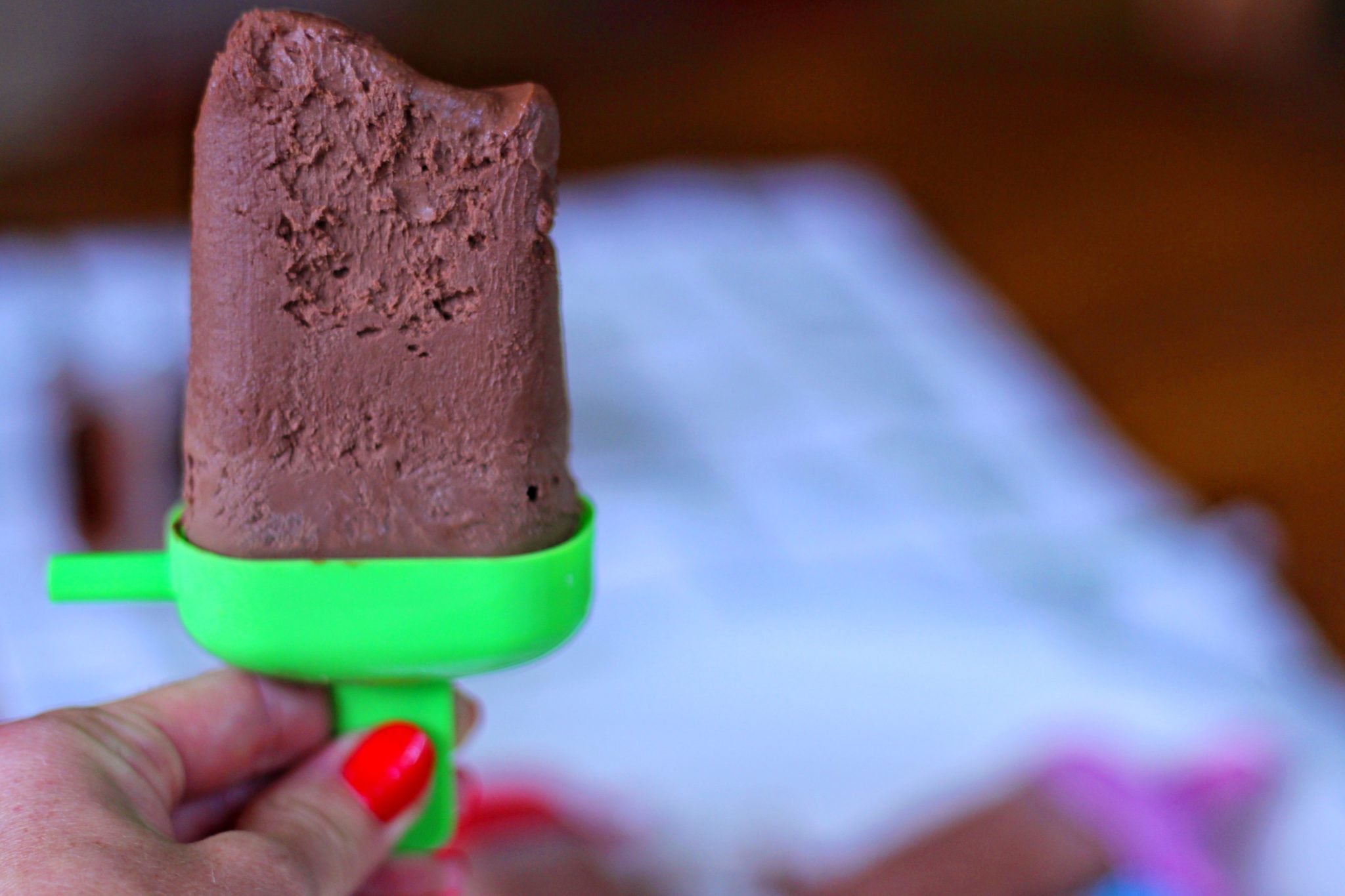 Or be supremely generous and share it with those you love the most…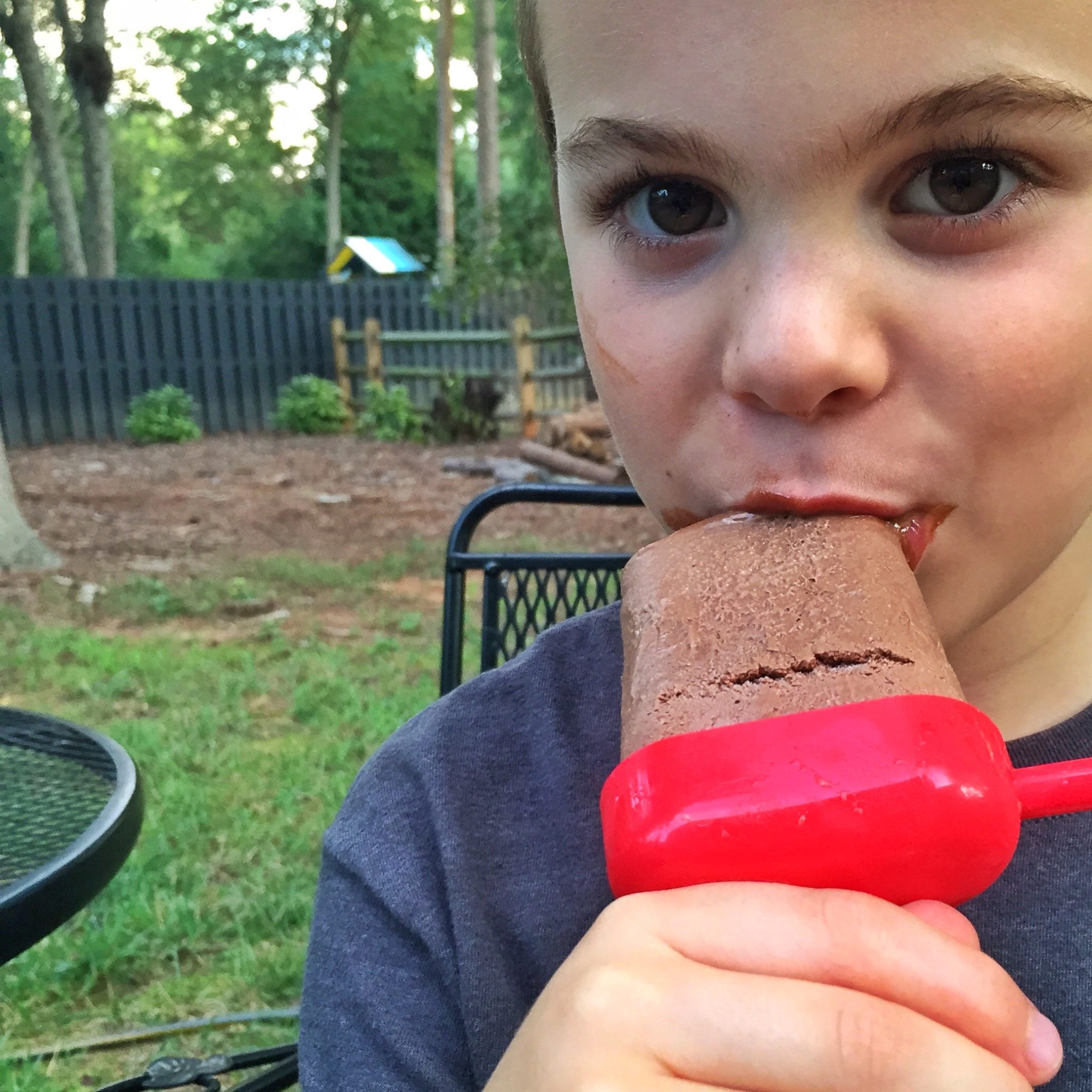 …
For a delicious use-up for that reserved coconut water, make my Coconut Cake Scones.
They.  Are.  Amazing.  FO REALZZZ.
XOXO, Abbey