This is my version of the classic pot roast. Many of you have your own ideas of how pot roast should be made, and some of you may disagree with my version, but this is my very own recipe that I have been working on for a couple of years now. There are quite a few steps involved, but the majority of time spent on this dish is done without you having to be involved, so I feel the extra steps I take are completely necessary and well worth it in the end.
I serve my pot roast over grits flavored with sour cream, which is pretty unusual, but once you try it once, I assure you, you will never go back. The tangy, richness of the sour cream grits is the perfect match to the slow-cooked, buttery roast. And by taking the time to reduce your cooking liquid to a thick sauce makes all the difference in the world. Plus, the addition of fresh parsley leaves and lemon zest at the end help brighten the entire plate.
This, in my humble opinion, is the perfect pot roast…and the perfect meal to have on the coldest of nights.
*Abbey's Perfect, yet Humble, Pot Roast 
(makes 4-6 servings)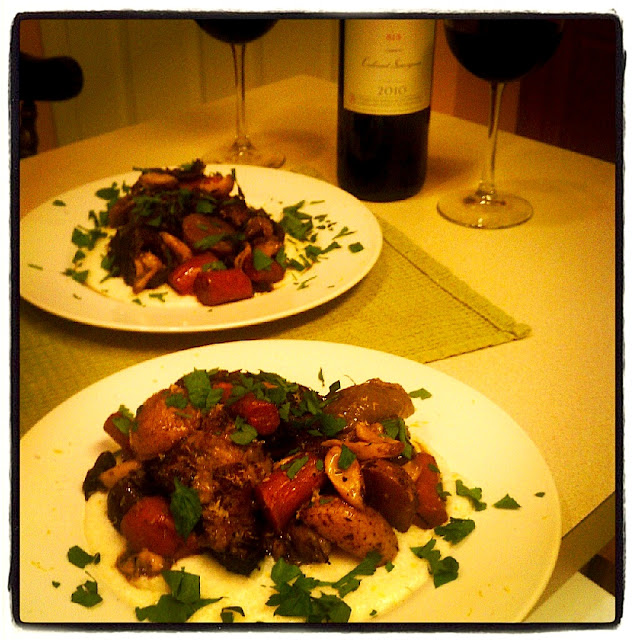 -Trim any large chunks of fat off of a 2-3 lb. chuck roast.
-Season the meat on all sides heavily with kosher salt, freshly cracked black pepper, dried thyme and rosemary. Allow this to sit, covered, in the refrigerator for 3-4 hours.
-When ready to start cooking, take out your meat and bring it up to room temperature while you preheat your oven to 250 and do the following…
-Heat a cast-iron or heavy bottomed dutch oven on high heat with some olive oil.
-Peel 3 parsnips and 4 carrots, cut them into very large chunks (about 4 inches long and thick), wash and trim 2 stalks of celery and slice into equally large chunks. Wash and cut 3 medium yukon gold potatoes into equal sized pieces. Peel and cut 1 large onion into large wedges and peel the cloves off of 1 head of garlic. Set all the veggies aside while you start your meat…
-When your dutch oven is very, very hot carefully sear your meat on all sides until dark brown and crispy, about 2 minutes one each side. Remove and set aside.
-Turn your burner down to medium and add your veggies, toss to give them all a chance to brown a bit, season them with some kosher salt and cracked black pepper.
-Add 1 TB of unsalted butter and toss to coat.
-Add 3 TB of flour and toss to coat.
-Once the butter and flour have coated every veggie and the pot is dry, add in 1/2 a bottle of dry, red wine and stir from the bottom to release all the bits that were stuck on the bottom of the pot.
-Once the wine has started to bubble, add in 1 can of beef broth, 2 beef bouillon cubes and 2 bay leaves.
-Carefully nestle your beef back into the pot, working it towards the bottom and bringing the veggies towards the top. Your liquid will not cover everything, it should only come up to around the halfway mark.
-Allow the liquid to come to a bubble and then turn your burner off, cover your pot with the lid and place in the preheated oven to cook for 4 hours (3 would be fine, but not as good as 4).
-After 4 hours, remove your pot from the oven and turn your oven off. Remove all your veggies and your meat and set aside, leaving only the liquid in the pot.
-Turn your burner on high and allow this liquid to reduce by 3/4, or until it becomes a thick, velvetty sauce. While you're doing this make your grits…
-Bring 3 cups of water to a boil, season well with kosher salt.
-Whisk in 3/4 cups of quick grits, continuing to whisk as the mixture comes up to a bubble.
-Keep whisking until your grits absorb the water and start to thicken.
-Turn your heat down to low and allow the grits to finish thickening completely.
-When both your grits and your sauce are finished, turn both burners off.
-Add 1 cup sour cream to your grits and stir to combine.
-Plate your pot roast by spooning some grits at the bottom of a shallow bowl, then arranging some meat and veggies on top of that and then pouring your sauce around the edges of the bowl onto the grits.
-Garnish each plate with fresh parsley leaves, lemon zest and if you have some, a flakey finishing salt such as Maldon Sea Salt.