Oh man, there are too many things to write about now and I just don't think I have the energy to make them sound poetic.  I hope you don't mind.  I have deadlines to meet for The Daily Meal, who is responsible for giving me the opportunity to go to Napa/Sonoma and writing about it.  So you can blame them for taking all of my poetry.  Once those stories get published, I will surely figure out how to make them available for everyone to see.  But I couldn't stop myself from sharing some of the experiences I had on the trip.
It was one of the most magnificent things I have ever gotten to do and I'm still trying to process it all.  First of all, I stayed at Meadowood, in Napa.  And let me give it you straight, no BS, this place had it figured out.  It was insane!!  Hands down, the absolute best 'hotel' I have ever been in.  And when I say 'hotel' I use it loosely because really, I was in my own little cottage, surrounded by others in their own little cottages.  Everything from the wood burning fireplaces, the shortbread on the bed at turn-down to the fancy espresso machines and fully equipped wet bar, this place was unbelievable.  I had a terrace, with nothing but trees in the view, the gym was without walls, the flatscreen TV's looked awesome, although I never turned them on… Incredible. I WILL be returning there one day.  And my husband is expecting it.
I met some amazing people, saw some amazing things and you all know very well how I can rattle on and on about something so I'm gonna force myself to keep this short.  My pieces for The Daily Meal are required to be under 500 words, which is next to impossible for me…but I'm trying my hardest!
My Daily Meal pieces will feature most of my landscape photos but here are the few that I have with me in them that have no other place to go…I still feel like I need to look at them to fully grasp the concept that I was actually there.  (Not pictured are any photos taken of me at Frank Family Vineyards and Inman Family Wines.  I have some, just not of me.  You'll get more info on both of those fantastic visits when my stories get published.)
Enjoy!
(Oh, and no recipe this week..my oven's been broken since I returned home so I've been doing a lot of microwave and crock pot cooking…(wah, wah).  The bright side is that my husband installed a brand new microwave while I was gone, which is awesome and completely ironic.  Who knows, maybe something amazing will come out of it and I can share it with you later!)
On the Cain Vineyards property, surrounded by the wild oats that feed the many deer that live on the land.  One of the coolest things I experienced on this visit (apart from actually seeing wild deer eating the oats) was getting to be here, where Cain grows their grapes and smelling the strong wild oat smell that was also later present in the wines we drank at their dinner.  Unbelievable.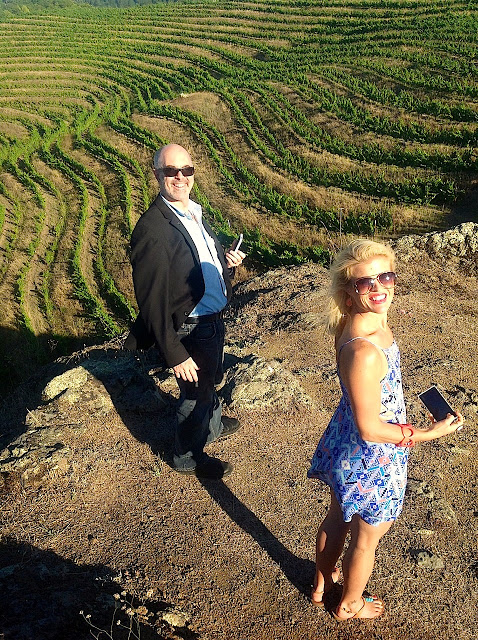 With a new friend, Gil Kullers (of Wine Kulers) on top of the famous Cain Rock.  We were two of only three of us who dared to climb it!  It was gorgeous up there.
…and then we had to get down.  (This is me with friend and fellow Rock Warrior Princess, Katherine Jarvis of Jarvis Communications.)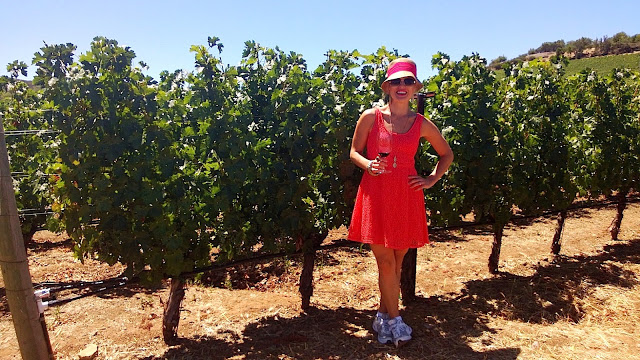 We were instructed beforehand that on this particular day (at Colgin Cellars), we would be 'hiking throughout the vineyards…so be sure to bring appropriate shoes, hat and sunscreen…' So…I did.  And then we just stood there for 5 minutes.  This is my Melanie Griffith 'Working Girl' moment with the tennis shoes and dress.  I climbed a damn giant rock the day before in sandals, I think I can handle a little dust on my toes.  But I had to capture my ridiculous outfit, at the most exclusive and fancy wineries we visited.
Shadow Selfie.
At Sequoia Grove, holding a double magnum of their Cambium.  That thing is three times as heavy as it looks.  I seriously wasn't as nervous holding my newborn children as I was with this bottle.
One of the many, many cool things about Three Sticks Winery in Sonoma is that they use a wooden barrel, cut in half, filled with wood chips for their 'spit bucket'.  They do everything in the most efficient and natural way possible there and it was so much fun every time I got to spit in that thing!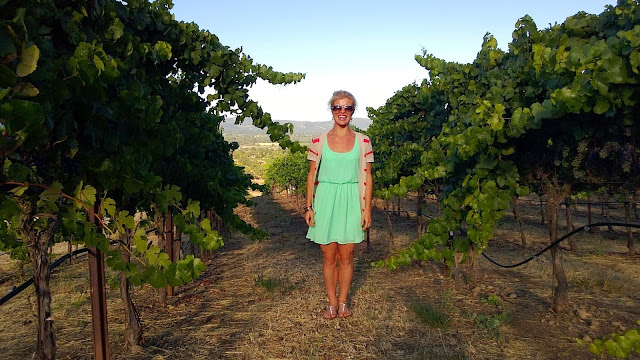 In between the vines at Durell Vineyards, where Three Sticks Winery grows many of their grapes.  The scene here at Durell was one of the most spectacularly beautiful things I've ever seen.
Inspecting the grapes at Durell Vineyards, they were the first ones we saw with color.  So beautiful.
And deliciously tart and sweet!!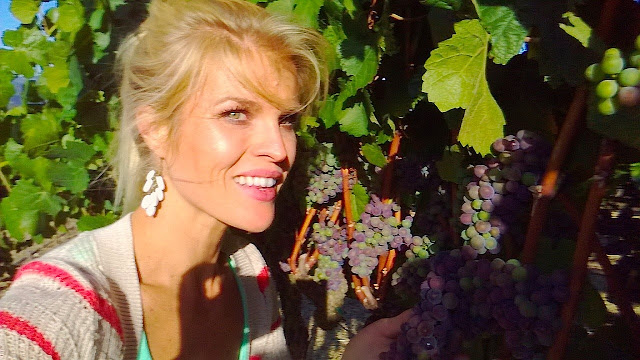 Happiness.