Years ago when my husband and I were living in Wrightsville Beach, saving up for our big move to LA, we ate quite a bit differently than we do now. This was back in the middle of the low-carb phase and since we were Hollywood-bound, we kinda ate like birds…or tried to. You see, eating like a bird is really hard to do when you drink like a fish. We would eat our grilled chicken or tuna with steamed vegetables, polish off our bottle of wine and find our stomachs carrying on a conversation. But we just couldn't bring ourselves to eat a little bit more normal food…that would be like cheating. So we kept sugar-free, instant chocolate pudding in the house, would make it with fat-free milk, then eat the whole bowl. Somehow we felt like this was the best option. This was also before we knew anything about food so it never occurred to us that there were, in fact, a lot of carbs in that sugar-free, instant chocolate pudding…considering it's made with cornstarch.
I have actually never made my own pudding until today. Just like with the marshmallows, I never felt the urge to make something that I could just keep in my pantry. But I am very glad that I did, because it was so incredibly easy, and I changed a couple things to make it even easier. I omitted the eggs and butter that you normally find in homemade, stove-top puddings just to lighten it up a bit (you won't miss it, don't worry). So I increased the cornstarch to compensate.
If you wanted to make vanilla pudding, just ignore the chocolate and keep everything else the same. If you want to make butterscotch pudding, just use brown sugar instead of the white and maybe add a bit more of it. Soy, rice or almond milk are also completely fine to substitute for the cows milk and would help make a great vegan pudding considering there are no eggs in this recipe. (Just to show you how pregnant my brain is, I almost called this Vegan Chocolate Pudding because I omitted the eggs. Then I realized the bulk of the recipe is milk.)
My husband and I are over our 'sugar-free' phase, (thank God), but something drew me to the kitchen today to try my hand at some homemade chocolate pudding, for old-time's sake…except this time there's sugar involved, I've had nothing but carbs all day and we are (thankfully) far, far away from our little apartment in West Hollywood.
*Egg-less Chocolate Pudding or Chocolate Blancmange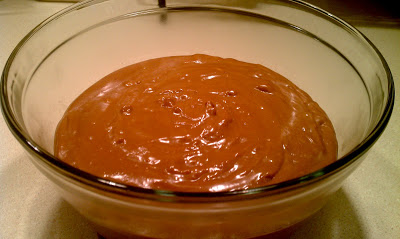 (I realize I could have done a lot better with this photo…like maybe take the picture when it was in an individual serving dish with a dollop of whipped cream and a sprig of mint but frankly, I'm very pregnant and really didn't care all that much. Hopefully this disclaimer will allow you to forgive me)
-In a medium saucepan, combine 1/3 cup sugar, 5 TB of cornstarch and a good pinch of kosher salt, set aside.
-In a microwave safe bowl, heat 2 1/2 cups of milk, half-and-half, or a combination of the two until hot but not boiling.
-Turn your burner on medium heat and place your saucepan over the flame. Slowly whisk the hot milk into the cornstarch mixture, being sure to not cause any lumps to form. Keep whisking this until it starts to thicken, which takes about 1 minute. Once you see it begin to thicken, turn your heat on low and switch to a spatula. Continue to stir on low heat for 10 minutes.

-While your pudding is thickening, heat 2 ounces of semi-sweet chocolate chips on high in a small microwave-safe bowl, for 30-40 seconds. You're not looking to melt this completely, just glisten it up a bit so that its soft enough to stir into your pudding.
-Stir this softened chocolate into your pudding along with a good splash of vanilla extract.

-When everything is well combined and shiny, pour your pudding into a glass bowl and cover with plastic wrap so that the plastic is completely covering and touching the top of your pudding to prevent a 'skin' from forming.
-Serve chilled and consume within a couple of days if you can.