I'm not vegan.  I'm not even vegetarian.  But I do love everything about food and I love experimenting with new ways to use food.  One of my clients turned vegan for a hot minute and so I had to learn very quickly how to cook my food vegan-style if I wanted to keep them.  And it turns out, it's pretty easy to do…as long as you know a few tricks.
Cashew cream is one of those tricks.  It's so easy to make, absolutely delicious and I highly recommend you giving it a try.  It's a replacement for heavy cream to be used in sauces, in desserts (like my Raw and Vegan Pumpkin Pie) or any other place you would use heavy cream or milk. There's my recipe for it at the bottom of the page and since you all know how much I love 'real' food, the fact that I was licking my immersion blender should let you know how good it is.
Nutritional Yeast Flakes are another trick to make vegan food taste yummy.  Nutritional yeast flakes are deactivated yeast in flake form (or sometimes powdered) and they're found in most health food stores.  It has an almost nutty and deep cheesy flavor to it.  It's wild!  It's loaded with B vitamins and protein so not only does it impart such depth of flavor, it's also good for you.  I use it in chicken soup, various sauces, scrambled eggs and I now make my mashed sweet potatoes with only yeast flakes and salt.  It's delicious.
So these days I use both of those vegan food tricks, among others, to make my non-vegan food healthier and taste better.  Actually, this week I'm doing somewhat of a cleanse.  I'm off dairy and wheat for various reasons (more about that another time), just temporarily, so I took that as an opportunity to create something for those people who can't eat either dairy, wheat, or even meat…but also for those of us who like anything and everything.  So using both of those tricks I decided to make a pasta dish that is both wheat free and dairy free and could be as vegan as you want it to be.
I could not stop licking the wooden spoon as I was making the sauce.  Trust me, coming from a dairy and wheat loving woman, that's a big deal.
Enjoy!!
*Quinoa Pasta with Wild Mushroom–Cashew Cream Sauce
(serves 4)
(Elbow macaroni is not my preferred pasta shape for this dish, as it looks a bit like Goulash but..it was all my store had!)
Bring a large pot of water to a boil, then salt it heavily.  While it's coming to a boil, start your sauce…
In a large pan saute 1 small onion, minced, in some olive oil until softened.  Season with kosher salt.
Remove the stems from 3.5 ounces of shiitake mushrooms and place in a small stockpot covered in 3/4-1 cup of water.  Bring the water to a boil and then allow the stems to soak, in the hot water for the duration of the sauce-making to create a mushroom stock.
Roughly chop the tops of the shiitakes along with 8 ounces of cremini mushrooms.
Add them to the pan with the onions.  Toss well and allow the mushrooms to brown.  Season with fresh cracked black pepper, about 1 tsp of both dried thyme and sage (or a small handful of fresh) and 2 bay leaves.  (No salt yet.  If you salt mushrooms before they brown, the salt will pull out their moisture and you will never achieve the desired texture and color.)
Add in 5 cloves of garlic, minced.  Toss well.
Once the mushrooms have browned, season well with kosher salt.
Now is a good time to drop your pasta.  Add 8 ounces of quinoa macaroni to the salted, boiling water.  Stir well and boil for 5-6 minutes while you finish your sauce.  Reserve up to 2 cups of your pasta liquid before draining, unless you time it perfectly to go from al dente in the water to the sauce pan.
I used Ancient Harvest Elbows.  This brand is made of quinoa and corn.  It tastes more like corn than quinoa, is a bright yellow color and is very tasty as a white pasta replacement.  Just don't overcook it!!!
De-glaze the pan with a couple splashes of brandy (a sherry or even marsala would also work, it would just change the flavor).  Scrape up the brown bits from the bottom of the pan with a wooden spoon and after about a minute, pour in about 1 cup of dry, red wine.
Allow this to bubble and add in 3 small bouillon cubes.  (If you're vegan, use either onion or vegetable bouillon, but if you eat meat, I recommend beef, which is what I used.)
Pour in your mushroom stock, leaving the stems and any grit at the bottom of the pot.
After the wine has bubbled for roughly a minute or so, add in about 1/2 cup of cashew cream**, or as much as you would like to get the color and texture you prefer.
Stir in 1/4 cup of nutritional yeast flakes.
Check your seasoning.
Add your pasta and toss well to coat.  Add pasta water if necessary to get to the right consistency.
Garnish with fresh parsley leaves and a few gratings of fresh nutmeg.
**Cashew Cream
(makes roughly 1 cup of 'cream'.  Store the leftovers, covered, in the fridge for several days…or just half the recipe.)
In a small bowl cover 1 cup of RAW cashews with boiled, hot water.  Allow this to sit for anywhere from 4-8 hours.  You could use cold water if you know you have the time to soak them for 8+ hours, but using the hot water speeds up the softening process.
Once the cashews have softened and often the water has turned purple, you're ready to puree.
Using either an immersion blender, standard blender or food processor puree the cashews with their liquid until smooth and creamy.  (It may be best to start off with just some of the liquid and slowly add it to achieve the correct consistency in case you added too much water in the first place.)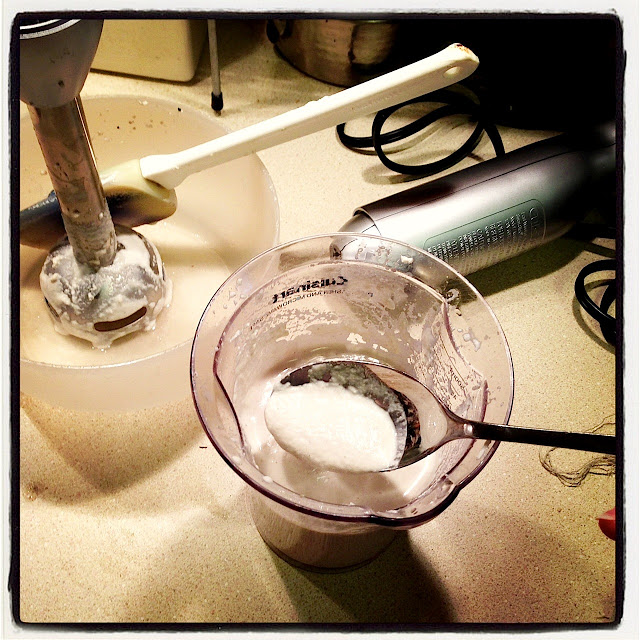 (note-I speak a lot of make-ahead meals and do it very often at home for my family.  This is not one of those meals.  This quinoa-corn pasta turns stale very quickly if you cook it ahead of time, and the sauce seizes up if made ahead because of the cashews.  You can fix the sauce by adding more reserved pasta water, but you cannot fix stale pasta.)