In case you've missed my mother screaming this from the roof tops, I'm pregnant again for the second (and final) time! I know this has come to a great shock to anyone who knows my husband and me because we have been saying for years how comfortable we are with our little family of three. Our son is just over 2 1/2 years old and things just kept getting more and more comfortable as the months passed us by. But then one night a couple of months back my husband went and turned on me and said that he thought we should try for another baby. Now, that was one heck of a shock… seeing as how the first time around I was the one begging him for a baby. We were flat broke then, living in Wrightsville Beach in a house that wasn't our own and I so desperately wanted a baby. I had dreamed of being a mom before it was politically correct to do so and the timing had never been right. Things like school, restaurant jobs, Hollywood, and more restaurant jobs kept getting in the way. But this time, back in Wrightsville Beach the timing was still wrong, only I felt deep down that it was perfectly right.
I finally got my son and had to fight my tush off to keep him. He had a rough start into this world, he was 3 weeks early and had to be rushed to a bigger and better hospital so they could 'fix' him. He stayed in the NICU for just under 2 weeks and when I got him home I think I just held on so tight for dear life and never let go. I think a part of me has been terrified to start all over again. What if there's something wrong with me? What if this next baby has a hard time too? What if I do something wrong, eat the wrong thing, run too fast or walk too little? Then I hear my yogic mother's voice and she says,
'Don't put that out there, honey. Don't think about all the bad things that could happen, create your own positive path in your mind and it will happen.'
So I look at our son now and he is healthy and strong and that's what is getting me through this next pregnancy…just knowing that he went through hell but he's the best thing this earth has ever seen.
So here I am now, years later and 9 weeks pregnant with our second child and, to quote the great Dolly Parton, I'm so confused and tired lately I don't know whether to scratch my watch or wind my butt. I'm sleeping all the time- yesterday I took a 3 hour nap, the day before I took 2 naps… the first one at 8 a.m.! I'm nauseous, lightheaded and dizzy, head-achey, back-achey, groggy and bloated. The first trimester is the hardest…it's when most of us forget why we wanted to get ourselves in this mess in the first place. There's no physical sign of a baby yet, we just feel fat and gross. Then we go to the doctor for the first time and see that blurry black and white picture and hear that odd sound that can only be described as a cheetah under water and everything changes. We remember that we're giving life to the purest and most innocent being. Watching my son's face as he heard the heartbeat was indescribable. He just got very quiet and still. It's like he remembered that sound and he began to understand what was really going on with mommy. And after we got home, he carried around that blurry, black and white ultrasound picture all day and would bring it up to me or my husband and say,
'Remember this Mommy Dad
dy? This is a ba
by in m
y tuppy.'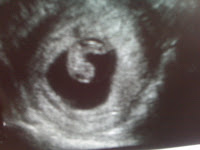 Needless to say, it has been extremely difficult to cook for my family lately. My husband hates pickles and that's all I want. I can eat white potatoes, white chicken (as long as there's dijon mustard on it), anything pickled, cereal with soy milk, yogurt, bagels, iceburg lettuce and my sourdough bread. That's pretty much it. My husband makes peanut butter oatmeal for breakfast and on several occasions I've had to ask him to take his bowl and shove it somewhere. He cooked bacon once and I almost killed him. But it's really important to me that my family eats healthy and well-balanced food. So I've had to be a little creative with everything I've prepared to make us all very happy. (I learned last night that pickle juice and mustard make a delicious marinade for chicken breasts…shh, don't tell the hubby).
I know I need to eat fish for this fetus to be brilliant so tonight we're eating tilapia. The only thing that sounded good to me was making it Picatta-style because of all the tangy ingredients it has in it, (just thinking about capers makes me want to do a little dance). Tilapia Picatta is delicious and I've done it a lot but tonight I wanted something I could just throw in the oven and not have to babysit. Here's what I came up with…and believe me if I could have found a way to put pickles in here I would have.

*Tilapia Kinda Pi
catta
(this picture was taken before baking…I would have taken another one after it was done but frankly, I didn't want to get back up again.)
-Rub your skinless tilapia fillets all over with dijon mustard and season with kosher salt.
-Place the fillets in a single layer in a greased baking dish.
-Thinly slice some onion and lay over the fish.
-Thinly slice some lemon and arrange over the fish.
-Add several spoonfuls of capers to the dish, sprinkling them evenly around…some of the liquid can be added too.
-Pour about 1/4 cup each of white wine and chicken stock into the dish, or just enough to put a thin layer on the bottom.
-Place the dish into a preheated 450* oven and bake until the fish is opaque and the juices are bubbly, about 15-20 minutes.
-Carefully remove your fillets and top with the sauce.
-Garnish with fresh parsley and serve with a starch.