These are probably my husband's and my favorite hors' d'oeuvres. I learned how to make them after working with celebrity chef, Suzanne Goin, when I lived in Los Angeles. She used Parmigiano Reggiano cheese instead of the Asiago, but I usually can't afford it. I find that Asiago or Pecorino are fine substitutes. They were such a big hit at her restaurant, A.O.C., that whoever was manning the wood burning oven that night couldn't keep up with the orders. The whole place smelled like them. In fact, all of West Third Avenue smelled like them. They're delicious and a perfect thing to serve at cocktail parties (if you don't mind the prep work), but you could also incorporate them into your meal like we did tonight…
We served ours in a dinner salad of crispy Romaine lettuce, Bartlett pears and Gorgonzola cheese dressed in a lemon vinaigrette*. It was amazing.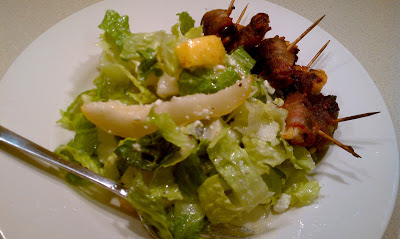 Here's how to make them-
*Bacon Wrapped Dates Stuffed with Asiago
-You will need 1/3 of a slice of standard bacon, 1/2 a slice if you're using center cut bacon, for each date.
-Remove the pits from your desired amount of dates by cutting a slit into the middle of it, (I like the Deglet Noor variety but have used Medjool in the past…those are a lot bigger though, and the flavor ratio ends up being a big scewed).
-Cut a brick of Asiago cheese into pieces small enough to fit inside the dates.
-Stuff each date with a piece of cheese and mold the date around to cover the cheese.
-Wrap with a piece of bacon and secure with a toothpick.
-Place on a baking sheet or cast iron skillet and bake at 450* for about 30 minutes, or until the bacon has rendered its fat and has become crispy on all sides. I usually flip them half way into the cooking time.
-Allow to cool slightly before eating.
(*Lemon Vinaigrette–1 lemon juiced, pinch of salt and pepper, 1 TB or more of sugar and enough extra virgin olive oil whisked in to thicken.)
(By using these TIPS, tonight's dinner total was $4 for the two of us.)