Hushpuppies, if you've never lived in the South, are deep fried, dumpling-like cornmeal balls.  They date all the way back to the Civil War when soldiers would make them and eat them as snacks because corn was so accessible.  But they got their name because they would also throw some out to the dogs to get them to stop barking or howling…'Hush, Puppies!'
I love a good Hushpuppy.  Where I was raised, if you're at a seafood restaurant on the coast of North Carolina, you get a basket of them with every order.  It's kinda like the bread basket at your run of the mill Italian restaurant.  Most of the time they come from a bag in the freezer, looking like chubby man fingers, and tasting like stale corndogs without the dogs, but occasionally you'll go to a place that makes them in house.  Big, round, golf ball sized nuggets of corny goodness.  And when they come out to your table, glistening with North Carolina's finest fry grease, you know you're in for a treat.  I like my hushpuppies a little sweet, flavored with onions and with bits of corn inside.  But then again, I'm not that good at being a traditional Southern gal.  I even like my cornbread sweet. (Wait, did you hear that?  That's the sound of my great grandmother rolling over.)
We don't really go out to eat a lot these days, and we don't live on the coast anymore, so when I want a hushpuppy, I gotta make 'em.  But here's the thing.  I don't fry.  I could.  I know how.  But I don't.  I'll eat a fried thing once in a blue moon, feel horrible and sluggish, then remember that I don't eat like that.  When I cook at home for my family I try to make things as healthy as possible, without being
diet
.  So when I want something like
French Fries or Potato Chips
,
Coconut Shrimp,
Eggplant Parm
or these Hushpuppies, I find a way to bake them and make them taste better than when their flavors are masked in grease.
And these Puppies are delicious!  I have tried for years to get the baked Hushpuppy recipe right and I think I finally got it this time.  I made these over Christmas break when my Other Brother was in town.  We had a big Shrimp Boil (sometimes known as
Frogmore Stew
)…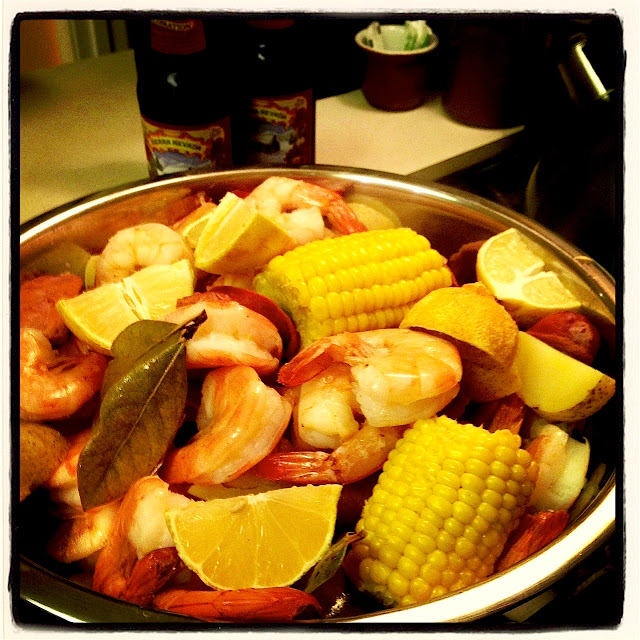 …and we ate on the floor around the coffee table that I covered in craft paper.  Since it's not summertime and the corn isn't good, I used frozen cobs.  I know it's not cheffy but I don't care.  A Shrimp Boil simply must have corn.  And since my toddler daughter loves it so, I couldn't disappoint her.  She actually stole everyone else's corn, the little devil.
But corn makes my little lady oh-so-happy.
And we all know how important a happy toddler is.
Not only do I bake these instead of fry them, I also use whole wheat flour in addition to the cornmeal.  So these baked Hushpuppies are completely whole grain.   And the moisture in the batter comes from a little bit of butter, eggs and a can of creamed corn.  I always have creamed corn in my pantry.  I don't eat it by itself, but I make so many things with it. 
Baked Corn Pudding
,
Creamed Corn Mac n Cheese
,
Enchiladas
, just to name a few.  And the end result is this delicious, dense, slightly sweet and extremely flavorful Hushpuppy…without the grease.  Simple Perfection.
So here you go- a recipe that took me years to get right.  I do hope you like it!
-1 1/2 cups self rising cornmeal
-1/2 cups whole wheat flour
-1/4 tsp baking powder
-1 tsp kosher salt
-1/4 cup light brown sugar
-pinch cayenne pepper
-1/4 cup minced onion (you can always use some dried or granulated onion but you wouldn't get the moisture that the fresh onion gives)
In a smaller bowl, combine the following and mix well:
-4 TB unsalted butter, melted and cooled
-2 large eggs
-1 (14.75 oz) can creamed corn
Add the wet into the dry and mix well.
Grease a mini muffin tin tray.
Using a greased mini ice cream scoop (if you have one), place a small amount of batter into each greased cup, filling them all the way.
Bake in a preheated 425 degree oven for 15 minutes.
Cool slightly in the pans until easy to touch and then serve warm, preferable with some honey butter.