After 5 years of marriage, I have finally gotten an answer out of my husband when I asked him what he wants his birthday cake to be. I've so wanted to develop my own recipe for his birthday that will always be 'his' birthday cake. But it's 5 years later and I'm still askin'. He's gone from blueberry-custard pie to key-lime pie to stealing my dad's cake to finally telling me he wanted a Just-Blueberry Pie. He says he doesn't want anything inside the pie but sweetened blueberries, flavoring and a little thickener. And he doesn't want a top crust. (I'm sorry-but the top crust is the best part, my dear…) He said all he cared about was having lots of gooey blueberries on top of 1 crust that he could eat warm with cold ice cream or cold for breakfast the next day. Anything else I was allowed to play around with.
So I thought about making it with a shortbread dough instead of rolled out pastry dough and then it became more like a tart than a pie. Here's what I did…

For the Crust:
–1 cup whole wheat pastry flour
–1/3 cup sugar
–1/4 tsp salt
–1 stick cold butter, cut into small pieces
–Pulse everything in your food processor until it looks like bread crumbs.
–Press into a greased and floured 9 or 10in fluted, tart shell.
–Bake at 350* for 10 minutes
–Set aside to cool slightly while you prepare the filling
For the Filling:
–2 pints of in-season, ripe blueberries (use frozen if its off-season)
–zest and juice of 1 large meyer lemon
–1/4 cup + 1 TB of sugar
–pinch of salt
–1 1/2 TB of cornstarch
–Mix everything in a bowl and pour into the prepared crust. Make sure the filling is spread out evenly in the pan.
–Place the tart shell on a foil-lined cookie sheet.
–Bake at 350* for another 50-60 minutes, or until the blueberries darken and the mixture has thickened.
–Serve warm with vanilla or lemon ice cream.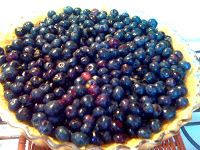 *The tart before baking
*The tart after baking