Today was a rainy day. A very, very rainy day. And I liked it. I liked it a lot. I have always loved the rain and thunderstorms. I would rather have it rainy and chilly outside than sunny and warm. Rain and thunder make me happy. Sun and heat just make me hot. Now, this could totally be the pregnancy and massive tension headache talking right now OR you could all be peeking into my dark side a little bit right now… I'll let you decide which one it is.
But the fact that it was the first really rainy and not hot day we've had here in ages made me want to bake and braise. My son, as most of you know, loves to cook with me. He's a really talented stirrer and roller and he can handle the heck out of a hand mixer. Today I had him in the kitchen with me making Italian Bread. We were gonna be making an Italian boule, which really just means Italian bread 'ball'.  This recipe comes from my mother who got it from an Italian woman named 'Mama D' who's married to a man named Vinny. Doesn't get more Italian than that, does it? It's the best Italian bread I have ever eaten and although it can take the better part of an afternoon to prepare, it's fun and fairly easy to make.
My almost 3 year old was in charge of adding the flour gradually to the dough in my stand mixer. He sat up on the counter and poured in some flour, a little bit at a time and would turn on and off the mixer. I let him learn the hard way that putting a lot of flour into the bowl and then turning the speed onto high was not a good idea. Now our kitchen throw rug is a bit paler than it was yesterday. We had a lot of fun and he loved watching how high the dough would rise at each step. This recipe yields 3 loaves and I always serve one that day, then carefully wrap the other 2 and freeze them for up to 3 months.
The bread was served with a hearty, yet healthy dinner of Braised Sausages and Collards. It was my first 'stew' of the season and I am greatly looking forward to many, many more where it came from.
*Mama D's Italian Bread the Wade Way
(yields 3 boules. If you aren't eating it that day or night, you must freeze it because it looses it's magic fairly quick.)
-3 cups warm water
-1 TB yeast
-1/2 tsp sugar
-1 TB salt
-6-8 cups unbleached, all purpose flour
-In the bowl of your standing mixer, dissolve the sugar in the warm water, then sprinkle in the yeast to proof.
-Once proofed, add the salt and just 4 cups of flour. With the paddle attachment, beat until smooth, then continue to beat for a few minutes. The more you beat it, the lighter your bread will be.
-Gradually add in enough flour to make a stiff dough. You want the dough to cling to the paddle when it's mixing and form a tight ball around it.
-Turn the dough onto a floured surface and knead until 'smooth and soft as a bambino's behind'.
-Grease a large glass bowl with olive oil and place your dough inside. Flip it around a bit to make sure the top and bottom of the dough is well-greased. Cover with plastic wrap and allow to rise until doubled in a warm place.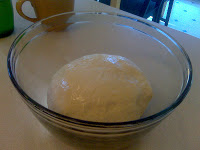 -Once doubled, punch it down and divide into 3 equal parts. Knead each part and return them all to the bowl, well-greased, to rise until doubled again.

-Once doubled, preheat oven to 450* and place a roasting pan filled with water at the very bottom floor of the oven, (this will add much-needed steam to your oven)
-While your oven is preheating, take out each dough ball and lightly knead before placing on a lightly grease cookie sheet. (You will probably need more than 1 sheet, but it is still best to only bake 1 sheet at a time unless they can both fit on the same rack.) Cover again with plastic and allow to rise until doubled again.
-Right before placing in the oven, slash the top with a sharp knife. Bake on the center rack for 20-30 minutes.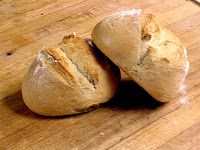 (Time depends on your oven. Check after 20min. You want a golden brown top and the bottom to sound hollow when thumped.)

*Braised Sausages and Collards
(serves 4-6)
(It is so easy to put together a braised dish or any slow cooking stew. There is one method that you follow each and every time and all you have to do is change out your ingredients. Then suddenly you have a dozen stew 'recipes' in your repertoire. This one is especially great because the addition of the collards at the end really add an excellent freshness to the pot. I didn't take a picture of it because, to me, stew pictures are just plain silly. They all end up looking kinda brown and mushy.)
-Heat a heavy bottomed dutch oven to med-high with some olive oil. When the pot is hot, add 1 lb. of raw Italian pork or chicken sausage links (mild or hot, your preference) that you've cut into large chunks. Allow these to brown on all sides before removing and reserving on a plate.
-Throw in 2 large carrots that you've peeled and chunked, 3-4 medium red-skinned potatoes, chunked, 1 large onion, chunked, and several garlic cloves, peeled. Stir these and allow them to brown a bit and the garlic to become fragrant. You may need to add more oil to the pot.
-Add about 1/2-3/4 cups of dry, white wine and stir from the bottom. When this has bubbled for about a minute, add 1 can of chicken stock, 1 large can of whole tomatoes, 1 chicken bouillon cube, 2 bay leaves, a handful of crushed fennel seeds, a handful each of dried sage and thyme, a tablespoon of sugar, a pinch of allspice and a sprinkle of crushed red pepper flakes. Stir this well.
-Bring to a bubble again and add back in your sausages. Turn the heat to low and simmer for 3-4 hours, uncovered, or place in a 250* oven for the same amount of time. If it's on the stove top, you should stir it occasionally.
-When you're ready to serve, check your seasoning and add in 1 large bunch of collards, cleaned, de-ribbed and roughly chopped. Stir well and allow the collards to wilt but still remain green.
-Serve with bread for sauce-soppin' and enjoy in front of a rainy window.
(Total cost of whole pot of 'stew' and 3 loaves of bread-$8)