I am on the other side of a 14 hour migraine, slowing starting to see things clearly again… I hope ya'll have had a better start to your weekend than I have!! So… since staring at a bright computer screen and trying to be clever and cute isn't super appealing or even possible at the moment, I will let this recipe speak for itself 😉
I recently played around with my Whole Wheat Buttermilk Biscuit Recipe and somehow managed to make them even better!! And all it took was a little pork fat.
because pork fat.
So here is my new go-to biscuit recipe. I do not exaggerate when I say how incredible they are. And since they're whole wheat, you're even getting some fiber! (It's all about balance, yeah?) The key is to use WHITE whole wheat flour instead of the more common hard/red whole wheat flour, which is a courser grain. White whole wheat is still 100% whole wheat and has the same nutritional value, but has a lighter and milder flavor with a finer grind. I use King Arthur because it's available at all the grocery stores I visit. You can also purchase it from Amazon HERE. Whole Wheat Pastry Flour can also be subbed, which is traditional whole wheat flour that has been ground finer for baking. I use Arrowhead Mills because it's what I can find… also found on Amazon HERE.
OR… feel free to use traditional all-white flour if you wanna, but I like it this way.
And so has everyone else I've made them for 😉
Make them tomorrow for that special papa in your lives!
WHOLE WHEAT BUTTERMILK LARD BISCUITS
Place the following fat on a plate, or in a small bowl and freeze while you mix your dry. You want very cold fat.
4 TB unsalted butter, cut into pieces
4 TB lard (or 4 large spoonfuls… a little more lard never hurt anyone), 'sliced' into smaller pieces
In a large mixing bowl, combine the following dry ingredients…
4 cups white whole wheat flour (OR whole wheat pastry flour, etc… You can also so half/half wheat/white
2 TB + 2 tsp baking powder (please be sure to separate any clumps, they don't disintegrate when baking and you do NOT want to bite down on a baking powder clump :-/
1/2 tsp baking soda
2 tsp kosher salt
Mix well with a fork.
Take out your plate of super cold fat from the freezer and add to the bowl of mixed dry.
Mix with your fingers or a pastry cutter to get the fat down to smaller than pea sized pieces. I prefer to use my fingers here, but that may be because years ago my friend Tim came over late one night to 'borrow' my pastry cutter for his restaurant. I knew that evening I would never see that thing again. And ever since, I have been happily using my hands.
Be sure to work quickly, as you don't want the warmth of your fingers to warm up the fat you worked so hard to keep chilled.
Slowly pour in…
up to 2 cups COLD buttermilk (full fat please)
Stop and mix with your fingers as you go, and stop when you have a sticky, but not wet dough.
Now you can either drop some by the large spoonful onto an ungreased cookie sheet for 'drop biscuits'… shoot for 8 big ones. OR transfer to a lightly floured surface and shape into a (1 1/2-2 inch high) rectangle to be sliced into 8 big 'ole biscuits.
I don't handle the dough too much, as I don't care if they look rustic. In fact, I prefer it that way. Plus, more handling means a tougher biscuit. And we want these babies as light as they can be.
Bake in a preheated 425 degree oven for 15 minutes ON THE TOP RACK.
(This is my perfect time for my oven. They come out lightly golden on the edges and very tender in the middle.)
Brush the tops with a little melted butter… only about 1 TB is needed.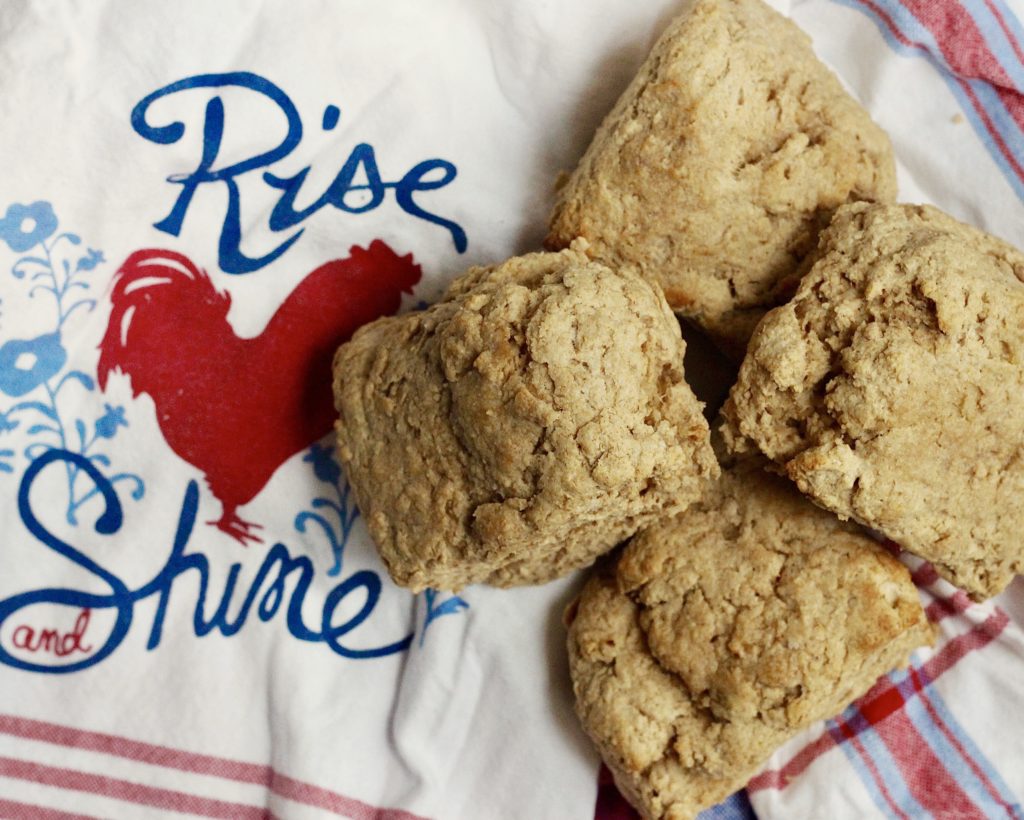 Serve warm
Thanks for reading, y'all. xo
…
Dishtowel from DII on Amazon. Can't find this particular one, but HERE is a similar style… also HERE. Love the roosters!