Don't judge…we all need a little help sometimes…
**Fennel Dusted Chicken Cutlets with a Citrus Salad and Israeli Couscous with Dates and Parmesan
I've broken down each component of this amazing meal so everything would be easy to make separately or as a complete meal. I recommend making them all together because the flavor combination is wonderful. Here's how it went…
*Israeli Couscous with Dates and Parmesan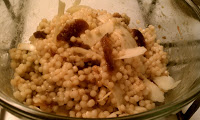 Bring 2 cups of water to a boil and salt it. Add in 1 cup of Israeli couscous and stir. Boil until tender and all the water is fully absorbed, about 7-10 minutes. Put cooked pasta in a bowl and while it's still warm, add a splash of white wine vinegar. Toss to coat and add the zest of half an orange (reserve the orange for later…), and a big handful of dates that you've sliced into slivers. When your couscous is cool enough, shave some Parmesan cheese over the top and toss to combine. Set aside.
*Next make your citrus salad topping for the chicken…Over a small bowl, supreme 1 ruby red grapefruit and the orange you zested earlier. Squeeze the membrane of the fruit to release all the juice into the bowl. Slice half a small onion very thinly and add to bowl. Season with a couple pinches of salt and pepper. (*this method will work for any combination of citrus..if you have limes and lemons, use them! Just add some sugar to the mix in addition to the salt and pepper. Please don't go out and buy something just because a recipe says you need it, what do they know? Use what you have.) Allow this to sit awhile so the onion can mellow in the citrus juice.
*Make your cutlets…Yes, you can buy chicken cutlets at the store, but you're paying for them to do something that is too easy to pay for. I used a pack of 3 boneless, skinless breasts and sliced them in half across their equator and then covered them with plastic wrap while I beat the heck out of them with a heavy skillet until I had 6 thinner and larger pieces. Set aside while you prepare your breading ingredients…
*For the chicken breading…On a large plate, combine 1 tsp of kosher salt, 1/2 tsp of black pepper, 1 tsp of ground fennel, 1 tsp onion powder(not salt), 1/2 tsp ground allspice and the zest of half a lemon with 1 cup of unseasoned breadcrumbs.
On another plate, pour about 1 cup of flour. Season with salt.
In another plate or dish, beat 2 eggs with a splash of milk and a bit of salt.
*Then start your standard breading procedure- Season one side of each cutlet with a pinch of salt before passing through the flour, then the egg, then the seasoned breadcrumbs. Make sure to fully coat each side of the chicken in each step and also be sure to shake the excess of each off before transferring to the next. Place each chicken cutlet into a large skillet on medium high heat with a fair amount of olive oil, (you may need 2 skillets to cook them all). When the first side is crispy and golden brown, flip and brown the other side, (you may need to add more oil). It shouldn't take longer than 10 minutes for your chicken to cook through if you pounded them thin enough.

*Plating time…Place a hot, crispy cutlet on a plate and top with your citrus/onion salad. Serve with the Israeli Couscous at room temperature and dig into a plate full of flavor!
The best part? If you keep your pantry well stocked with spices and dry goods and buy things when they go on sale to stock up, this entire meal will set you back $4 and it will feed 4-6 people. That's less than a dollar per person.
This is what I mean by 'living the good life on under $100 a week…' Happy Eating Everyone!