THIS PASTA DISH IS INCREDIBLE!!!!!! It's so hearty and comforting and perfect… and yet still kind of light in a way.  It technically is fairly light compared to most slow cooked or braised pasta sauces.  And it is so so flavorful.
Plus, I've paired it with a healthier pasta, so you're getting a ton of good for you stuff in this dish.  This is the perfect meal to eat on a cold evening surrounded by the people you love the most.  Because they will smile as you feed it to them.  Then you will smile.  And it will be so lovely.
It's already one of my favorite pasta dishes I've ever created and I can't wait to make it again.
So, without further ado (because, football).  Here she is.
CHICKEN RAGOUT WITH FARRO PASTA

feeds about 8
. ragout .
Trim 3-4 pounds of (boneless, skinless) chicken thighs of any inedible bits and chop the chicken into small pieces.
Season the meat pieces well with kosher salt, ground fennel seeds and dried sage.  I didn't measure… just be sure to coat all the chicken pieces well with the salt, and then it's probably about a tablespoon each of the fennel and sage… You want a lot of that flavor all over the chicken, as this will flavor your sauce… so use your instincts 😉 )
Sear the chicken in a (large) hot skillet with some canola or light vegetable oil.
Once you get them beginning to brown, move the chicken to one side to make room for the following…
3 carrots, peeled and diced
2 stalks of celery, diced
1 medium white/yellow onion, diced
5-6 cloves garlic, minced
Season the veggies with some kosher salt and a good amount of freshly grated nutmeg and allow them to sauté alongside the chicken.
Once the veggies have begun to brown and the chicken is caramelized on the outside, deglaze the pan with a good glug (maybe 1/2 a cup or so) of dry, white wine (pinot grigio is preferred).  Scrape up any bits that were stuck to the bottom of the pan and stir.  Allow the wine to bubble for about 30 seconds.
Drop in 2 bay leaves, a large sprig of rosemary and a Parmigiano Reggiano rind (you will use the cheese later… but I always have rinds in my freezer for my sauces).  Stir.
Pour in 1 quart/4 cups of (low sodium) chicken stock.
Bring to a boil. Cover with a lid and simmer for at least an hour, but up to three.
The longer you let it simmer, the more concentrated it will be.  The chicken will also begin to break down more and 'shred' the longer it cooks.
Remove the lid and allow the liquid to reduce for the last 20 minutes or so before serving.  You want only a small amount of liquid and a thick, chunky sauce.  Check your seasoning, as sometimes you can reduce a liquid so much that it becomes too salty.  If this happens, add water and reduce again to dilute the flavor.
Remove your bay leaves and rosemary sprig.
Toss with your pasta…
. pasta .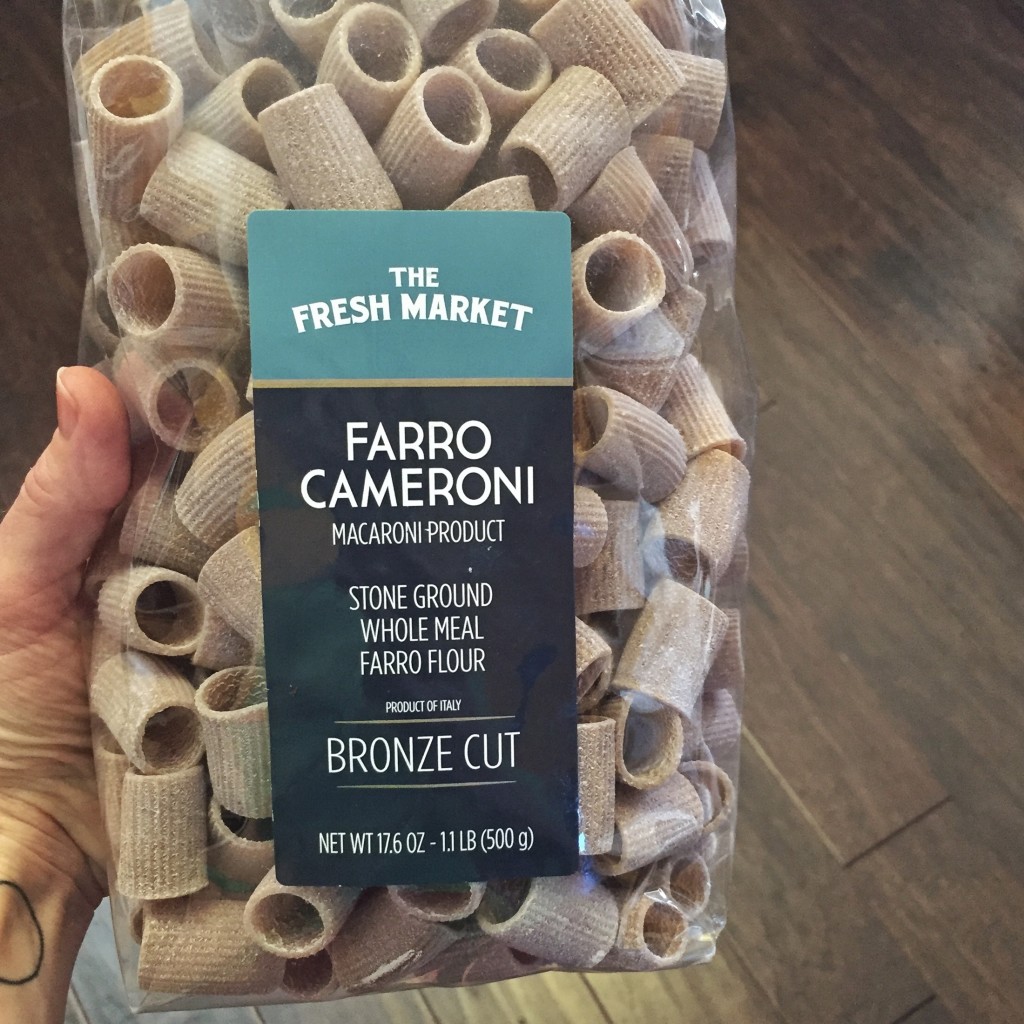 This stuff is amazing and the perfect pasta for this dish.  It's made of farro- one of my all time favorite grains.  It's incredibly nutrient rich, has a delightful, nutty flavor, but milder than a 100% whole wheat pasta, and it still cooks up to have the perfect al dente bite to it.  It was so yummy!  I got it from Fresh Market.  
Boil your 1 lb. farro pasta in heavily salted water until it has a good bite to it.
Drain, but reserve about 2 cups of the salty, starchy pasta cooking liquid.
Toss with your ragout.  It shouldn't be saucy or juicy… the pasta should just mix perfectly with the sauce.  BUT if you feel you need more liquid, that's what your pasta liquid is for.  You certainly don't want this to be dry.
Garnish with a ton of grated Parmigiano Reggiano and fresh, chopped basil.
Serve warm to the happy people you love.