Well, it all started with plans to go to an outdoor Sunday concert and picnic…
Which, is pretty much how our past three Sundays have gone.  Our town puts up a free concert most summer Sundays with a live band, and everyone gathers on the lawn that we affectionately call "The Green" and sits on blankets with food and drinks and we dance and laugh and have some good, old fashioned fun.  But the past several Sunday concerts have been rained out at the last minute and had to be rescheduled.  In lieu of the first rained out concert, we had ourselves a mini party at home with a friend and too many balloons.  We ate the picnic meal I had prepared, on the floor of our living room, with Billy Joel and Fleetwood Mac spinning in the background.  We drank Moscow Mules and Champagne, and I made my Curried Chicken Salad Wraps…
The next one that got rained out, I made Caprese Salads with Goat's Milk Mozzarella, my mama's tomatoes and basil from the pot on the patio.  We drank Moscow Mules…
…and Champagne.
(See my recipes for an Old Tom Mule, and a Fig Mule)
(Also my take on a classic Caprese using Summer Peaches and Burrata!)
And last night we had high hopes for some good, old fashioned outdoor fun.
I planned on making some sort of cold Asian noodle thingy.  I figured it was a perfect thing to make ahead and bring to a picnic.  I wasn't entirely sure exactly what that would be, I only knew it would be Cold.  Asian.  And Noodley.
We got rained out again.
BUT. We still had a damn fine carpet picnic with some damn fine noodles and CCR spinning in the background.
This dish can be made noodle + sauce only.  Or noodle + sauce + veg.  Or noodle + sauce + veg + protein (chicken, in our case).  So, it's incredibly adaptable to anyone's tongue preference.  It's a fun flavor combination of Cold Sesame Noodles and Thai Peanut Sauce.  You definitely get a lot of the sriracha, which I happen to love.  It's delightfully spicy, not as sweet as a Thai peanut sauce would be, and deliciously wonderful cold on the floor in your PJ's with a plastic fork.
Adaptation.  It's been my word of the summer.
CHILLED SRIRACHA PEANUT NOODLES
. sriracha peanut sauce .
In a blender, or container that is safe to use an immersion blender in, combine the following…
*note that the following measurements are approximations, but downright pretty kinda accurate*
1 inch piece of fresh ginger root, or a rounded TB worth, roughly chopped
heaping TB orange marmalade
2 TB (low sodium) soy sauce 
1 TB sriracha 
1 TB toasted sesame oil
1 TB seasoned rice wine vinegar
1/4 cup (natural) peanut butter
Puree until smooth.  Taste and adjust if necessary… you want spicy, then salty, and then a little sweet and tangy. And if you'd like your sauce sweeter, add a bit of agave or maple syrup to taste.
Place in a large bowl to wait on your pasta…
Boil, in salted water…
8 oz (1/2 lb.) thin noodle of choice (I used brown rice spaghetti)
Drain the noodles when cooked completely, according to package instructions, and add them to the bowl with the sauce.
Toss to combine.
Taste to check your flavors and consistency.  Depending on your noodle choice, you may need to add more liquid… this can be reserved pasta cooking liquid, or more rice wine vinegar, etc., or both.  Note that if you use pasta cooking liquid, it will add salt to your sauce and throw off your balance, so just adjust as necessary.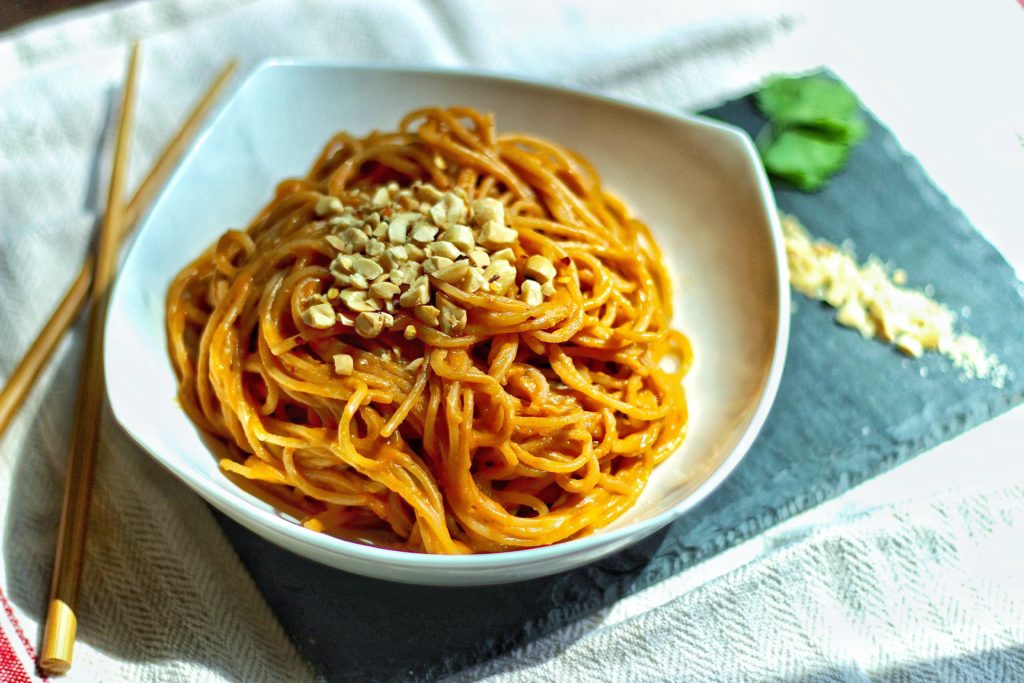 Add chopped, roasted peanuts and a little cilantro and you have yourself a cold noodle dish.
OR…
Toss in…
2 large carrots, peeled and shredded
1/4 large or 1/2 small cabbage, thinly sliced
lots of fresh, chopped cilantro
(…or any other veggie combo you like!… the amount of raw chopped/shredded veggies needs to be equal to the amount of cooked noodles.  And some veggies you choose may need to be steamed first, keep that in mind with your choices.)
You now have a complete vegetarian and vegan meal!
OR…
Add about 1 1/2 lbs of chicken (or desired protein) and make it a complete meal for a meat eater…
(This is about 2-3 boneless, skinless chicken breasts, depending on their size.)
Season your breasts evenly, on both sides, with…
kosher salt
Chinese 5 Spice powder
Sear in a hot skillet with a little light oil, until crispy and cooked through.
Slice into bite sized pieces and add to your saucey and veggie-fied noodles.
I tasted this dish at every stage, and I must say, it is perfect however you prefer to eat it.  We all find ourselves in different food moods, or are a part of a family with blended bellies, and it's just kinda nice to have a meal that you can adapt to satisfy everyone's desires.
Gluten free? Make it with (brown) rice noodles, with or without the veg…
Vegan?  Stop at the veg.
Meat eating?  Add your protein.
There's no reason to change an entire menu just because of a few people.  Like life, food should be about adaptation and acceptance.
…
That's what I got today, folks.  Hope your Monday was sweet.
And a little spicy. xo