Don't sue me, Nestle.  We can call 'em Crispy Bars.  But y'all.  YA'LL!!  I just made my own 'crunch bars' and it took me no time and nuthin'.
If you don't go and make this right now, and then again after you eat them all, and serve them for Fourth of July festivities, or just for like anything at all, then we cannot be friends and I do not understand you.
I've been out of the country for over a week and just got back a couple days ago, so I'm a little cloudy at the moment.  (London, Ireland, New York.  AMAZING trip.  Please tell me you follow me on Instagram and saw my stories.  Time of my damn life.)  I also endured a little health issue while I was there that I'm still dealing with now (blarg), making things just a bit harder and more frustrating than they should be.  BUT I'm feeling pretty close to finding that 'home' feeling again.
Today I got to hang out with one of my favorite people in the wide world who happens to be my oldest friend on the planet, and I do believe that helped.  She and her youngest came over and we just… hung out.  While our babies played in my backyard.   I hadn't seen her in awhile since she moved away last year and it was such a joy having her back in my home.  Like more than I can articulate.  Having comfy and easy and 'just right' people in your world truly makes life more rich.
I had just baked some scones for us all to eat when they walked in the door and was juuust about to start making these, but put it aside for after they left.  I cut the grass, got a little home workout in, then threw these together while I was running my bath upstairs.
And they were ready for their closeup once I was clean.
THAT'S how quick and easy they are.
You're literally just mixing equal amounts of three ingredients, spreading it in a dish, chilling it 'til firm, then slicing it.
DONE.
I'm not kidding.  We're totally not friends if you don't go in your pantry right this second and make these.
CHOCOLATE PEANUT BUTTER ( CRUNCH -Y ) CRISP BARS
In a microwave safe mixing bowl, combine the following…
1 cup semi sweet chocolate chips
1 cup creamy peanut butter* (depending on your brand, the salt/sweet level will differ slightly)
Microwave for 1 minute.
(yes, you can use the stovetop instead.)
Stir.
It should be completely melted after a few stirs of a spatula.
Stir in…
1 cup crispy rice cereal (such as Rice Krispies, but I pretty much stick to generic, or the natural and healthier brown rice kind from the hippie market if I'm feelin' fancy)
a possible pinch of kosher salt if your peanut butter is lacking in that… a DEFINITE good pinch of it if yours has none.
Stir til fully mixed together.
Spread into an ungreased glass 8×8 square baking dish.
Make sure it's even.
Lick spatula.
Also bowl.
Transfer to the freezer for about 20 minutes if you wanna rush it, or in the fridge for several hours to chill until completely firm.
Cut (carefully!!) using a sharp knife, into 12 squares/bars.
With a little bit of force, you can pop them out with a metal spatula or the knife.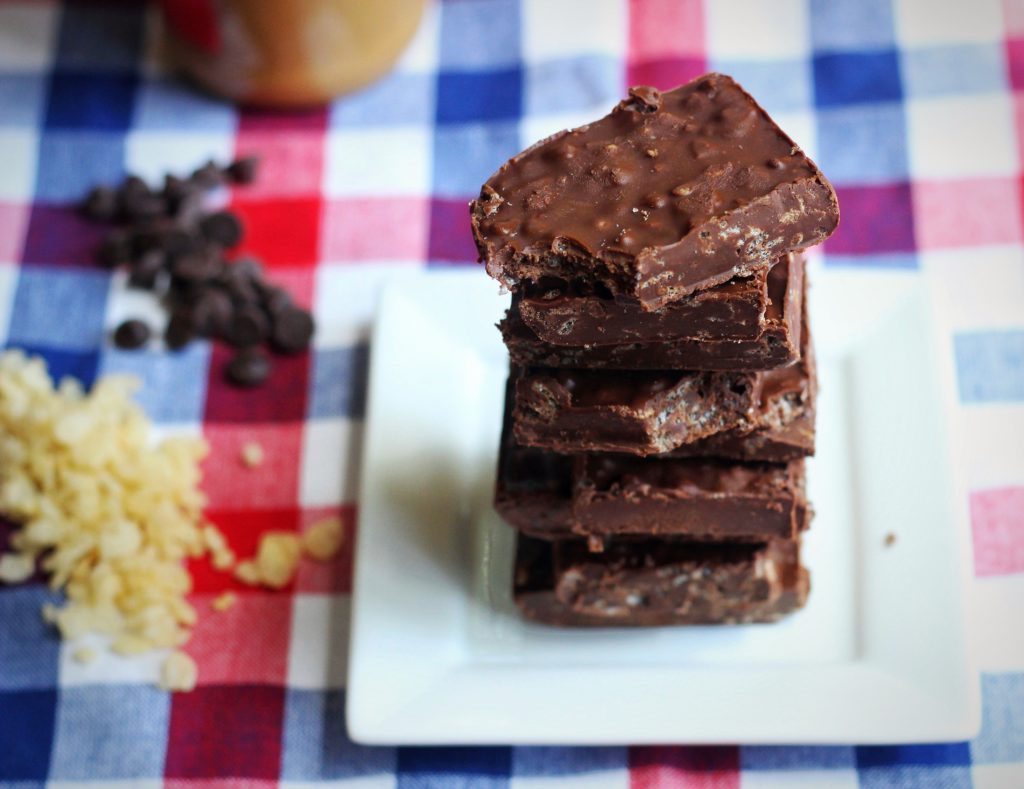 Keep refrigerated.
Eat, like, a lot of them.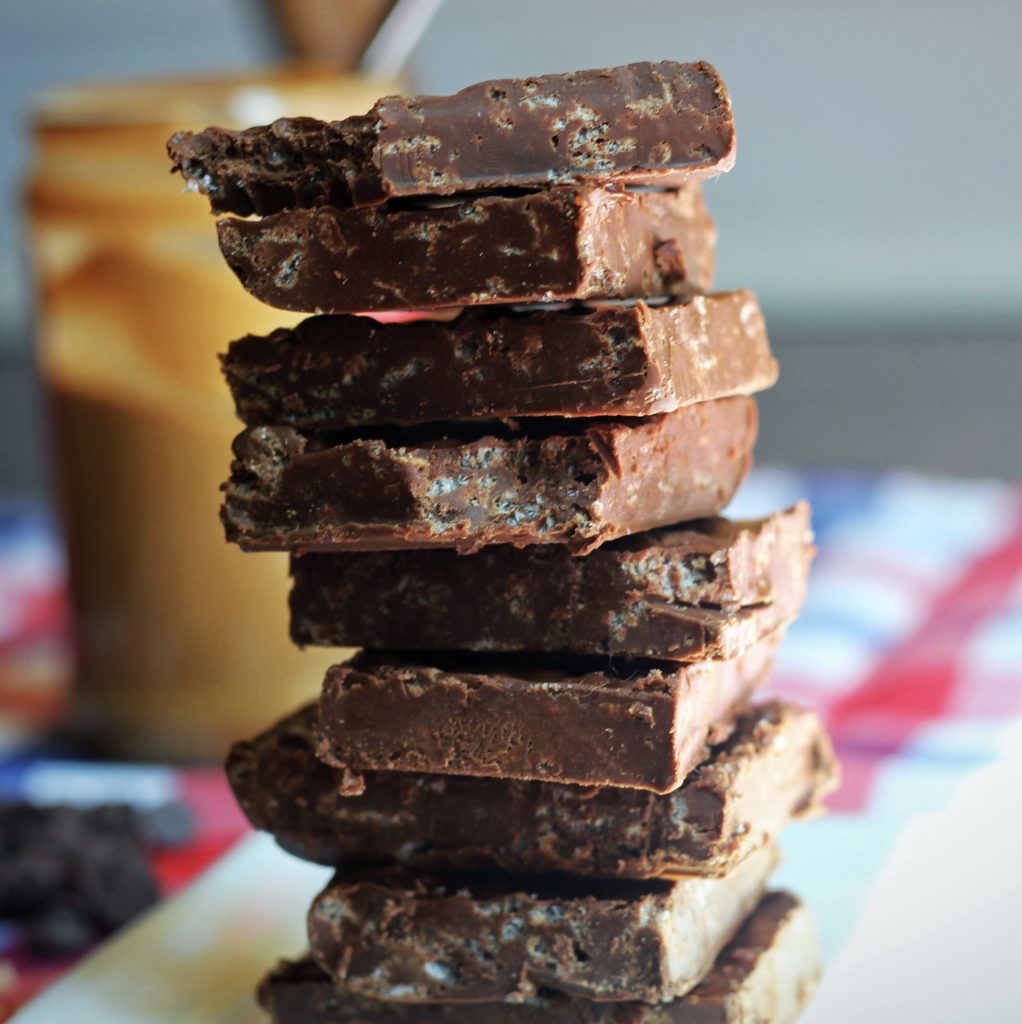 (*note- you can use a chocolate hazelnut spread (such as Nutella) instead of the peanut butter if you want less of a peanut butter flavor.  Also, clearly any nut butter could work if you had an allergy or aversion to using peanut butter, or just wanted to play!)
…
Thanks for reading, y'all!!  Much love.  If we don't speak again before the holiday, have a safe and happy Fourth!  xo