It can either be weird that I haven't shared in… *checks own site for last post*… six months, or it can just be something I did like how you haven't called that friend in months or finished watching that show you thought you loved until they wrote a baby into it and it got sad or that you have bangs now and don't wanna talk about it (calm down I don't have bangs now these are just examples of life things that don't need explaining ot defining). And then organically, over time, maybe I will just leak out the reasons why I haven't shared in that amount of time. Or maybe not. Certainly not unique to me, the past several years involved sickness and health, deaths that parted us- both literal and metaphorical, and a whole lot of delicious life that came after the shrapnel. So, yeah. We could make it weird. But that's a waste of energy. Life, and shit happens. Both are inevitable. And they both weed out the gunk eventually. I think we spend too much time explaining why we do things, or don't do things, or why we're thinking about doing this thing, or why we should or shouldn't do that thing, and by the end of the thing – we're all just exhausted from all the things.
I've also been writing a book.
So in the meantime, before I maybe share more personal stuff here or over in that book, here's a couple'a cobbler recipes with some pretty photos that you could consider either less or more important than my life story. I won't be offended by your choice.
…
I had a basket of local peaches that started out as a grand idea, then became a burdensome, sad and droopy reminder on the counter after life got too busy to eat a peach every day. After tossing all the ones that gave up on life, I was short a cup or so of fruit for my weekend cobbler. So I pulled from the strawberries and blueberries I had in the fridge and ended up with a delicious mixed fruit cobbler.
But first.
Did you know how many definitions of the word, 'cobbler' have existed over time? It's wild. In the 13th century, it was a shoe maker / fixer, or someone who worked with leather. Around the 16th century, cobbler was a bitchy word to call someone who didn't really know what they were doing… or conjugated as a verb like… that dude really 'cobbled up' that loafer. Come the turn of the 19th century, it was the name of a brown liquor/wine based cocktail mixed with sugar, seasonal fruit, an herb, crushed ice and served in a giant goblet. In 1862's 'How to Mix Drinks' by Jerry Thomas (oft referred to as the father of mixology) he has a cobbler recipe calling for 4 ounces of whiskey… now, ole Jerr only lived to be 55, so maybe we don't take his ounce-age advice. The cobbler eventually morphed into a little less of a hammer-headed cocktail and some of the recipes even started to use sherry instead of liquor, but during the Prohibition low alcohol cocktails became less popular, so the cobbler cocktail altogether sort of fizzled out of fashion.
As for other definitions, once we get to the mid 19th century, we start to see the cobbler as the dessert we know today – essentially a deep dish fruit dessert with no bottom crust and a biscuit-ish dough like top 'crust'. And I'll get to that one in a sec.
BUT! This is weird. Later in the 19th century over in Australia and New Zealand, a cobbler means a difficult sheep.
THEN! In the mid 20th century, it was used in British slang to refer to anything nonsensical, deriving from the Cockney slang for to balls – as in the testicle variety.
And, of course we've all heard of cobblestones… but that's far less interesting of a definition than ornery sheep and testes.
Whichever meaning you choose to look at, it all sounds to me like the word 'cobbler' can be used to throw at pretty much anything and everything from the past 2-3 years.
Like,
Those cobblers really cobbled up life for the rest of us.
Or,
That mothercobbler in charge is a real son of a cobbler.
And,
Let's just call it a day and make ourselves a couple'a cobblers to wash down this cobbler I just baked.
Either way you take it- I think embracing the mess that is life and finding your preferred way to cobbler sounds like a plan to me. And lucky for us, I've got you covered here for the edible versions. But if you find yourself acting like a real cobblersack, maybe it's time to enter the 21st century.
…
I wrote (and tested) this first cobbler recipe – the cocktail one – at 10:00 on a Wednesday morning listening to my favorite artist, Brandi Carlile, whom I am over the moon ecstatic to travel to see AGAIN with some besties AGAIN at one of the best venues IN ONE WEEK. It was this song I was listening to which I'm pretty sure was written for me (I'm happy to share it with Evangeline) but I'll ask Brandi next week just to be sure and report back. The whole album is stunning and moving and I hear something different every time I listen to it. This song in particular has always resonated with me.
Re-parenting yourself is a beautiful journey and begs for much more applause and recognition.
I chose to go the brandy route for my cobbler cocktail and it pairs so perfectly with almond liqueur and lemon. It is NOT overly sweet, don't worry. The sweetness only comes from the liqueur itself, so you're just getting fantastic flavor and warmth, without the cloy. It is equally refreshing as it is comforting, which is precisely what I look for in almost everything in life.
Brandi Cobbler ( The Cocktail )
In a shaker, combine the following :
1 ounce brandy (or cognac)
2 ounces almond liqueur, such as amaretto
1 ounce lemon juice (1 small lemon's worth)
Fistfull fresh mint leaves
Shake with ice until cold
Serve over crushed ice in a low ball.
Garnish with fresh mint.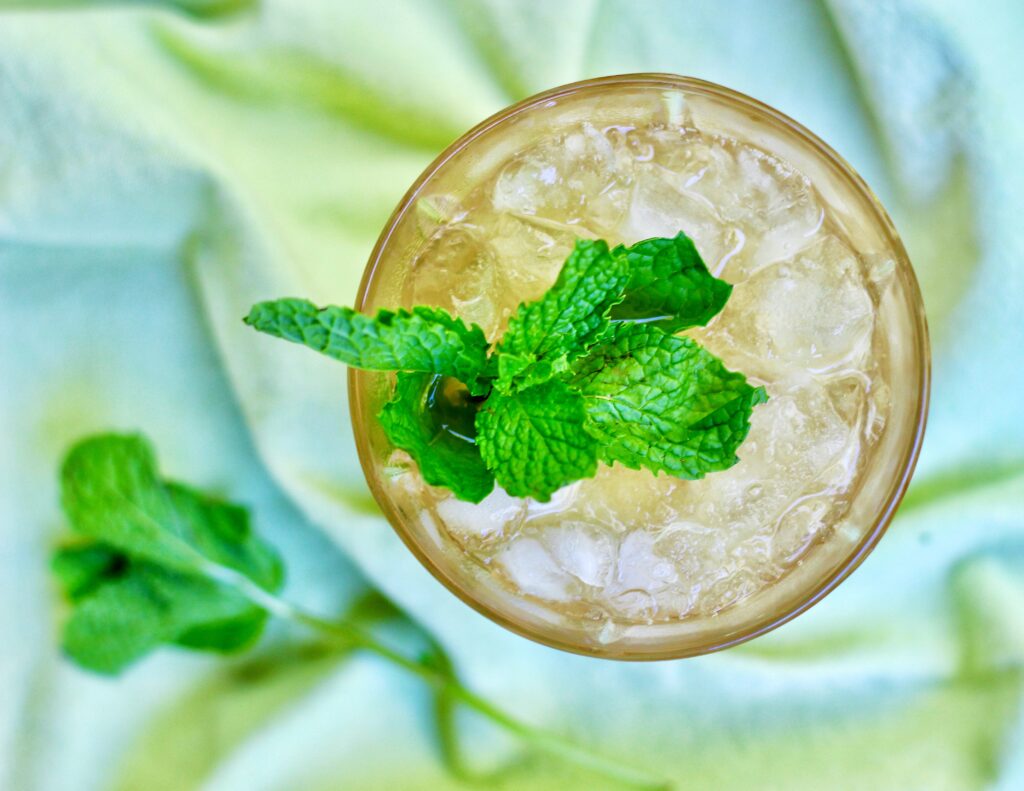 …
Now onto the food one! As with all of my dessert recipes, especially anything in the pie / pie adjacent category, this is heavily encouraged to also be breakfast or snack. I've never been a traditional dessert eater because it was always presented to me as the way to make yourself feel awful after dinner. And maybe it's weird, but I'm just never hungry to eat again right after I've eaten a meal (I feel that's a good thing?), but once I figured out I'm a grown-up and can have it as one of my meals, GAME CHANGED. I also tend to make most of my desserts less sweet than traditional versions, which I find brings them more flavor and less 'just sweet' taste. Frankly, this recipe has far less sugar than that muffin at the coffee shop, so it's absolutely more breakfast appropriate anyway. And it's so easy to execute thanks to the food processor and the drop-biscuit like dough dealing… nothing precious in this cobbler (which would defeat the purpose of one, right?)
As I mentioned above, this is a mishmosh (a cobbler, if you will) of fruits I had that needed to be used, but you can use whatever you'd like – stone fruits and berries are highly suggested with this flavor profile. I add almond extract to the filling and almond flour to the crust, and it's just such a lovely combo with the peaches. So use what you'd like – just keep the measurements the same!
End of Summer Mixed Fruit and Almond Cobbler ( The Baked Good )
For the fruit filling –
In a bowl, add the following :
4 1/2 cups sliced fresh fruit (peaches dominated here, then came strawberries and blueberries to reach the 4 1/2 cups)
1/3 cup white sugar
the zest of 2 smalls, or 1 large lemon
1 TB flour
small splash of almond extract (too much can be bitter)
pinch kosher salt
Mix until there are no flour lumps and all the fruit coated.
Pour into a greased 1.5 quart baking dish (*I used one of my vintage Pyrex – 8.5 in. x 6.5 in. x 2.5 in.).
Set aside.
For the dough –
In the bowl of a food processor, add the following :
1 cup white all purpose flour
1/2 cup almond flour (*tip – keep your nuts and nut flours in the freezer for a longer shelf life)
1 TB white sugar
1 tsp kosher salt
2 1/4 tsp baking powder
Blitz to mix
Add in :
1 stick / 8 TB / 1/2 cup cold unsalted butter, diced
Blitz until the butter mixes in and you've got more of a wet sand consistency.
While blitzing, add through the pour spout :
Cold heavy cream or half & half (you will need about 1/2-3/4 cup)
Add until the mixture starts to form a dough. You don't want it sticky, just dough.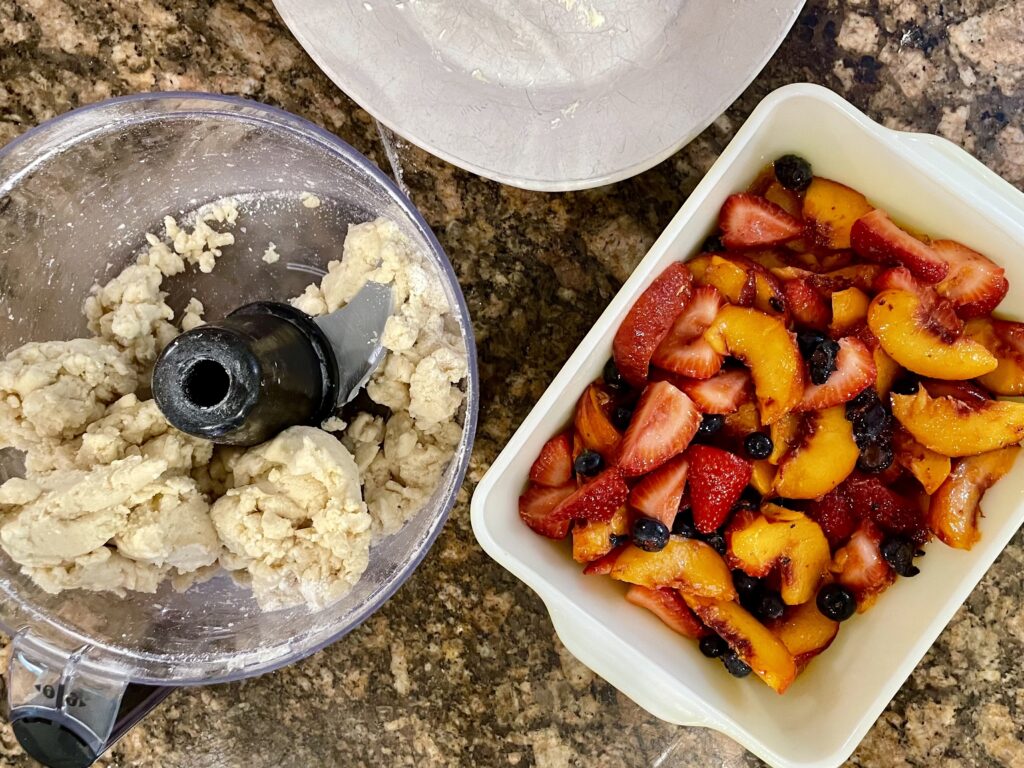 By hand, take out golf ball to tennis ball ish sized clumps of the dough and flatten to about 1/2 inch thickness. Place over the fruit and be as cobblerish as you can. You do want there to be some space for the fruit to bubble when baking, so don't smush it all together.
And I always place any pie-like thing I bake on a baking sheet covered with foil, parchment or wax paper for any over-spillage. I don't always need it, but I'm very thankful I do it for the times that I do.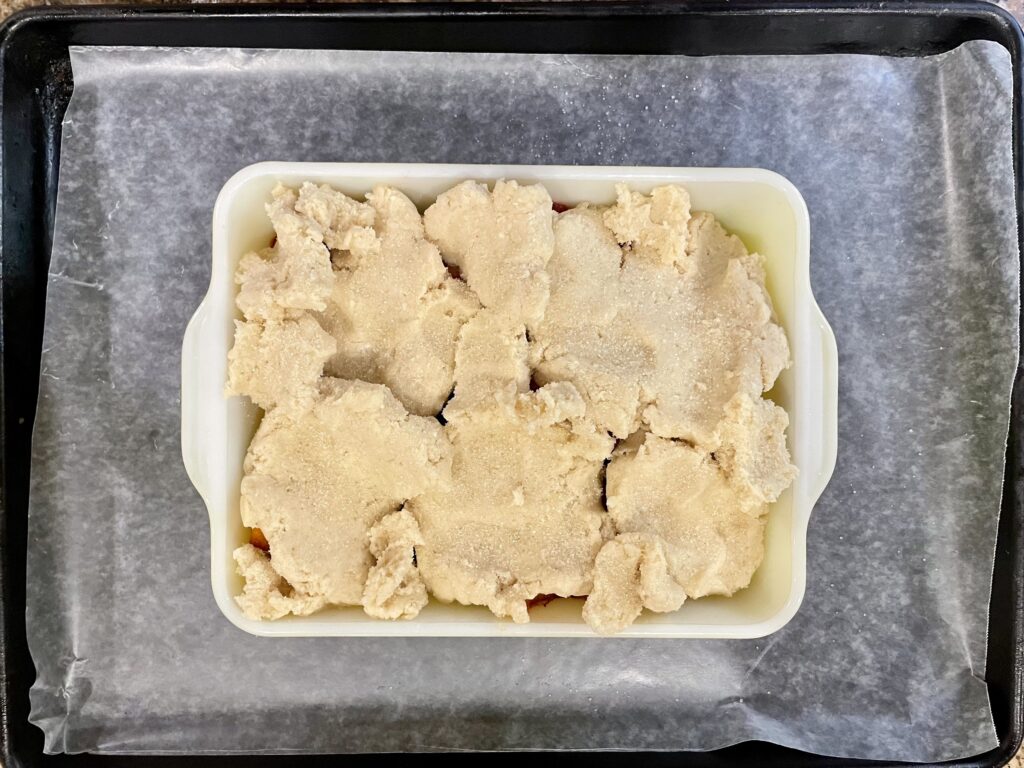 Sprinkle the top of the dough with :
Bake in a preheated 375 degree oven for 35-45 minutes, or until golden brown. It will be fully baked at 35, but you really want that golden.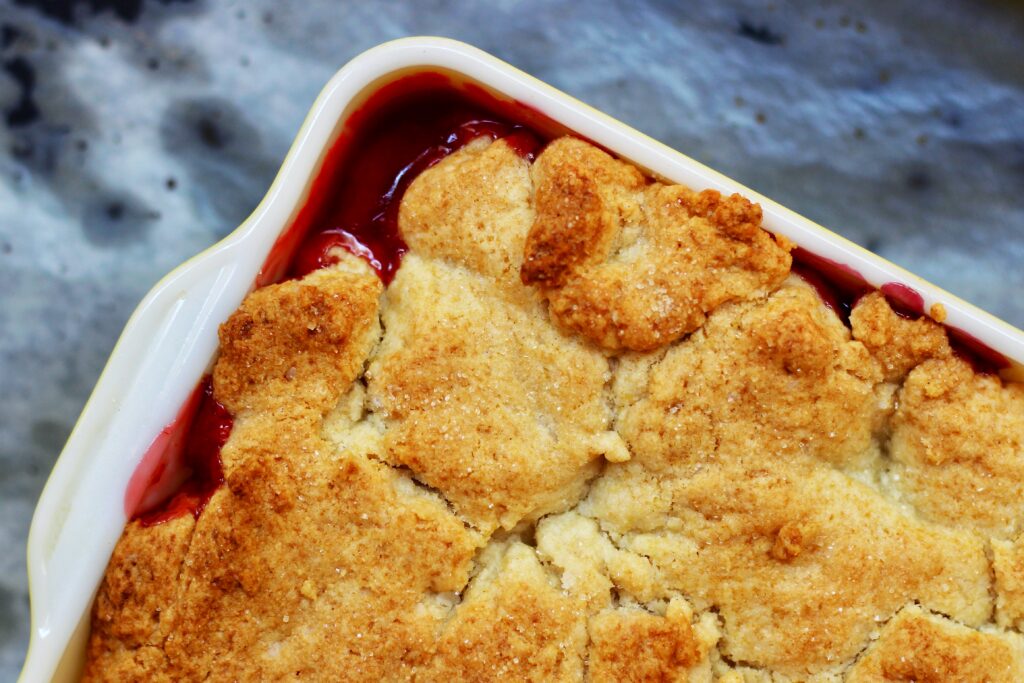 I almost said it isn't necessary, but who am I kidding –
Serve warm with :
Preferably my homemade 2 ingredient 'cheater' ice cream that my family favors over anything store-bought. It's so easy, you must try it pronto. (Tomorrow's breakfast, maybe?)
Yes. Please.
So. That's all she wrote for the day / week / month, who can tell. Remember, it isn't weird. It's life.
But I'll be back. I've got stories to tell.
thanks for reading y'all. much love x