I know.  I had you at the title.
I manipulated you, kind readers, and reeled you in with delicious buzz words like Chocolate and Cheesecake and Square.

I know it and I am not ashamed one bit.  This dessert is too delicious for shame.
It's a cheesecake, made easier and faster, with a thicker, more cookie-like crust and then topped with a cranberry compote.  The ratio of crust to filling is about 1:1.
I mean, come on.
I've made this dessert around the holidays for the past 4 years with much success but never added the white chocolate part until this year.  It actually happened by mistake.  I was dipping my Christmas truffles (and no, that is not a euphemism) in some double-boiled white chocolate and ended up with twice as much as I needed so I improvised.  (This is kinda how all my recipes are created.  I just hate to throw things away, so I create a recipe with its leftovers.  Thank goodness I can cook, otherwise they'd create a TLC reality show about me.)
You can make parts of this dessert ahead of time.  The crust can be pressed into the pan days in advance, kept in the fridge and then baked later.  And you can make the compote and keep it well sealed in the fridge for days.  But I wouldn't bake the cheesecake until the day you plan on serving it or else the crust will become a bit soggy.  Maybe you can get away with one day in advance, but that's pushing it.
Obviously you can make this any time of year due to the frozen cranberries available year round, but I recommend making it in the fall or winter because it's just so festive.  It would be incredibly easy to make this same dessert with a different fruit for the compote.  Peaches or other stone fruits would be wonderful, rhubarb, summer berries, apples or pears even would work.  But you wouldn't need the full cup of sugar.  Go with 1/2 a cup, and then taste to see if you need more.
Enjoy!
*Cranberry White Chocolate Cheesecake Squares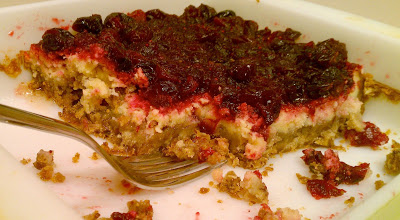 …or you could do what my family did and just eat it straight from the pan.
 -For the Crust…
-Grease a 9×9 inch baking dish and set aside.
-In a mixing bowl combine 1 cup of AP flour, 1/4 cup of light brown sugar, 1 cup of chopped walnuts, a couple pinches of kosher salt, and 1 stick of melted unsalted butter.  Stir well and press into prepared pan.
-Bake in a preheated 350 degree oven for 12-15 minutes until it becomes a light golden brown.
-Remove and set aside to cool a bit on a rack while you make your filling.
-For the Filling…
-In a mixing bowl (I always use the same one), beat 1 8 oz. brick of neufchatel cream cheese, softened, with 1/2 cup of sugar until smooth.  Add in 6-8 oz melted white chocolate, (this is about half a standard bag of white chocolate chips) and beat well until no lumps.  Beat in 2 large eggs, a splash of vanilla extract, a pinch of kosher salt, the zest of 1 lemon and half of its juice.
-Pour this into your cooled filling and bake for 20 minutes, or until golden brown and set in the middle.
-Cool completely and top with your Cranberry Compote…
-For the Compote…
-In a small saucepan, heat 3 cups (12 oz bag) of fresh cranberries, 1 cup of sugar, the zest of 1 large orange, a good squeeze of its juice, a pinch of ground allspice, and a pinch of kosher salt.
-Bring to a boil and simmer until thickened and your cranberries have popped.
-Serving and Eating…
-Cut into squares and serve at room temperature.
-Eat.
-Repeat.