This year for my son's 5 year birthday we had a Curious George themed party in my parent's back yard.  They have a lot of land and woods and it was the perfect location for the kind of party we wanted. In the past I have worked my butt off, had it in my house, cooked and planned and decorated til my fingers bled and by the time his party was happening, I wasn't even enjoying it.  And then when Christmas came around the corner, I would be exhausted, sick and not in the mood to entertain.  This year I wasn't going to do that.  It was hard, believe me, but I had to tell myself that I was not going to kill myself and once I had that in my head, it became very fun to not do too much!  I didn't cook a darn thing.  Not one thing.  (That's huge, ya'll.)  I got so excited at the concept of me doing less.  It made me feel stronger somehow, which is funny because I always thought I was exhibiting such strength before with all my clever ideas and unique food and cocktails…and instead I was just weakening myself.
Because we had a Curious George theme, instead of a birthday cake, we had a Banana Split Bar!  Way more fun than a cake if you ask me.
I printed out covers of different Curious George books to help me label the various aspects of the party.  So Curious George Goes to an Ice Cream Shop was perfect for the Banana Split Bar Table.  It was completely self serve and I had banana chips, nuts, mini marshmallows, sprinkles, cherries and crushed pineapple in these little three-compartment, clear containers I bought from Dollar Tree.  And the syrups (chocolate, caramel and strawberry) were put in clear (and clean!) soap pump dispensers I also bought from Dollar Tree.  Then I put out a few bunches of bananas.  (Not pictured is the giant tub of Neopolitan Ice Cream.)
On the other side of the table I had a little snack area (again, self serve).
The book cover for this one was Curious George Feeds the Animals.  The gumball machine came from Dollar Tree and had some peanut m&m's inside.  My cups and plates were set up to resemble yellow hats…as in The Man with the Yellow Hat.  It was just Dollar Tree cups inverted onto D.T. plates and black, electrical tape wrapped around the cups.  I had two giant popcorn tubs from Dollar Tree filled with various snacky things like popcorn, dried fruit and nuts, pretzels, corn nuts, banana chips, etc. and big scoops in each tub (scoops also from D.T.).  I put out some ice cream cones for the kids to use as their edible snack cups and also for anyone who just desired an ice cream cone.
The food couldn't have been easier to do because nothing needed to be cooked, just arranged!  And everyone was able to get involved and then just play and eat.  Including myself.  It was great.
The other table had the juice ('Strawberry-Banana Bunch Punch' a.k.a V8 V-Fusion in Strawberry Banana) in a glass container with a spigot (self serve and kid friendly!), more 'yellow hats', the favors (D.T. Curious George coloring posters with markers), the paper bags for the Curious Scavenger Hunt, room for the presents and a coloring area.
Curious George Color Fun labeled this area.  And I just printed out free coloring pages online and bought a big box of crayons, again from Dollar Tree.
I had blankets laid out on the ground, red, yellow and white balloons tied to trees and once all the kids got there we all went into the woods for a scavenger hunt.  Each kid was to collect a certain number of leaves, rocks, acorns and sticks.  I don't suppose I need to mention that the scavenger hunt didn't cost a dime.  They all got a pack of Curious George fruit snacks (from Bi-Lo) when they were done.
The party was filled with a bunch of 4 and 5 year old boys and if you have any of your own, you know that all they want to do is run around, explore and play and that's what I allowed them to do for an hour.  It was simple, it was fun, and I'm so very proud of myself for doing so little!!  Because, you know what?  No one cared.  They had a blast.
The next week was my son's actual birthday and I brought some homemade treats in to his school.  You can look at the post about them HERE, but they were rice crispy treats molded and wrapped up like a big Hershey's kiss with a little birthday wish inside each one.
So much for doing so little.
But it was totally worth it. The kids in his class went nuts for these things.  They were climbing on me to give me hugs, every one of them came up to me and personally thanked me, and I even got a date invite from a very handsome 4 1/2 year old.  So it felt really good to know that I can sit back and ease up on my party planning like I did at his party and still get rave reviews but also work a bit harder to get the same response.  I needed to do both of those things to know my limits.  I realized this year that in the past I was forgetting the reason the party was happening in the first place.  I would get so carried away and try to do so much to show everyone what all I could do.  And I was making it about myself.  I didn't realize I was doing that until this year and it sounds horrible to even think about that, but if I was making myself crazy doing all these elaborate things, then I'm just thinking about myself, aren't I?  Kids don't need all of that.  They just want their parents and their friends.  They also want to see their parents happy.  And I was working too hard to be that for him.  I know that now.  And I'm stronger because of it.
My son's actual birthday was this past Saturday.  So he kinda had a whole week of celebrations.  For his big day he wanted French Toast for breakfast, to go out and eat chicken fingers for lunch and to have Fish Tacos for dinner at home.  When he woke up that morning, he came downstairs to find this on the stairway window…
Curious George and the Birthday Surprise
And once he got downstairs, in the dining room, he found this…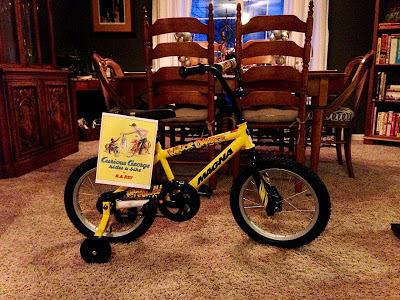 Curious George Rides a Bike
While his sister took her nap later that day, continuing on with the 'less of me is more' theme, I let him decorate his own birthday cake.  This was the best idea I have ever had.  He already loves to help me in the kitchen, has a wonderful imagination, and he got to do whatever he wanted with the cake I had baked him earlier that day.  What 5, 6, 7 or 8 year old wouldn't love that?!  And all I had to do is watch.  We may have just started a new tradition.
I gave him his canvas and my bucket 'o' decorations and let him go.
Once he found out candy could be involved, there was no stopping him.
He had a very specific plan.  Every sprinkle and m&m had a purpose.
Look at this cake!!  It makes me so damn happy.  He spelled his name out of peanut m&m's!!  My favorite part may be the sprinkle blobs though.  Although 'sprinkle blob' is a bit of an oxymoron, isn't it?
Look how proud.  That's what it's all about, isn't it?  Making your kids happy.  Any one of my cakes that took me hours to design never put that smile on his face.  And he was so proud to show it off to his grandparents and uncle when they came over last night for his birthday dinner.
Happy birthday, little man.  You make me so proud to be your mom.  You've grown up to be a brilliant person and so much fun to be around.  And because of you, I am happier, smarter and a heck of a lot stronger.
~~~~~~~~~~~~~~~~~~~~~~~~~~~~~~~~~~~~~~~~~~~~~~~~~~~~~
So, I am finally posting my recipe for carrot cake.  Carrot cake is what my mom made me when I was little on my birthday and it's what my son always has so it has a special place in my heart.   I've shared with you my doctored up cake mix recipe that is super simple and delicious but this is the first time I've shared my from-scratch recipe.  It's fairly new but I finally feel like I've got it perfected.  Like most things, I'm very specific about how I like my carrot cake.  I do not like raisins in it.  I do not like nuts in it.  I do not like it with store-bought, pre-shredded carrots.  The icing must be cream cheese.  And the icing must not be incredibly sweet.
I always make my cakes with a very lightly sweetened frosting and I get rave reviews for them.  And I'm talking VERY lightly sweetened.  Not one time has someone said to me, 'Eww!  Crazy Lady! Why isn't this cake sweet?!'  I think people don't realize how much sugar can be taken away from a standard icing recipe until they try it a different way.  When I tell you how much less sugar I use, you will think you won't like it and/or you will think I am, in fact, a crazy lady.  But just as I always encourage you to taste your food as you're cooking it, you can do the same thing with baking…who says you have to add ALL that sugar?  Maybe you'll like it better when you can actually taste the other ingredients…like cream cheese and butter!!  If you were to look up a standard cream cheese frosting recipe for the amount I'm using below (which is a double recipe) you will see that it generally calls for 8 cups of powdered sugar.  My recipe uses…wait for it…wait for it…you ready?….1/2 cup.  As in, HALF of ONE cup.  That's insane.  But you make this cake and tell me it ain't good.  Or better yet, swing on by my place and I'll give you a piece because this year I'm actually feeling strong enough to entertain you!
*Abbey's Pineapple Carrot Cake
4 eggs
1 1/2 cup light brown sugar
1 cup white sugar
1/2 cup vegetable or canola oil
1/2 cup unsweetened applesauce (you can use 1 cup of applesauce instead of using the 1/2 cup of oil but it will dry out faster and won't have as long of a shelf life)
2 tsp vanilla extract
1 1/2 cup white flour
1 1/2 cup whole wheat PASTRY flour (or 3 cups total white flour)
1 1/2 tsp baking soda
2 tsp kosher salt
4 tsp ground cinnamon
5 cups shredded carrots, undrained (usually 8-9 large carrots)
1 20 oz can crushed pineapple, drained very well
-Preheat oven to 350
-Grease and flour your cake pan or pans (One 9x13in or Two 9 inch rounds or 3 standard muffin tins (you'll only have enough batter for 2 1/2 probably))
-Beat eggs, add sugars and beat again.  Add oil, applesauce and vanilla, beat again.
-Combine the dry ingredients in a separate bowl.  Slowly mix into the wet.  Stir til well combined.
-Fold in your carrots and pineapple.
-Pour into your prepared pan or pans
-Bake your 9×13 inch sheet cake for 50-55 minutes OR your 2 round cake pans for 35-45 minutes OR your cupcakes for 18-25 minutes.
-Test with a toothpick inserted into the center, when it comes out with no goop and only a few crumbs on it, it's done.
-Allow to cool completely before frosting.  Invert onto a rack to finish cooling if you're making rounds or cupcakes, I leave mine in the pan when I'm making a sheet cake.
-Once cooled, frost with my Cream Cheese Icing*
*Cream Cheese Icing
little sister's favorite part
2 8 ounce bricks reduced fat neufchatel cream cheese, room temperature
2 sticks unsalted butter, room temperature
2 splashes vanilla extract
2 splashes almond extract
pinch kosher salt
1/2 cup powdered or confectioners sugar
-Beat your softened cream cheese and butter until smooth and fluffy (use an electric beater if you have one)
-Add in your extracts, salt and powdered sugar a bit at a time.  Continue to beat until fully mixed and fluffy.
-Taste to see if you like it this way.  I know I like things FAR less sweet than the average so add what you want, it's your cake now!