This recipe is so outside of my usual style.  But that's good, right?  Stepping outside of your usual style, from time to time?  I'm just not a big soup or stew person.  Especially if there's no meat to be found in it.  But I was inspired by Top Chef alum, Carla Hall's Groundnut Stew.  I saw her make it on Top Chef and then again on The Chew.  It just sounded so cool.  It's a stew that changes depending on who you ask, but you will usually find peanut butter, or ground peanuts, in it.  I knew I didn't have a lot of the ingredients on hand to make her dish exactly but I thought it would serve as a wonderful starting off point for a new recipe.
Groundnut Stew is an African dish, and I still kept a lot of the African elements in mine, but added a little Moroccan flair by way of the cinnamon and cilantro.  It came out really well and was incredibly hearty but still tasted very healthy at the same time (which it is).  It's very comforting.  I decided to serve this stew over some simple Israeli couscous, which I adore.  It was the perfect accompaniment.  The chewy texture of the couscous underneath the soft stew is perfection.
(The one thing I didn't do that I think would be great in this, is add a few handfuls of golden raisins to the pot.  I think the sweet-tanginess would be great.  Maybe next time…)
I do hope you enjoy it!
*Twisted Groundnut Stew
(due to my lack of fresh cilantro, I decided not to include a photo of the finished plate.  A stew is just brown no matter how you photoshop it.)

-In a large pot with a little extra virgin olive oil, sweat out 1 large onion and 1 green bell pepper, diced.  Season with kosher salt and cracked black pepper.
-Once the veggies have softened, add 3-4 cloves of garlic and a 1 inch piece of fresh ginger root, minced.
-Let the garlic and ginger cook for about 30 seconds, then add in 2 tsp of ground cumin and a pinch of cayenne pepper.  Toss this with the veggies and allow them to toast a bit.
-Add 1 small can of tomato paste and 2 TB of light brown sugar.  Stir well.
-Add in 1 1/2-2 lbs of cubed butternut squash flesh (this will most likely be 2 squashes, but could be only 1 if you have an extra large one).
-Pour in 1 quart of chicken stock, 2 cilantro bouillon cubes* and a cinnamon stick.
-In a small bowl combine 1/3 cup of natural, creamy peanut butter** with about an equal amount of the warm soup liquid.  Stir well to break down the peanut butter and then pour it into the soup.  Stir well.
-Add a can of chickpeas, drained.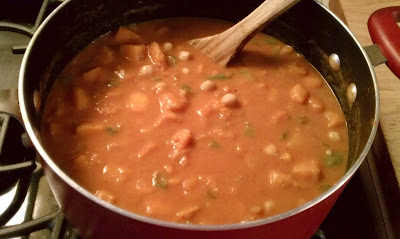 Before boil.
-Bring the pot up to a boil and then reduce the heat and allow to simmer for 2-3 hours, or keep on very low all day.  The longer you cook this, the more all the ingredients will break down.
After cooking on low, all day.
-Serve this with some Israeli couscous that you've simply boiled in salted water.
-If you have it on hand, which I didn't, I recommend serving this with some fresh cilantro.
(*I found myself with no fresh cilantro today (see the culprit, Enchilada Recipe) and went on to plan B.  They make bouillon cubes in lots of different flavors, like ginger, garlic, onion, chipotle and cilantro, and I love to keep them on hand for soups in case I'm stuck at home.)
(**I happen to only buy natural peanut butter, so it's what I used here by default, but believe that it is the best option for this stew.  Other kinds have too much of a candy taste to them and may over-sweeten the soup.  But if that's all you have, you probably will not need the brown sugar.)