You know those people who eat to survive?  It's not about the flavor to them, the experience doesn't matter, they don't cook or desire to know anything about that part of food, they eat just because…if they don't, they die.  I've never understood them.  I have always eaten for pleasure.  For taste.  I think about my next meal as I'm eating.  I go to bed thinking about breakfast.  It's just me, and I've always been like that.  And now I get to write about food and make money by cooking, which is just so perfect for me.  But here's the thing.  I've been sick for over a month now.  First came just your run of the mill cold that lasted a couple weeks, then came pink eye, and now I'm suffering, on day 10, of this sinus infection/bronchitis/walking pneumonia thing that just won't stop.  I went through a whole cycle of a strong antibiotic and it didn't fix anything, which means there was no point to have been on it in the first place, so now I'm just waiting to wake up one morning and be normal again.  At first I was taking it super easy to try to heal myself, but now, especially after I put all my faith in Z Pak, I'm just downright pissed.  I haven't had energy in over 10 days, haven't been able to hear correctly because my ears are clogged, haven't been able to smell a thing, and haven't been able to taste for OVER 10 DAYS!!!  Did I mention I cook for a living?
So I have experienced what it's like to eat only to survive.  And it ain't fun.  There's no excitement.  There's nothing to look forward to.  I just eat because if I don't, I'll die.  The only thing I have been able to taste is bitter.  So I've been squeezing lemon juice on everything just so I can taste something.  Well, that and drinking a lot of IPA's.  I've had to rely on my instincts when I've been cooking and so far I haven't received any complaints so…I guess my instincts are doin' OK.  Which I suppose is the silver lining here…?
On day 4 of this virus cocktail party, I had my family over for my mom's birthday.  I didn't want to cancel so I took lots of ibuprofen and made the best of it.  I cooked some of my mom's favorites: Duck Breasts with a Port-Cherry Sauce, Parmesan Risotto and Crispy Asparagus with a Duo of Chocolate Cakes and Homemade Cherry Garcia Ice Cream for dessert.  Now, I couldn't taste a thing, but everyone else said it was good.  So, for the first time ever I am posting a recipe for something that I have never tasted.  Some day soon (hopefully…) I will post the recipe for the chocolate cake…they had a super secret and healthy ingredient that stumped everyone!!  But for now, I give you a simple sauce that I heard was pretty damn good.
*Port-Cherry Sauce 
(makes roughly 1 cup of sauce.  excellent with duck, but would be wonderful on pork or chicken thighs)
-In a medium saucepan sweat out 1/3 cup of minced onion (or shallot) seasoned with salt, pepper and a bit of sugar.
-Once the onions have turned translucent and soft, add in about 10 ounces (a very rounded cup) of pitted, sweet cherries that you've quartered.  (I used frozen because it's what I had.)  Toss with the onions.
-Pour in 3/4 cup of port wine (preferably not tawny) and stir from the bottom of the pan.  Bring to a boil and allow to bubble for about a minute.
-Pour in 1 (15 oz) can of chicken stock and 1 (15 oz) can of beef stock* and drop in a small, fresh sprig of rosemary.
-Simmer and reduce by about a third.
-Once it's reduced to your liking, remove the rosemary and mix 1 tsp of cornstarch with about 1 TB of water and add to the simmering sauce.  This will thicken it sightly.  Add 1 TB of unsalted butter to richen it up and make it shine.
-Serve over your meat of choice.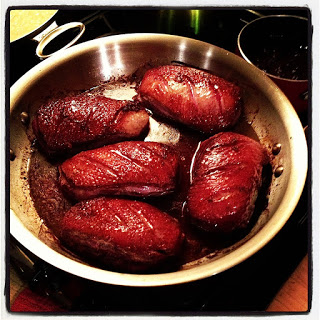 I just had to show the crispy duck breasts, they came out so pretty!
(*Now, if you can get your hands on some duck stock, then use 30 oz of that but duck stock is not too easy to find where I shop.  So I've found the combo of chicken and beef comes out tasting as close to duck as it can be without quacking.)