Happy Saturday!  Here's one thing that will be in my glass today.  It's my take on a frozen fruit margarita – something I NEVER order because of all the syrups and sugars and such included.  But they're so fun!! Mine has only fruit and booze.
That's it.
Kinda like how I brought you the all fruit sweetened Piña Coladas…?
And just like those, these are AMAZING.  This time of year I'm guaranteed to make a batch once a week for me and the man of the house… or me and a girlfriend… lots of people who come to my house know of these suckers.
Hope y'all are having a fantastic day!!!  Now I'm off to enjoy the sun with my babies…
No Sugar Added . Fruit Sweetened . All Natural
FROZEN MARGARITAS
In a blender, combine the following… (and be sure to see my ingredient notes at the end of the post)
1 lb. bag of frozen fruit*
the juice of 1 juicy lime
1/3 cup tequila**
1/3 cup orange liqueur***  
It may seem like it won't blend in the beginning, because it's a fairly thick drink, but I promise you it will.  And depending on your blender, it could take some coaxing by way of stopping and scraping and stirring, etc.
Nonetheless, blend until completely smooth.
Pour in vessel of choice.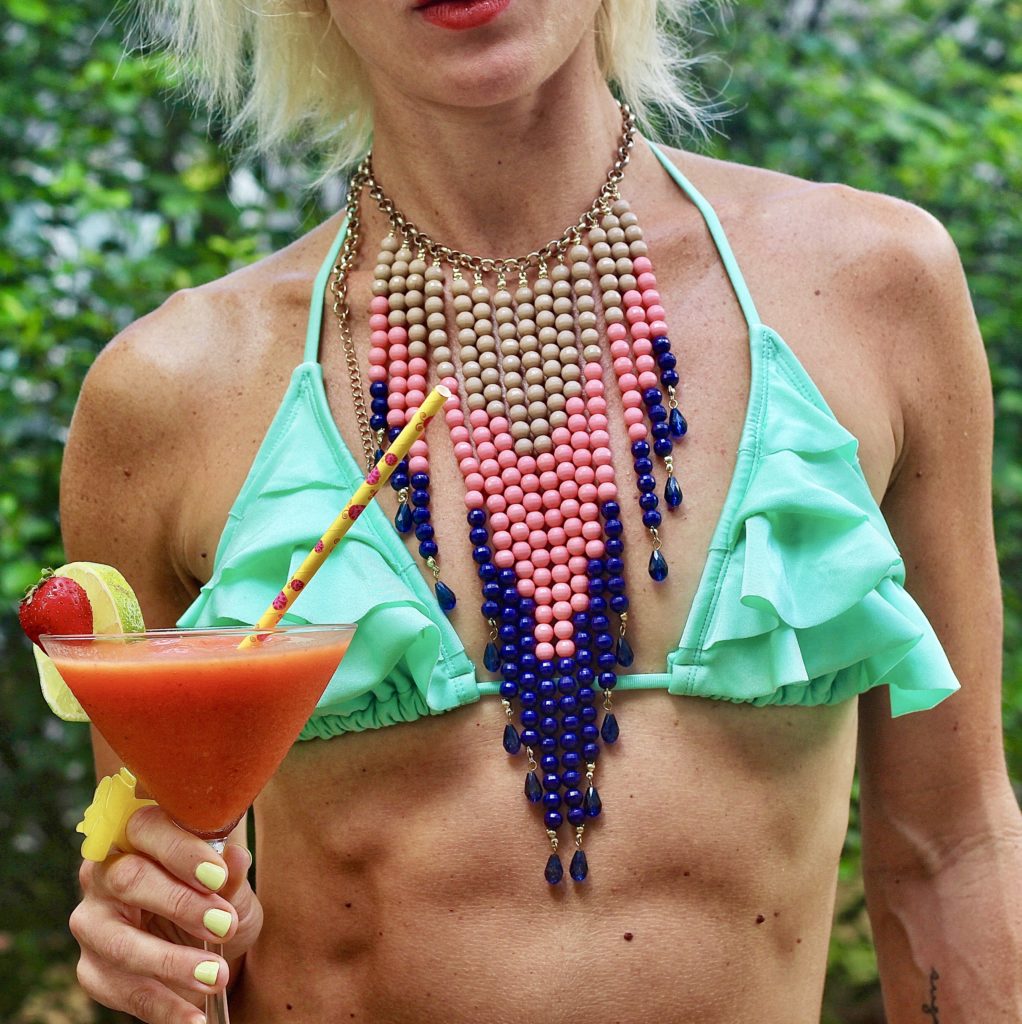 Garnish vessel and self, if desired.
Drink.
I can take one of these babies down in less than 2.  But I have major issues with temperature specific beverages.  My hot coffee goes fast, and so does everything frozen.  It's a thing.
You'll probably go slower than me because you're a more sane and patient person.
This drink will make your summer weekend afternoons just a little bit more bright and colorful.  That, I guarantee.
xo
…
Notes on items featured in the images:
Nails:  Wet n Wild Beauty 1 Step Wonder Gel Wasa-Be-With You?
Martini glass:  consigned… amazon sells many
Yellow ceramic flower ring:  from the streets of Amsterdam… I've seen similar ones on etsy
Eco friendlier paper straw:  Target. Similar styles found here on amazon
Necklace:  Charming Charlie, product unavailable… all current CC statement necklaces linked
Bikini:  Target, product unavailable… similar one found here on amazon
Sunglasses:  H&M, product unavailable… similar one linked
Lipstick:  Milani Color Statement Moisture Matte 'Passion'
…
afore mentioned ingredient notes:
*I've made this drink with all sorts of frozen fruit- mangos, all different berries, peaches, cherries, pineapple and coconut, melons… but my preferred flavor, and what is pictured above, is using the bag of 'fruit blend for smoothies' from my Harris Teeter which is strawberry, mango and pineapple.  It has the perfect combination of sweet and tart… and the color is just so pretty!!
**People have mixed feelings on what type of tequila to use in margaritas… like, there are very heavy debates on the subject.  Here's the rundown:  Blanco (silver or 'clear' tequila) is the first step of the fermented agave juice process.  That's where tequila begins.  So, it's light in color and flavor.  Once you age it in barrels, you've got Reposado… more of an amber color, more pronounced flavor… Then if you've casked it for a year or more, it then becomes Añejo.  Añejo, in my opinion is a waste in a margarita.  It's just for flash.  Many actually would argue that a Reposado tequila is a better all around style (depending on the maker) because the tequila's flavor doesn't get muddled by longer aging, meaning it's more mellow and delicate.  Drink what you want here, but for me- a middle of the road Blanco for this fun drink is really all you need.  I like Lunazul Blanco (they also make a Reposado and Añejo)-  it's the best price:flavor in my opinion at around $20 (but goes on sale often) for a 750-mL bottle.
***A bit about orange liqueurs… So you've got curaçao, which is a liqueur flavored with orange peels from the Island, Curaçao.  And you can go with your bottom shelf variety for standard mixing… there are a few brands that are in a similar price range… Or you can go high end with 'Cointreau', which is an orange liqueur in the triple sec style… basically a pricier and better made triple sec.  Then you have Grand Marnier which is different because it's made in France from cognac…  Which also means it's a double whammy.  I go with a standard triple sec here, basically depending on what I happen to have… although I'll admit I've double whammied it a couple times and can absolutely tell the difference after a couple sips 😉
Thanks for reading!!  LOVE