First there was the Pimento Cheesecake.  That one was a big hit.  As a matter of fact I haven't made that one in awhile….must do that soon.  That recipe came about when I was trying to think of a less redneck way to enjoy Pimento Cheese.  Then, a year or so later, I decided to make a more elegant version of the savory cheesecake and came up with the Gorgonzola Cheesecake with Balsamic Fig Compote.  That one was good too, totally different, but yummy.  So now here's another one.
This one honestly came about when I looked in my cheese drawer and went, 'uh oh.  I forgot I had that in there!'  (It pays to clean out that fridge every couple of weeks!!)  I saw an opened log of chevre and a wedge of aged gouda.  That combination of cheeses had me thinking of my Macaroni and Goat Cheese where I combine chevre and Edam (similar to aged gouda).  So I thought I'd make a cheesecake that tasted like the base of that.  Then I thought about something fun and unique to put on top of the cheesecake… I had a ton of apples and I have always loved the flavor of sharp cheese and tart apples.  Plus, I had some pecans that needed to be used since I didn't make my Pecan Pie this year.  And that got me thinking of my Rosemary Cheddar Nut Scones.  Rich cheese, sweet and tart apples, crunchy nuts…crazy or genius?  Maybe a little bit of both.
This savory cheesecake is perfect for a cocktail party.  It doesn't hold its shape like my other savory cheesecakes, so it's actually much easier to dip with a firm cracker, and is equally delicious.
Serve with a Pinot Noir, Petite Syrah or Gewurztraminer.
Enjoy!
*Goat and Gouda Cheesecake with Pecan-Fruit Topping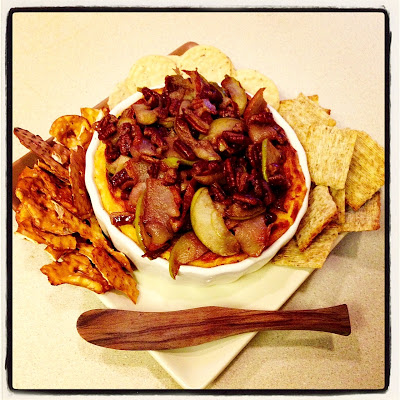 –7-8 ounces chevre goat cheese
–5-6 ounces aged gouda (Not the domestic, smoked kind!!  If you can't find the good 3 yr. aged stuff then an aged extra sharp white cheddar would work)
–1/3 cup sour cream
–1 large egg
–1 tsp Dijon mustard
–1 TB cornstarch
–3/4 tsp kosher salt
–lots of freshly grated nutmeg
–good pinch white pepper
-In a mixing bowl combine the cheeses and sour cream with an electric mixer.  Mix until it becomes well combined and then add everything else.  Mix again, very well.
-Pour into a small, well-greased crock or tart shell.  (Mine is round, 6 inches wide and 1 1/2 inches deep)
-Bake in a preheated 350 degree oven for 35 minutes.
While it's baking, prepare your topping…
-In a medium saucepan on medium-high heat, melt 1 TB of unsalted butter.  Once it's hot add 1 small granny smith apple, very thinly sliced and allow them to brown without messing with them too much.  Season with a pinch of kosher salt and let them brown on all sides for about 2 minutes, shaking the pan every so often but not too often.
-Add 1/2 a large pear, very thinly sliced (ripe, but not soft) and 1/2 cup chopped pecans.  Season with another pinch of kosher salt and shake the pan to toss the pears and pecans in the butter.  Allow these to brown and don't mess with them too much.
-Once they've browned a bit add in 1 TB of light brown sugar and toss to coat.  The idea here is to not disturb them too much or else they won't caramelize properly.  But you also don't want anything to burn…
-Once they've caramelized and become a nice golden brown, turn the heat off.  Once they've cooled a bit squeeze a bit of fresh lemon juice over them and stir, (about the amount you would get out of one wedge).
-Once the cheesecake has become golden brown and pulled away from the edges of the pan, allow to cool in the pan on a rack before handling.
-When cool enough to handle, but still warm, top with the topping and serve with toast points, bagel chips or firm crackers.