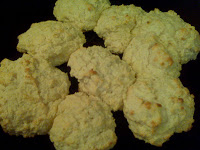 (recipe makes 8-10 biscuits)
–2 cups self rising flour*
-2 tsp baking powder
-1/2 tsp baking soda
-1 tsp kosher salt
-1/2 TB of sugar
-pinch of freshly grated nutmeg
-4 TB cold, unsalted butter + a little extra to melt over your biscuits
-4 TB or 2 ounces of soft goat cheese
-1 cup buttermilk**
-1/4 cup grated Parmesan cheese
(*make your own self-rising flour by adding 1 1/2 tsp baking powder and 1/2 tsp salt for every cup of all purpose flour)
(**make your own buttermilk by putting 1 TB of lemon juice or white vinegar into a measuring cup and adding enough milk to reach the 1 cup marker, allow to sit for a minute. Yields 1 cup of buttermilk.)
————————————-
–Preheat your oven to 425 and place a 10in cast iron skillet inside while the oven is heating.
–Mix all your dry ingredients in a medium bowl.
–Cut in the butter and goat cheese.
–Slowly add the buttermilk until everything is moistened and you have a wet, sticky dough. (You may need more, you may need less than 1 cup.)
–Remove the skillet from the oven and grease it.
–Drop the biscuit dough by the large spoonful (1/4 cup or so) into the hot skillet and brush the tops with melted butter.
–Bake 14-16 minutes until the tops of the biscuits are golden brown.
–Sprinkle the tops with grated Parmesan cheese and allow to cool on a rack.
–Serve warm with some good strawberry preserves at brunch or breakfast or as an accompaniment to a savory meal.