So I didn't make this up.  Avocado Toast is a thing all the cool kids have been doing for awhile now.  But I'm posting this because I just joined the hip crowd.  And I totally get the appeal.
The thing that brought the avocado toast to my recent attention is having lunch at Kindred on my anniversary last week.  I ordered their Avocado Sandwich and it was avocado with green goddess dressing, radishes, watercress and a fried egg on a toasted buttery bun.  It was killer.  And it's not like I've never had avocado on a sandwich before…. but it reminded me that I've never had it as the main attraction in a sandwich, nor have I made it at home.
But it's so simple!  So, so simple.  As long as you've got an avocado, some kind of bread and eggs, you can make this.  Anything else you add or do to it is just a bonus.  But I chose to keep it simple and classic, considering it was my first time and all…
I used my homemade sweet sourdough bread as the toast and I am so glad I did… the delicate sweetness and slight tang from it was amazing with the rich egg and avocado.
Since there's no real need for a recipe here, I'll just tell you below what you'll need and then copy what I posted about it on my Instagram page this morning, and you should get the gist of it 😉
But basically, my point here is to tell you that if you're like me, and haven't done this yet…. do it.  NOW.
 FRIED EGG & AVOCADO ON SOURDOUGH
"Guys.
This is my first avocado toast. Like. Ever.
Help me in welcoming me into the real world.
But thanks to the AMAZING avocado sandwich I had at @kindredrestaurant on my anniversary, and all the photos you've been posting with yours… I had to do it.
So here's my homemade sweet sourdough bread, crisped and golden.
Slathered with delicately smushed ripe avocado (technical term- smushed), sprinkled with a bashful hint of fresh lemon juice.
Topped with a perfect egg fried in coconut oil, and an aggressive pinch of Maldon sea salt and freshly cracked black pepper.
And then Tabasco. Because I do it hot.
I'll probably be doing this again."
So you'll need…
2 thick slices of bread, toasted to your liking (sourdough is recommended)
1/2 ripe avocado
2 large eggs, poached or fried til the whites are firm but yolk is thick and runny
oil for egg-frying (I chose coconut oil)
small amount of fresh lemon juice
sea salt (or kosher salt)
fresh cracked black pepper
hot sauce (optional)
Eat warm and open-faced… I recommend a fork.
Bonus points for eating it after a particularly late and liquified night.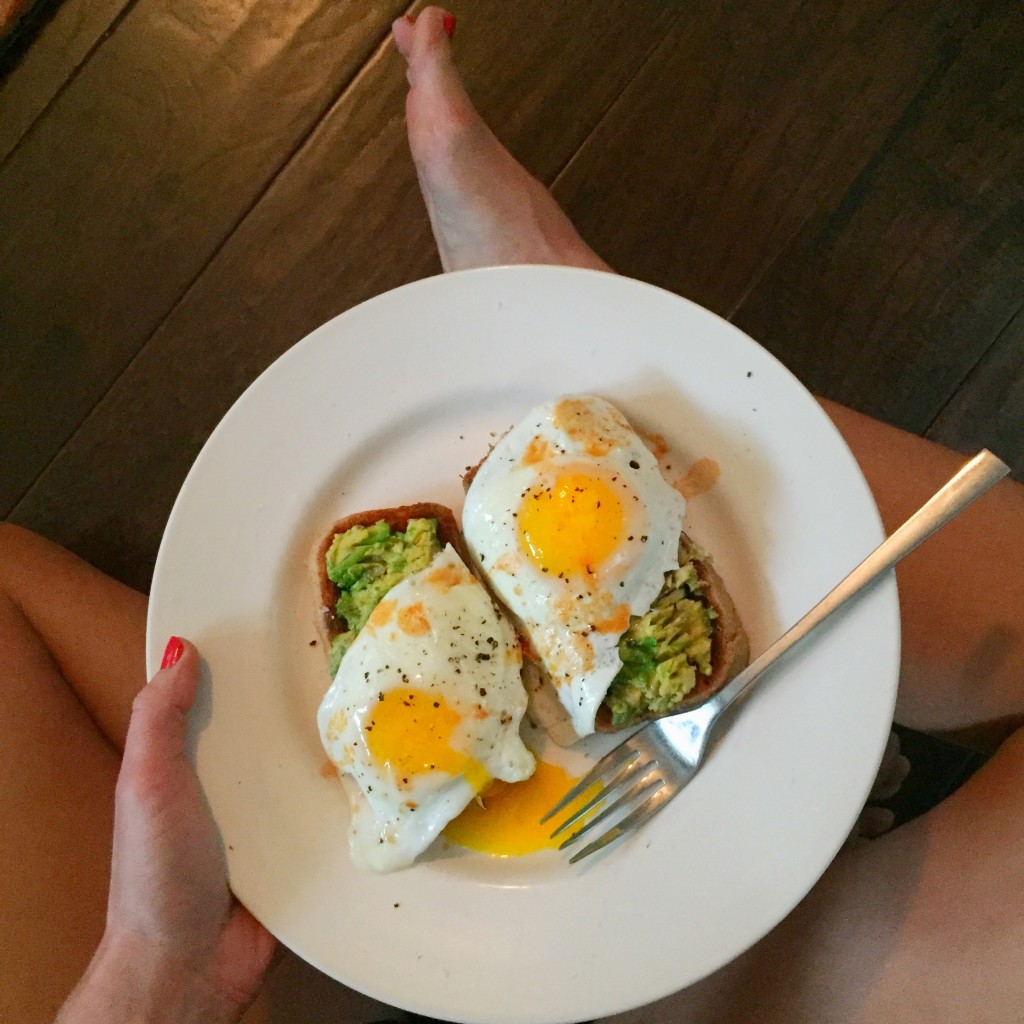 Have a great week, guys!  XO