Hell yeah I made fortune cookies.
I even made 'em twice times.
The double batch was for science. I was not happy with how my first batch turned out – the flavor was spot on, but the texture was off. They were crunchy on the outsides like you want… but softer and kinda sticky in the middle, and they also didn't cook evenly. Not good enough. SO. I fixed the problems today and am now a fortune cookie monster master.
Last night I made a Chinese take-out fake-out for the family, which was the first appearance of the homemade fortune cookie. It was such a fun project to work on during the day, with a delicious payoff in the end. I made vegetable lo mein and baked spring rolls and we ate on the floor in front of a movie in various forms of stretchy cotton.
I won't share the lo mein or spring roll recipe 1) because I made it up as I went along and would never consider myself the go-to source for lo mein and 2) it's an easy thing to research and find a version that feels good to you. But I will say that both meals involved using up things I already had, because I'm not leaving my home these days unless there's a fire inside of it.
Both the spring roll filling and lo mein were cabbage and carrot based and I kept the sauce for both the the same so I could cook off the shredded cabbage / carrot mixture in one batch, then take out what I needed for the spring rolls to cool while I added to the mixture in the same pan for the lo mein. I used garlic and ginger, soy sauce, fish sauce, sherry and sesame oil to season both. I brushed my raw spring rolls with an egg wash and baked them on a rack on a sheet pan at 425 for 15 minutes, then flipped them to go for another 10 or so, watching them to make sure they only got to golden brown. And I used my oldest box of fettuccine for the noodles in the lo mein.
But I do want to share with you how to make your own fortune cookies because 1) it was so much fun to do (twice!!) and 2) it made my family feel extra special and happy, and that's the most important job I have right now beyond keeping them safe.
When the first batch came out too soft, I did my baking nerd math and decided I needed to add some oil to the batter and also cornstarch to help give them that crispy texture you're looking for. I also lowered the oven temperature and upped the cooking time. The oil in this recipe does make it a bit greasy when you're handling them warm, but by the time they cool it's not an issue. The second batch (the one I'm sharing with you here) came out absolutely perfect and absolutely how they were supposed to.
PROUD.
tiny victories, yeah?
yeah.
I love learning a new thing, failing at it, then continuing to learn while I fix it. And the bonus of that failure was that my kids got to be a part of the second batch. I surprised them all with the first round, which was awesome, but then they got to make up their own fortunes for the second batch and we ate them with the leftovers for lunch today!
Wins!
So here she is. My prized fortune cookie recipe. Aw…please do this. It's honestly much easier than you'd think… it just requires some quick timing once you get to the shaping part because of the malleability of the cookie. But it was such a cool project and did not take long at all! It also doesn't require a lot of ingredients. Plus it gives you a great sense of achievement while being juuust tedious enough to be a perfect activity on a day like these days we've been having lately.
Homemade Fortune Cookies
You will need :
2 large egg whites
big splash vanilla extract
big splash almond extract
3 TB vegetable oil
1/2 cup white sugar
1/2 cup flour
1 1/2 tsp cornstarch
1/4 tsp kosher salt, or a solid pinch
3 tsp water
You will do :
Preheat your oven to 300.
Print your fortunes and cut them into strips… they shouldn't be longer than 3 inches if possible, but you can fold the strips in half if someone has a lot to say 😉 . Or you can handwrite them! Make this be fun, because it really, truly is. It's also a great idea for revealing all sorts of secrets or asking highly important life altering secret questions to a loved one 😉 ….maybe when we're all able to be in enclosed spaces with one another you could make some for a fun party! (See bottom of the page for the fortunes I, and the kids, came up with.)
In a mixing bowl, beat the egg whites with the oil and extracts until frothy… this takes about a couple minutes. You want thick and frothy, but not stiff. I used an electric beater, but you can get it done with just a whisk if you need to!
Instead of separately sifting the flour, cornstarch, sugar and salt, I just placed a fine mesh sieve over the mixing bowl and added the dry ingredients in that way, then shook it on through the sieve to sift right in. Then I added the salt directly to the bowl (kosher salt doesn't sift… and I only use kosher salt).
Fold with a rubber spatula to fully incorporate the dry into the egg white mixture.
It should form a thick paste-like batter.
Add the water and stir. The batter should now be looser and more like a thick cake batter.
Lightly grease a cookie sheet with oil spray or rub it with a paper towel + vegetable oil.
Bake these in half batches so you have the right amount of time to handle them before they all cool. Use only 1 tablespoon of batter for each cookie. I was able to get 5 on one tray, then repeated that again for the remaining cookies – Once the batter is scooped into 5 spots, move the cookie sheet around to allow the batter to spread on its own. You want them all to be about 3 -4 inches in diameter.
Bake in a preheated 300 degree oven for 14 minutes, until the they are golden brown and the centers have set.
Working quickly while the cookies are still warm and pliable, carefully remove a cookie with a flat spatula and place your fortune in the center. There's a trick to getting the timing right here, because putting the fortune in too soon will result to it becoming part of the cookie… but waiting too long will allow the cookie to firm up and you will never be able to get that sucker to fold.
Fold the cookie in half over the fortune, and then bring the corners to meet one another, making that classic fortune cookie shape. Pinch those corners together with your fingers while they're still warm until they cool down and hold their shape.
If you hold them in their shape for just a few seconds, they'll cool and harden in your hands and you can set it aside to finish cooling.
Repeat with the rest of the cookies. Quickly before they harden! You can get at least 10 cookies, and will likely have a bit of batter leftover for you to consider making a couple more.
Eat them when they're completely cooled, and store any leftovers in an airtight container.
Done!!
And here are the fortunes I used for my first batch :
And then here's the copy of what the kids came up with for round 2 / the perfect batch :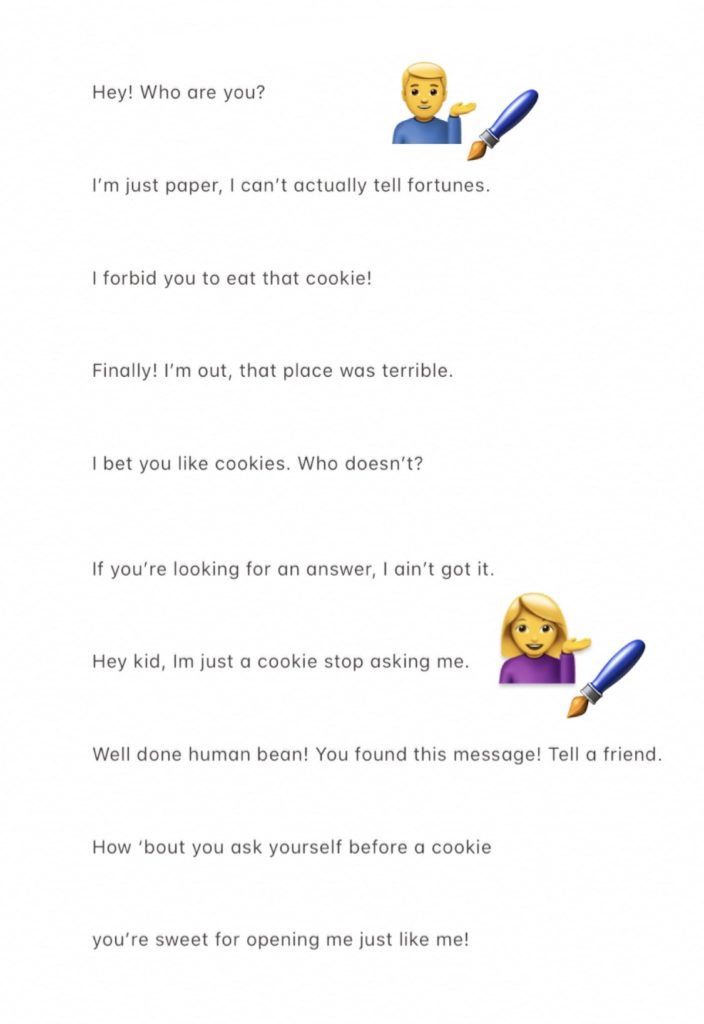 I just love an edible project, don't you?
…
thanks for reading, y'all. much love to you and PLEASE stay home and safe if you're allowed the rare and coveted gift to do so. There are people who have no choice but to leave their home and put themselves in danger every single day to fight for you, and you going out for unnecessary reasons makes their job even harder. xx