…no ice cream included.  It just tastes like it.  This is one of those way too easy, no-bake desserts that pop up all over the place during the summer.  And I love them.  There's a stigma towards no bake desserts (especially the ones using Cool Whip) in the culinary world, but everyone has their favorite 'trashy' food they love from childhood whether it's american cheese or velveeta, marshmallow fluff, or cool whip.  Most cooks and chefs don't like to admit it.  They hide behind closet doors, hoping no one will discover their secret, 'What will people think if they see me using this?  What will they think of me?'  Well, you know what?  I aint shy and I'm admitting it right here and now that I only make twice baked potatoes with velveeta, just the way my mother did growing up, (and it also makes a killer scrambled cheesy-egg), I use marshmallow fluff to stabilize my freshly whipped cream so I can make it in advance and it won't deflate, and I use cool whip in a number of dessert recipes, whether it's to frost a cake in a pinch or in something awesome like this.
I've written a couple other no bake desserts- Chocolate Cookie Pudding Mess (oreos, cool whip, nutella & chocolate pudding) and Chocolate Peanut Butter Pie.  But I made this one up specifically for my husband who really likes stuff like this.  Something about that man and cool whip.  And marshmallows.  What is it with boys and marshmallows?  My son could eat a whole bag if I let him…and believe me, he's tried.  I really don't like them, could never eat another in my life and be perfectly content.  It's not because I look down on them or anything, they're just not my thing.  I even make my own Agave Marshmallows, and don't even eat them…I just make them for my boys.  But this recipe uses the good ole trashy kind you can buy for about a buck at the store.
This pie tastes like vanilla ice cream, it's so good!  You aren't tasting one ingredient (otherwise the marshmallows involved would turn me off), you're tasting the combination of all of them which miraculously tastes like ice cream when blended together.  Pretty cool.  I use crushed up ice cream cones with salted pretzels as the crust, but feel free to use your favorite cookies or crackers if you don't have any cones on hand, I just thought it was kinda cool to use the cones.  And feel free to add any type of mix-in to make this a flavored ice cream pie…fruit or nuts, candies, cookies, liquers, sprinkles for the kids, whatever your favorite flavor is.  You can throw this together in no time and it's perfect for a summer picnic.
Enjoy!
*Ice Cream Pie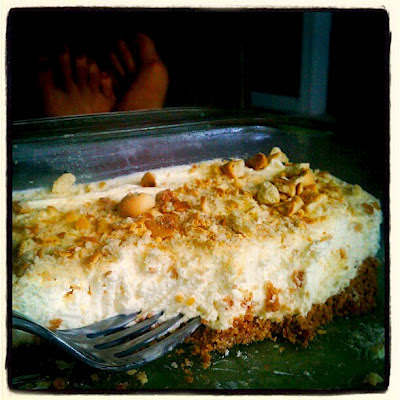 feel free to use a plate if you're more mature than me…
Crust:
–5 ounces sugar cones, broken up* (this is the size of one box at my store)
-a small handful of salted pretzels 
-4 TB unsalted butter, melted
-good pinch kosher salt
-sugar to taste
———
-Pulse the ice cream cones and pretzels in a food processor until they become crumbs, add the salt and melted butter, pulse again until everything is moist.  Taste to see if you need to add sugar.  It should be salty-sweet.
-Press firmly into a greased 9×9 inch baking dish.  Set aside while you make your filling.
Filling:
–6 ounces marshmallows (the mini ones melt better, but the large ones work perfectly fine.  And they make all natural marshmallows that you can find at most health food stores)
–a bit over 1/2 cup of milk
–8 ounce brick of neufchatel cream cheese (I always use the low fat, I prefer the taste)
–8 ounce container whipped topping (you can find all natural whipped topping at most health food stores as well.)
———
-In a large, microwave safe mixing bowl, add your marshmallows, milk and cream cheese.  Heat at 30 second intervals, stirring in between (using a greased spatula to prevent stickage), until the marshmallows are puffed and melting into the milk/cream cheese.
-Once it looks gooey enough, beat with an electric beater until it's well combined.  This may be a bit sticky st first, but once the marshmallows surrender, it will come together nicely.  Beat until there are no lumps.
-Add in your whipped topping and beat again, until well combined.
-If you're adding any mix-ins, now would be the time to do it.  Add about 1 cup of whatever you like and fold with your spatula.
-Pour into your prepared crust and spread evenly.
-You can do what I did in the photo above and sprinkle some cookies on top (animal crackers, per my son's request), but it's not necessary.
-Chill until set, at least an hour.
(*I've also made this crust with whatever I happen to have in the pantry that needs using.  One of our favorites was when I used half a bag of stale chocolate-peanut butter bugles mixed with some pretzels…it was absurdly good…like Chocolate Peanut Butter Cup Ice Cream.  Yum!)