I set a new record today, waking up at 3:45 a.m.  Last week I found myself wishing for more hours in the day and I guess I got what I wished for.  (Note to self:  Be more specific when wishing.  Also, buy a new Genie.)
Last week was my husband's birthday and I planned a big event for it, which kept me quite busy.  The week before that, and the week before that, I had been playing nurse to him and our kids who started to drop like flies with some sort of mutant virus.  Like any good mom, I stayed strong and kept everyone alive.  Then went right into planning the party, then directly into getting sick myself.  Which brings me to 3:45 a.m. today.  The problem we stay-at-home moms have with getting sick is that we don't have a 'home' to go home to.  There's no one waiting for us at home to take care of us when we get sick.  We get sick, we medicate, and trudge through.  So, thanks to getting all of my work done on my morning caffeine high, to lots of Advil and a 5:00 IPA, followed by something to put me to sleep, I made it through this crazy week.
But enough about me.  Let's talk about this party I threw my husband, shall we?  It was quite fantastic, if I do say so myself.  (Whoops, that's about me again.)
A few weeks ago, (before the mutant virus), we talked about me putting together a wine paired dinner to celebrate his birthday.  So I went right to work brainstorming what to serve.  All I knew in the beginning was that I wanted the dinner to be several courses long, that I wanted to serve Cornish Game Hens for one of them and that the dessert course would be his German Chocolate Birthday Cake.  Everything else sort of fell into place as the weeks went by.
Some people plan wine dinners by setting a menu first, and some begin with the wine.  I started with the wine.  I knew I wanted to serve mostly whites because
#1)  They're generally less expensive and
#2)  They're easier to pair with a variety of different foods (in my opinion)
So one day when my husband was resting and home with our oldest, my daughter and I went to the wine store and bought a boat load of wine.  And then the menu came together once I brought them all home.
I wish I could say that I got pictures of all of the courses and all of the wines, but sadly…my head cold/sinus infection got the best of me.  So, I pretty much have a photo for the beginning of the party and another for the end.  But here's the breakdown of my courses and the wines I paired with them, along with the prices.  (I planned this entire dinner with the most expensive wines, by a huge margin, being the dessert wine at $19.99 and a special bottle at $23.99.  So the wines averaged at around $10…not bad, huh?)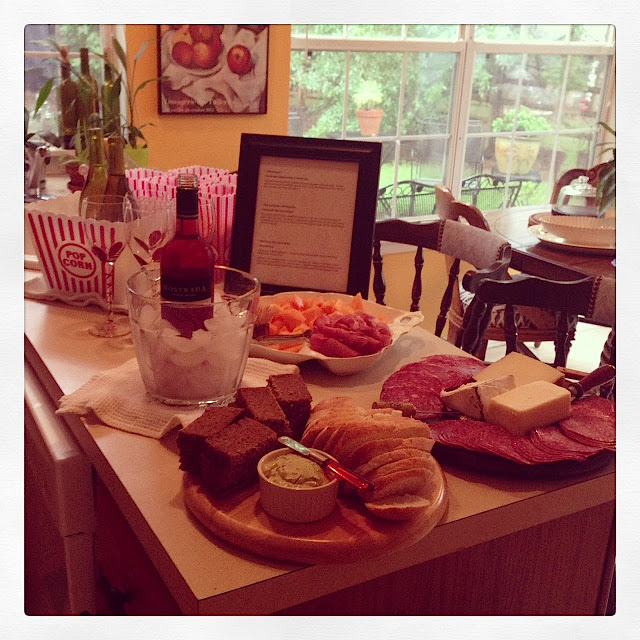 At the beginning of the party, I had a three part hors d'oeuvres table with wines for each part.  I wanted it all to be approachable, yet elegant.  Plus, my kids were around for this part so I wanted them to be able to participate as well.  (In the food, not in the wine.)  I had glasses out for each person, with their name written on the bottom of each glass in glass markers.
*Kettle Popped, Salted Popcorn 
with Lindemans Bin 65 Chardonnay $4.97
I served the wine for this part in a big, plastic popcorn bucket filled with ice and the popcorn itself was in smaller, single portion popcorn containers.  Popcorn and chardonnay is a classic pairing, and since I'm not a fan of manipulated California chardonnays, I went with a very inexpensive, yet highly regarded Australian one with a lot of tropical fruit flavors.
*Prosciutto and Cantaloupe 
with Oak Grove Viognier 2011 $8.99
Everyone loves prosciutto and melon and the most obvious wine pairing for that would be a prosecco.  But I've never never liked the obvious.  This viognier is off-dry with melon and honey flavors, so I knew it would pair well.
*Cheese and Charcuterie Platter 
with Nostrada Rosé 2011 $8.99
(Humboldt Fog, Havarti and Manchego Cheeses, Genoa Salami and Sweet Sopressata, Tarragon Aioli, Seeded Rye and White Italian Bread)
I like to make a cheese platter with a goat, sheep and cow's milk cheese.  I also like each one to have a different texture.  The Humboldt Fog is a soft goat cheese, the Havarti is a semi-soft cow, and the Manchego is a hard sheep.  Dry rosés pair well with a variety of cheeses and cured meats, they also seem to love tarragon and carraway.
The next part of the evening was a five course sit–down dinner.  I wish I got a picture of the table, I was amazed at how many plates, glasses and flatware I had in my possession!
*Tilapia-Avocado Cakes with Capers and a Honeydew-Green Apple Slaw 
with Montignac Picpoul de Pinet 2011 $9.99
This Languedoc white wine is a classic for seafood pairing, specifically with oysters, but I went the white fish route.  The salinity of the capers in the fish cakes and the tartness of the slaw mirrored those flavors in the wine.
*Cinnamon Rubbed Rock Cornish Game Hens with a Fig Glaze and Fontina Polenta topped with Wilted Spinach and Cremini Mushrooms
with Anakena Ona Special Reserve Pinot Noir 2011 $15.99
Pinot
Noir is a very food friendly wine, so it's perfect for wine dinners.
The spice element of this one was an excellent match for the cinnamon, and the fruitiness of the wine showed its colors as you had a bite of
the crispy skin glazed with fig preserves.  (On a side note, I wouldn't recommend this wine to drink on it's own yet, it's far too young, but it was perfect for the occasion.)
The hens before cooking, rubbed in cinnamon salt mixed with a bit of onion powder.  I let them sit, seasoned and uncovered in the fridge for 24 hours before roasting at a high temperature to crisp the skin, then a low temperature for hours while we nibbled on our appetizers.
*Young Greens with Green Apples, Chevre and a Honey-Cinnamon-Lime Vinaigrette 
with Bougrier Anjou Blanc 2011 $9.99
A simple salad course with tart apples and a round of young goat cheese lightly dressed in a vinaigrette with many of the flavors found in this Chenin Blanc.  Anjou's can be dry like this one, or quite sweet, but they all generally have the same flavor profile.
  
*Bleu Cheese, Toasted Raisin Bread and Italian Butter
with Shingleback Black Bubbles Sparkling Shiraz $23.99
(Danish Rosenborg Bleu and St. Agur Bleu from France)
This may have been one of the most exciting courses of the evening.  If you've never had St. Agur, go out and get some NOW.  It's the most incredible bleu cheese (that's easy to find at most large grocery stores) you will ever taste.  I toasted some cinnamon raisin bread and laid it out on a wooden platter with both bleu cheeses, some sea salt, and this Italian butter from Parma that all of us couldn't stop marveling over.  It tasted like how I imagine Parma smells.  It tasted like cheese, it was unbelievable.  My meal could have begun and ended with that butter.  And paired with the raisin bread, a sprinkling of sea salt and this crazy-awesome-unusual sparkling shiraz, it was pure heaven.
Picture taken after the last course had been served
*German Dark Chocolate Cake
with Quinta de Ventozelo 10 Year Tawny Port $19.99
This cake alone unleashes audible groans from anyone who tastes it, and when you pair it with this amazing (and affordable) tawny 10 year, something purely magical happens.
And one of the best parts about throwing a lavish dinner party is the leftovers!  I sent everyone home that night with wine and food and the next day my kids got to make themselves one hell of a fancy butter sandwich.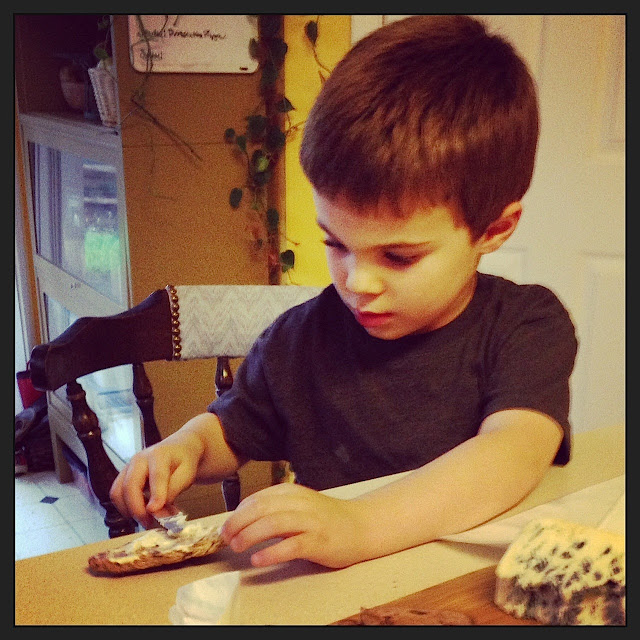 ~~~~~~~~~~~~~~~~~~~~~~~~~~~~~~~~~~~~~~~
All the wines were purchased at Total Wine.
The game hens, salami, havarti, chevre, cantaloupe, honeydew, green apples, mixed greens, spinach, mushrooms, raisin bread and rye bread all came from Aldi.
The Italian butter and humboldt fog came from The Fresh Market.
The polenta came from Healthy Home Market in the bulk bin.
The tilapia, tarragon, prosciutto, sopressata, both bleu cheeses, manchego, and any other incidentals came from Harris Teeter and Food Lion.