Yesterday my husband and I took our 4 1/2 year old son to Carowinds for the first time.  We left our 14 1/2 month old daughter with my parents for an entire day (also for the first time). I was equally excited and nervous about this day.  Excited to get to provide my son with a whole day of just him time.  Nervous because my parents were taking my baby for a whole day.  Well, that and the fact that our town announced that they were having to turn the power off for the whole night.  And, if you remember correctly from the last time our power cut off in the middle of the night, my entire family relies on sound machines to sleep so, I was pretty nervous about the night ahead.  At least this time we got some warning and I was able to stock up on batteries, unplug smoke alarms and charge our cell phones and iPads before the cut-off time.  (I kinda approach every obstacle as if it's World War 3.  I'm the one you want to be beside in a catastrophe.  I'm the one with band-aids, gum and extra socks.)  But the thing about being nervous is that it doesn't accomplish anything.  My husband always tells me,
"stop worrying, because if something bad happens, then you are worrying about it twice, and if nothing happens, then you're worrying for nothing.  You can't control what's going to happen.  Let it be."
Smart man, my husband.  And I know he's right but I just can't help it.  I am a nervous, worrying person.  I can't remember if I've always been that way.  But then again, I can't remember what it was like before kids.  (What did I do with all that free time?!)  So maybe being nervous and worrying all the time is just part of the mom gig.  I don't know though, I think I have mama friends who don't worry like I do so maybe not.  The point is, I worried for the first hour or so of the day yesterday before I was able to relax a bit.  Seeing the excitement and grin on my son's face certainly helped.  He had the best time!!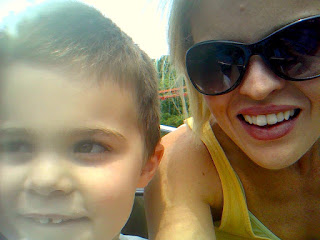 Me and my little man before the first ride.
And as it turned out, so did my daughter and my parents!  So, there.  I did, in fact, worry for nothing.  And thanks to a new town generator, I hope to not be dealing with power outages for a long, long time.  Please and thank you.
The last time we had taken my son to do something this special was when I was about 4 months pregnant with his sister and we took him to Tweetsie Railroad.  He wasn't even 3 yet.  Now he's 4…and a half…that's crazy.
But he had such a blast!  He got to ride on a pirate ship,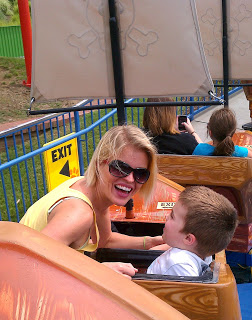 drive an airplane,
drive a car,
ride on a train, go on 2 roller coasters, a spinning swing,
…and he got to do it all without the interruptions of his baby sister.  He loves her so much, but she sure does get in the way of his fun sometimes.  She takes his toys, she makes us leave before he's ready, and she takes more than half of his mommy-time away.  I really feel for the guy sometimes.  But he is the best big brother and I think he just understands that's how things are now.  That's why it was so important for us to take him for a special day.  It was long overdue.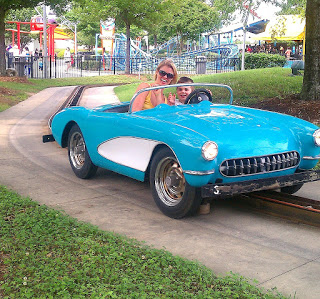 This may have been the fave…his own car to drive!
Our drive home became just like a scene out of a movie.  He sat in his carseat, holding on to the giant stuffed animal his mama won for him (shooting hoops, thank you very much) and within 3 minutes of driving, that animal had become the pillow to his sleeping head.
My little man was worn out.  And it was his best day.  Back at home, before bed, he turned his train track table into a theme park and relived the whole experience, he brought his cars onto the table and had them park in the parking lot and mapped out the whole place.  While we were tucking him in, he couldn't stop talking about the rides.  Then he slept for 13 hours.
It took yesterday for me to remember what it was like spending time with him.  I mean, I spend every single day with him, but I haven't spent time with just him in ages and I realized that I missed him.  I missed the boy who was my only for 3 years.  He's a wonderful child, bright, smart, fun and cute, and I'm so proud of him.  I'm proud of me for making him that way, and I thoroughly enjoyed every minute I spent with him yesterday.  He's growing up so fast and I just can't believe it.  I hope we can do more things like that soon before he grows up any more because it's all just going by so fast.
After my husband and I tucked the sleepy kids in bed, I made us this salad.  We had a day filled with hamburgers, french fries and ice cream cones so we really needed some vegetables.  I threw this together based on the things I had in my fridge and it was exceptional.  Very light and fresh, but satisfying all at the same time.  I highly recommend it after a long day of fun and junk!
Enjoy!
 *Thai Steak Salad
(I'm not from Thailand, and never have been.  This is just my version of a salad using a lot of the flavors I happen to love in Thai cuisine.)
4 ounces of spring mix* (a plastic carton of the organic spring mix is usually 5 ounces, I had almost a full container's worth)
1/2 red bell pepper, thinly sliced, then cut the slices in half
1 ripe mango, peeled, cubed or thinly sliced
about 1/3 cup of raw or roasted/lightly salted cashews
3/4-1 lb. of steak (skirt steak is preferred, but last night I had a package of 'lean stew meat' that was .89 lbs. and it worked perfectly.  And obviously this is a great use-up for leftover steak.)
Agave-Cilantro-Lime Dressing (**recipe below)
Season your beef liberally with kosher salt and chinese five spice powder.  Sear on both sides, on high heat, until dark brown and crispy with some olive oil in the pan. (This means put your pieces in the very hot, oiled skillet and DO NOT TOUCH THEM for at least 1 minute, maybe even 2.  Once the meat is ready to be flipped, it will let you know by releasing itself easily from the pan. If it's sticking at all, it needs more time.)  If you're using thick pieces of beef, like the chunks of stew meat, then once the pieces are seared well, turn the heat down to medium and continue to cook until desired level of done-ness.  Set aside while you make your dressing and prepare your salad.
In your serving bowl with the dressing (**recipe below), add your spring mix, then the rest of your ingredients.  Toss well, garnish with fresh cilantro and serve at room temperature.
**Agave-Cilantro-Lime Dressing
(for this salad, you will not need this much dressing, so once you make it in the bowl, take out about half and then if you need more after you've tossed the salad, you can always add it.  Keep the leftover dressing in the fridge, sealed in a jar for a couple of days.)
In the bowl you will be serving your salad, place 1/4 cup of fresh lime juice, 1-2 TB of light agave nectar*** (depending on how sweet you want your dressing, I like this dressing pretty sweet)
Add in a large handful of chopped, fresh cilantro leaves, and a small handful of chopped, fresh mint leaves.  Season with kosher salt.  While whisking, drizzle in some olive or canola oil until it tastes finished.  (I never use the 2:1 or 3:1, oil to acid ratio in my dressings.  I never, ever, need that much oil so I always add some, then taste, then add some more if need be.
(*thinly sliced cabbage is a great sub, but I would make sure to toss the cabbage in the dressing at least an hour before serving so break it down a bit.)
(***honey can be substituted, or you could even use light brown sugar. )