I've shared this before, but it was when nobody cared or knew who/why I was.  So it needed to be brought back around again.  This is one of my favorite things I've ever done.  It just makes me so happy.
It's a literal pizza pie.  Double crust pizza pie.  Pizza crust on bottom.  Filling in center.  Pizza crust on top.  Baked til golden brown and crispy on top and ooey gooey in the center.
mind. blown.
You like calzones?  You love this.  And it's perfect for a crowd!  Make several different varieties for a fun twist on a pizza party! Plus, isn't it just gorgeous?!  But I'm a sucker for baked dough of any kind.  You know this.
So you can fill this with whatever you'd like, whatever your favorite pizza toppings may be… and I make several different varieties myself, but I think my favorite is the spinach/mushroom/cheese that I'm showing you today.  So I'm writing the recipe below as a method, and then adding this filling recipe towards the end. (I do recommend always using pre-cooked vegetables so you don't end up with a watery pie.) But you can just follow my method and swap out your favorite pizza flavors to make it however you'd like!
…until I make another one to share 😉
SPINACH & MUSHROOM PIZZA PIE
. dough .
Use your favorite pizza dough recipe… or buy some from your favorite pizzeria… or buy it from the store. You will need 2 pounds total… which is generally 2 balls of dough.  But this is my website so obviously I'm gonna give you my recipe. CLICK HERE for my Whole Wheat Pizza Dough recipe from the archives.  BUT DOUBLE IT.  Then split dough in half- one for bottom crust and one for top.
Grease the bottom and sides of a 8-9 inch deep dish pie plate (I prefer ceramic for this, but clear glass would be fine.  In a pinch, you can use a metal/nonstick cake pan with high edges, but your crust will most likely brown before the insides are done.  I can't give you exact timing on that type of pan.
Press one dough ball with your fingers down into the bottom and up the sides of the greased pan.  It will likely try to spring back, just keep working on it.  Be sure to have the dough all the way up to the sides of the pan.  You want to be able to adhere it to the bottom crust when it gets there.
Fill with your filling (recipe at end of post… and you will need a total of 5-6 cups of filling, including cheese, if you decide to go off script)
Stretch out your second ball of dough (I prefer using my hands/knuckles in the air, but a rolling pin can be used if you're not confident in that method.  Just don't roll too much, or your dough will be tough.)
Place dough over filling and just as you would with a pastry crusted pie, tuck in the edges and pinch them onto the bottom dough, forming a tight seal. Make sure it's sealed all the way around the pie.
Rub top of dough with extra virgin olive oil.
Score the top of the dough a couple times with a sharp knife for ventilation.
Sprinkle flaky sea salt all over the surface.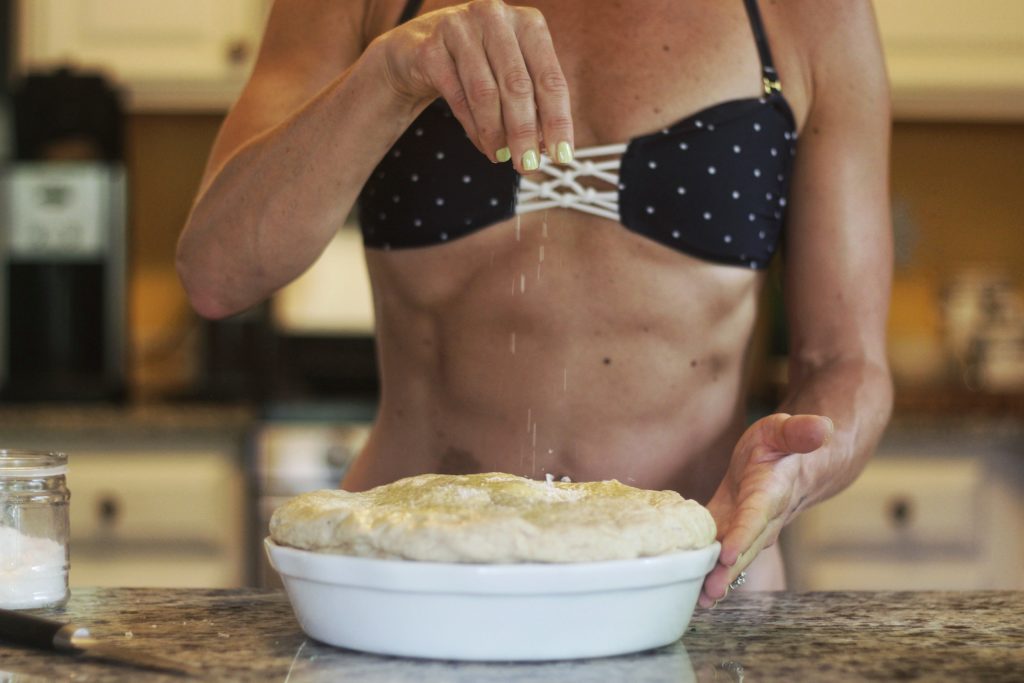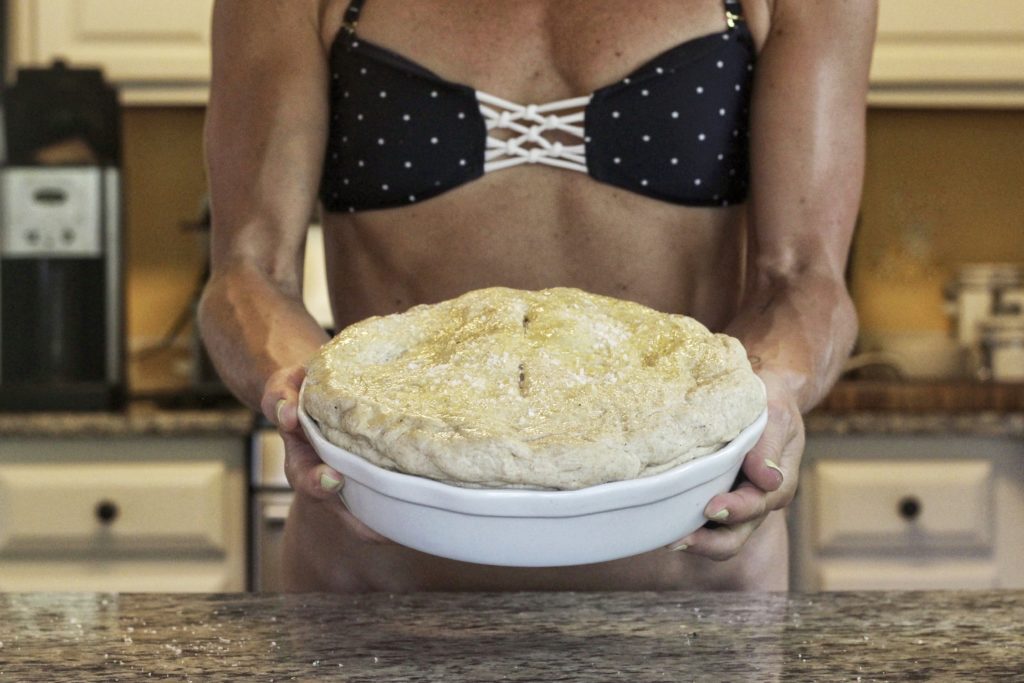 Bake 400 degrees for 30-45 minutes, or until the top is crusty and the filling has warmed through in the center (toothpick test never fails if you're in doubt 😉 ).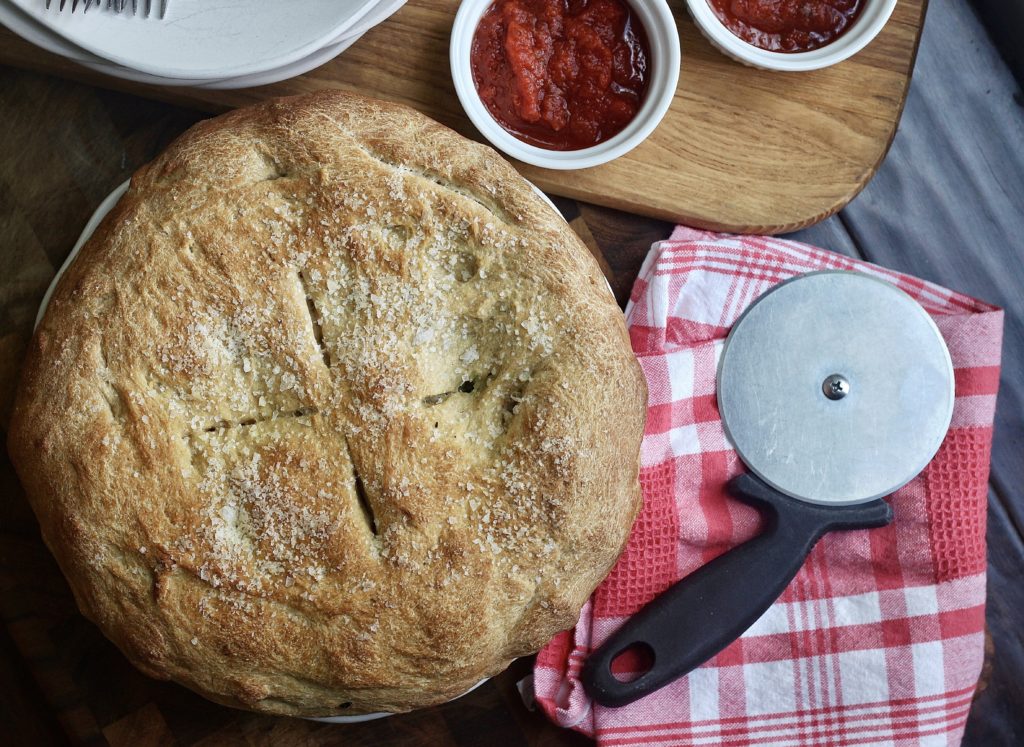 Serve with a tomato sauce for dipping, as you would a calzone…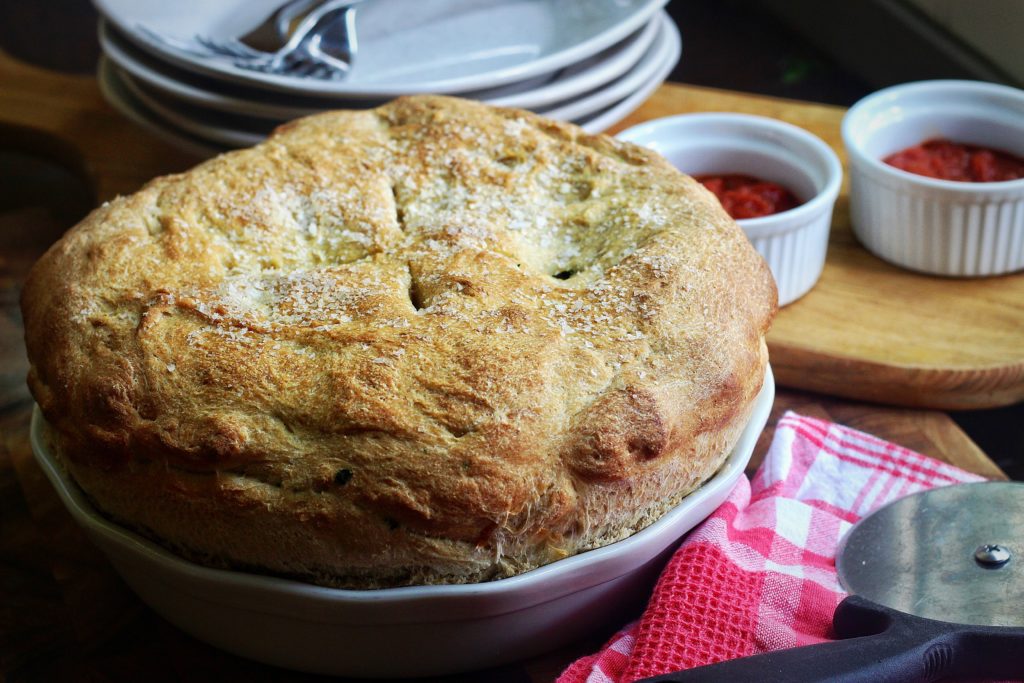 Good grief, this makes me so happy.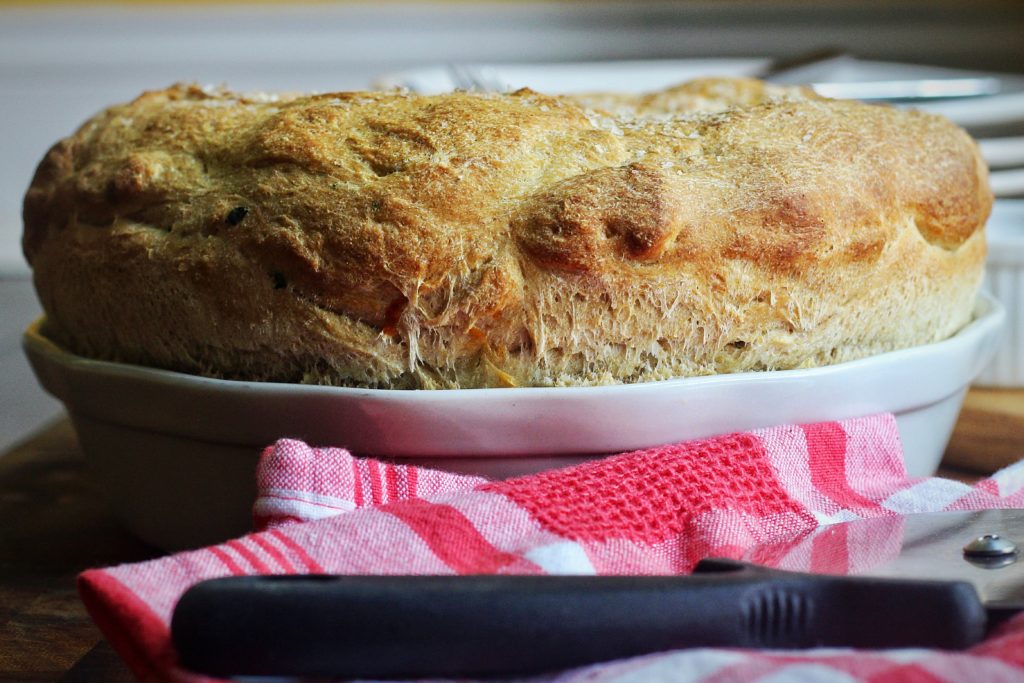 look. at. that. bread.
Like, I can smell this all again right now just by looking at these pictures.
And I'm a happy damn girl.
. filling .
1 lb. frozen spinach, thawed and water squeezed out well.  This comes down to 2 1/2-3 cups tightly packed frozen, thawed and squeezed spinach.
8 oz mushrooms, sliced and sautéed with 1 onion, minced, and seasoned with salt and pepper to taste, then and cooled (can substitute canned mushrooms, sure!)
2 cups ricotta (I prefer whole milk and as good of a quality as you can get… truly makes a big difference)
1/2 cup parmigiano/asiago/romano or a combo, grated or shredded
2 cups mozzarella, shredded
Place all filling ingredients in a large mixing bowl.  Use a fork to mix well, making sure to break up any of the packed spinach clumps.
Season well with kosher salt, black pepper and freshly grated nutmeg to taste.
…
Thanks for reading, y'all!  Hope you're well! xo
Dish towel compliments of DII on Amazon.