I made my own butter this weekend.
Because I do these things.
So, why make your own butter?  It's not cheaper.  It's not easier.
But it's better.
And you get your own homemade buttermilk at the same time, which is kind of badass.  So not only is this better… it doesn't even compare to what those sticks in a box call butter.  If you buy the best cream (local if you can) and make your own butter, with your own hands, and season it with the perfect amount of salt, and spread it on some warm, bready goodness straight from your oven…?
Mic dropped.
It's TRANSCENDENT.
We just returned from Europe and I'm certain that's what spawned the idea to make the butter when I did.  Because the butter over there is so so so perfect.  And the cheese.  And the bread.  And everything.  So that, and the fact that it was Mother's Day weekend (and I always host the family for brunch), got me on the butter makin' train.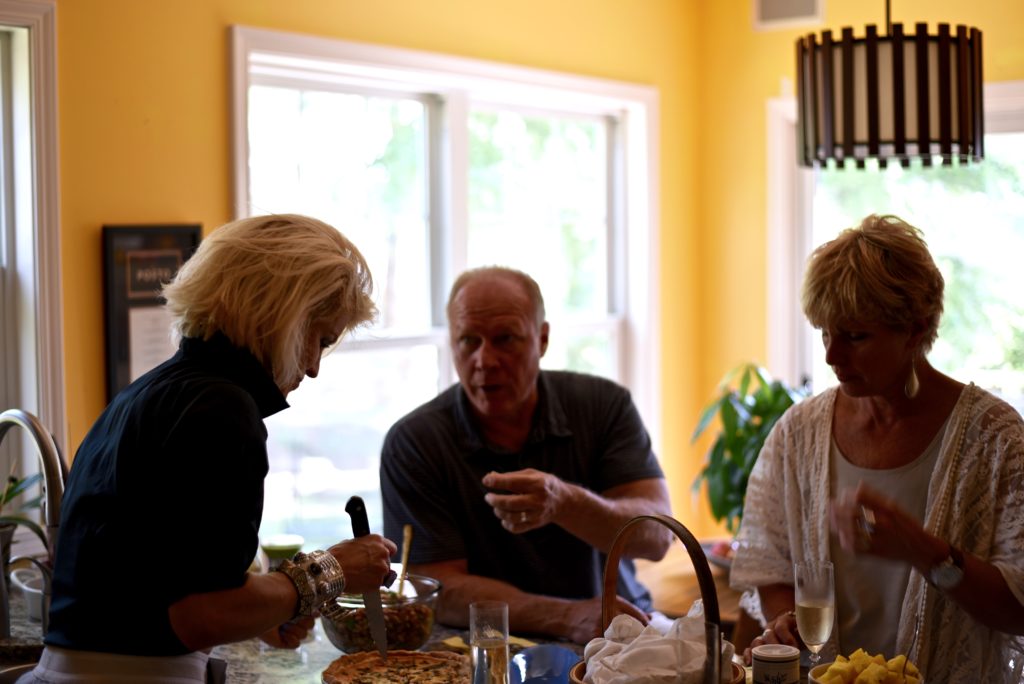 My brunch was on FIYA, y'all. This here was the dessert- Caramelized, Rum-Flambéed Bananas over Coconut Buttermilk Pudding topped with Whipped Cream and Salted Pecans. (Kiiiinda Killer.)
When menu planning for my brunch, I had already decided on making mama the sweet potato biscuits she made me as a kid- one of my favorite things as a child- but making them gluten free for her, since she doesn't do well with wheat.  We also had Caramelized Onion and Mushroom Quiche (with my G-Free pastry crust), Candied Bacon, a Mixed Bean Salad, Pickled Cucumbers and Chilis, fresh fruit, Mimosas and Bloody Mary's… lots and lots of yum happened in that kitchen.  But when thinking about the Sweet Potato Biscuits, I figured… well, what goes better with warm, homemade biscuits than softened butter?  Nothing.  What's better than softened butter?  Softened, homemade butter.  What's better than softened, homemade butter?
Softened, Homemade, Cultured Butter.
So that's what I did.  Because I do these things.
I cultured the (organic) cream with a few spoonfuls of (organic) whole yogurt and let it sit over night, allowing it to culture and thicken, then I churned it into butter.  So, with the live cultures present, it's like a health food now, right?  Cultured butter is the jam, man.  No.  It's the BUTTER, man.
It's like butter but better.  It's better butter.
And you need it in your life.
HOMEMADE CULTURED BUTTER
1 pint (2 cups) organic cream
2 spoonfuls (2 TB) organic, whole milk plain yogurt
1/2 tsp kosher salt
Start with 1 pint of the best cream you can find.  If you can get your hands on local heavy cream, do it. Just be sure it's organic and not ultra pasteurized and not full of fillers.  Then make sure you also have the best whole milk, organic, plain yogurt you can find.  Bonus points for local, and again- no fillers or gelatins, thickeners, etc.  Just milk + live cultures.  And you will need to begin the process about 12 hours before you want your butter completed.  It may be done before that, but just to be sure, give yourself 12 hours.
Pour your 2 cups of cream into a glass bowl.
Add in 2 TB of the yogurt.
Mix well with a fork to evenly distribute the yogurt, making sure there are no lumps.
Cover bowl with a clean kitchen towel.
Place covered bowl in a warm spot for 8-12 hours (75 degrees is the ideal temp… I preheated my oven on the lowest temp for half a minute or so, then turned it off, leaving the bowl inside the closed and off oven with the oven light on, and it was perfect).
Your cream is cultured when it has thickened to the point of slightly loose pudding, and has a few foamy bubbles on the surface.
Place that cultured cream into a food processor bowl, put the lid on, and process it at medium speed for a total of about 5-8 minutes.
It will turn to whipped cream after a couple minutes.
Then begin to appear curdled with a separation of solids and liquid.  This is the butter forming alongside the buttermilk.
Keep 'churning' until you have a clear butter vs. buttermilk situation happening in the bowl.
Strain this into a cheesecloth-lined sieve over a bowl.
Allow all the buttermilk to drain, using a spatula to press the butter down.
Once all the buttermilk has left the butter, run that cheesecloth-lined sieve with the butter under some cold water in the sink until the water runs clear.  (You do this so you remove all the buttermilk from the butter… buttermilk residue can make the butter turn rancid very quickly.)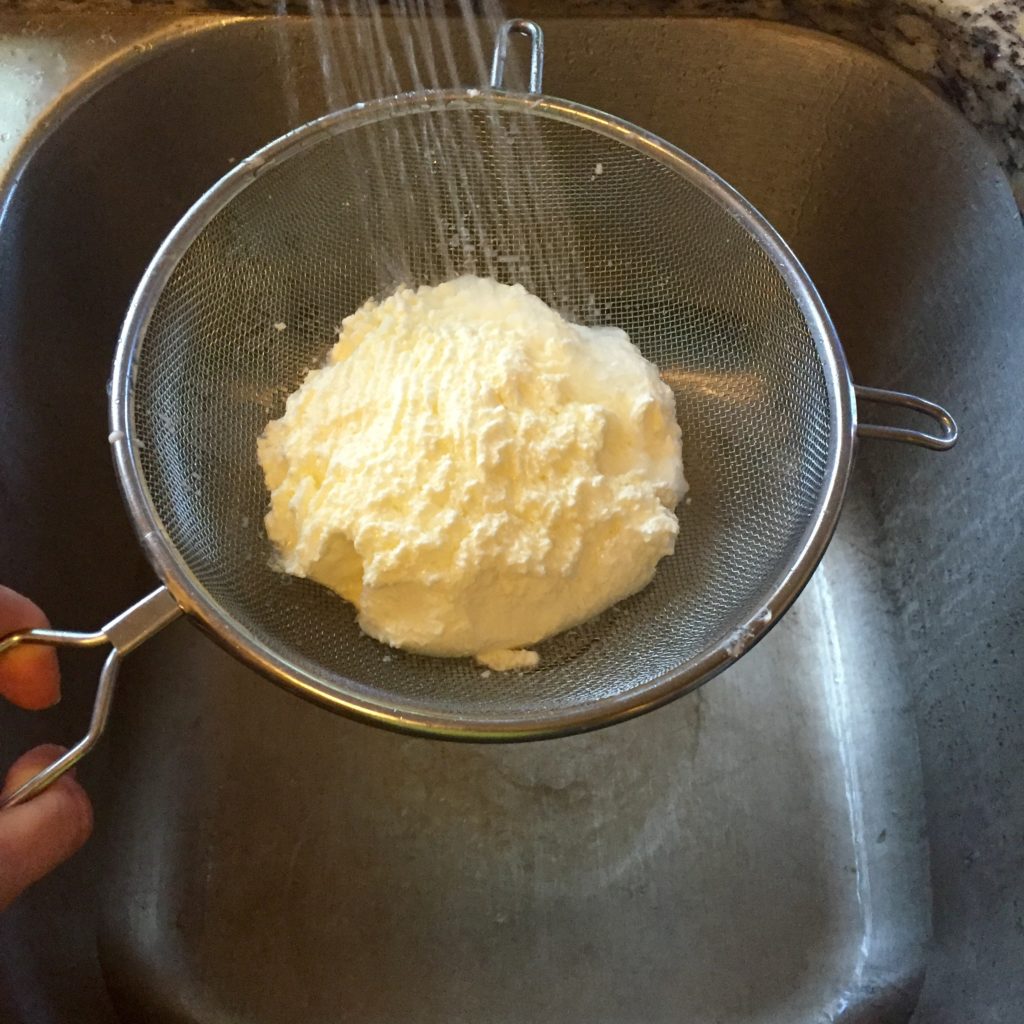 Squeeze out any extra moisture.
Pour the buttermilk into a jar and refrigerate it.  (Stay tuned for recipe ideas.)
Transfer the rinsed butter to a bowl and season with the 1/2 tsp kosher salt.
Stir well with your spatula.  Make sure you get it all incorporated.
Transfer your butter to your storage or serving container and serve soft as is, or refrigerate to be used at a later time… but always, always, allow it to come up to room temp for at least a couple hours before serving.  This is the kind of butter you want soft and now.
…
I recommend slathering this on the (G-free) Sweet Potato Biscuits like we did…
Or, serve 'em with warm, fresh from the oven (Whole Wheat) Italian bread…
(Whole Wheat) Buttermilk Biscuits… (or the gluten free version)…
My (Whole Wheat) Sweet Sourdough Bread…
(…basically it kinda works on anything.)
(Note- I do not recommend baking with your homemade butter, as it's difficult to determine the butterfat ratio, which is key to successful baking.)
And here are some ideas for how to use your homemade buttermilk…
The Coconut-Buttermilk Pudding recipe I used for my dessert…
The Whole Wheat Buttermilk Biscuits from above…
My (Make Ahead) Whole Wheat Yeast Pancakes… (that are THE BEST pancakes in the universe, by the way, and we had them for breakfast that morning!)…
This (Whole Wheat) Custard Filled Cornbread…
…just to name a few 😉
…
Make your own butter, y'all.  It's just the best.  And you'll feel amazing about it.
XOXO