My mother didn't allow sweets in the house when my brother and I were younger.  Her version of dessert was a cup of Juicy Juice.  Fruit Punch flavored Juicy Juice.  And now I can't drink the stuff because I had so many damn cups of Fruit Punch Juicy Juice as a kid.  But when she discovered Little Debbie's Oatmeal Creme Pies, she changed her tune.  This was before nutrition labels and I think she figured because they had the word Oatmeal in the title, they were acceptable.  My brother and I didn't care why she had them in the house, as long as she kept them there.  Those babies were delicious!
I've since eaten an Oatmeal Creme Pie and could almost feel my tooth dying.  It's amazing how one's taste buds can change!  But now that I have kids of my own, I've found myself doing what we all do…thinking about the things we loved as a child.  So the other day, the Oatmeal Creme Pie entered back into my mind and I decided to recreate them at home so my son can enjoy them and still keep all his teeth.
I began with my recipe for Oatmeal Raisin-Cranberry Avocookies.  These cookies are perfect to use for the Creme Pies because the use of pureed avocado in them makes them super soft.  But I decided to deviate from my recipe a bit by using margarine* instead of the browned butter because I really wanted these cookies to remain as chewy as I remember the store-bought version being.  I also left out the raisins and cranberries from the original recipe.
For the filling, I decided to add cream cheese, which I thought would add a lovely tang to the 'pies'.  You could leave it out and substitute another stick of softened butter if you want a more traditional taste, but I highly recommend using the cream cheese.  And at the last minute, I chose to also add some marshmallow fluff** to the filling to give it some structure.  I also think that it helped with that nostalgic flavor.
These Oatmeal Creme Pies are absolutely delicious.  They are sweet, but only sweet enough.  And the texture is so soft and chewy, they're just perfect.  I find that if you freeze your cookies after they've cooled and make your sandwiches or 'pies' while they are still frozen, it's a lot easier to do.  Plus, the filling will harden up once it's placed between two frozen cookies.  Once you're done frosting all of them, they will be thawed enough to eat, don't worry.  And I recommend keeping these in the refrigerator due to the dairy content in the filling.
Enjoy!
*Little Abbey's Oatmeal Creme Pies  or  
*Better than Store-bought Oatmeal Creme Pies?
*…AvOatmeal Creme Pies?
Ugh. I dunno.
(yields 10 creme pies)
Heavy cream got booted out of the recipe and replaced by Marshmallow Fluff (not pictured).
*Oatmeal Avocookies
-1 stick margarine
-1 ripe avocado, pureed
-1 cup white sugar
-1 cup light brown sugar
-1 tsp vanilla
-2 large eggs
-2 cups whole wheat Pastry flour, (or 1 cup white and 1 cup WW pastry, or 2 cups white)
-1 tsp baking soda
-1 1/2 tsp cinnamon
-1 rounded tsp kosher salt
-3 cups oats
————————————–
-In the bowl of your standing mixer, cream together the margarine, avocado and both sugars.
-Beat in your eggs, one at a time, and the vanilla.
-In a separate bowl, mix together your flour, baking soda, salt and cinnamon and mix this into the wet.
-Add in your oats until fully incorporated.  (I like to chill the dough for an hour to make them easier to scoop, but if you don't have the time, it's not necessary.)
-Scoop your dough onto greased cookie sheets using a medium sized ice cream scoop (1/2 cup size). press down with a wet fork until evenly flat.  I get exactly 20 cookies using this sized scoop.
-Bake for 10-12 min, or until browned on the bottom.  Check and rotate the cookie sheets halfway through to ensure even cooking.
-Cool on the cookie sheets until easy to handle, then transfer them to a cooling rack.  Cool completely.
-Place cookies in a large freezer bag and freeze overnight for optimum results.
*Creme Filling
-In a medium bowl, place 1 brick (8 oz) of softened, low fat Neufchatel Cream Cheese along with 1 stick of softened, unsalted butter.  Add a splash of vanilla extract, 2 big spoonfuls of Marshmallow Fluff (about 3-4 TB worth I suppose), a pinch of kosher salt, and 1 cup of powdered sugar.
-Beat this on low speed until the sugar has been absorbed and then on high for a minute or two, until the mixture becomes fluffy.
*Assembly
-Remove your cookies from the freezer and spread some creme filling onto the bottom of one, then match it with another.  Continue this until all your cookies are sandwiched.
-You will end up with 10 creme pies and most likely a bit of filling leftover.  This filling will keep in your fridge, tightly sealed, for a couple of weeks.  I plan on using it to add to my son's carrot birthday cake frosting.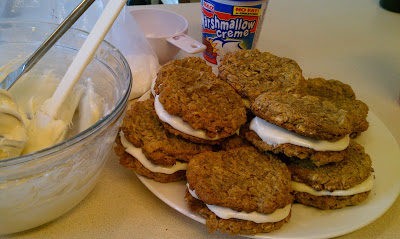 (*I do not use margarine on a regular basis, but do think it serves a purpose when you're trying to reach a certain soft and chewy texture.  So for this, it is perfect.  If you are completely against using margarine, I have also used vegetable oil in this recipe and it works just fine.)
(**Adding marshmallow fluff to your cake frosting is a great trick to help them set better.)