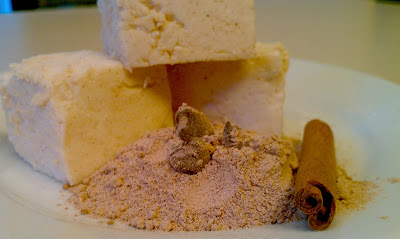 I don't know if you've ever thought about making your own hot chocolate mix, but it's simply too easy not to do.  Plus, there are no chemicals in this recipe, which I feel incredibly good about.  This hot cocoa mix will keep forever if stored in an airtight container and it's also perfect for gifts this season!  I keep all of these ingredients on hand so it's super easy for me to make a quick batch for the family.  This time around, I actually ran out of powdered milk, but remembered that I still had some non dairy creamer in the pantry, so I ended up using half that and half the dried milk (so much for 'no chemicals'…).  The cornstarch (and the powdered sugar, for that matter) in this recipe really makes a thick and velvety cup of hot cocoa, and the cayenne gives it such great warmth.  It's not necessarily something that you will taste as spicy, but it will definitely make you feel cozy.  And I like adding some chocolate chips to the mix, so when you mix in your hot water, you get little unexpected pockets of gooey chocolate while you drink your cocoa.
The marshmallow part of this recipe is my Agave Marshmallow recipe with about 2 tsp ground cinnamon added to it (taste it and add more if you think you need it).  I didn't think it was necessary to re-write the recipe here, so just click on the above highlighted link and it will take you directly to my original recipe. The cinnamon in the marshmallows really pair well with this hot cocoa, especially the cayenne part, which is a common combination in Mexican chocolate desserts, but if you're not up to making your own marshmallows, I recommend using a cinnamon stick to stir your hot chocolate so you get the cinnamon flavor infused.
(note-My marshmallows use agave nectar instead of sugar and corn syrup so when they get hot, they melt instead of get gooey, so don't be alarmed if they simply disappear in your mug!
Enjoy!
*Hot Cocoa 
*TO MAKE 5 1/2 CUPS OF MIX:
2 cups powdered sugar
1 cup unsweetened cocoa powder
2 1/2 cups powder milk (or substitute non dairy creamer and go lighter on the sugar)
1 tsp salt
2 tsp cornstarch
2-3 pinches cayenne pepper, depending on your taste
1 1/2-2 cups of semi sweet chocolate chips (optional)
———————————-
-Mix everything well.
-Store in airtight container and it will keep forever.
*TO MAKE A CUP:
Fill your mug halfway with some mix and pour hot water over.  Stir well.  Top with your Marshmallows!