Don't get me wrong.  Pop Tarts have a place in the world. Many, many of us grew up eating them on crowded school busses, in home room, on the long walk to school, they stayed warm and oftentimes forgotten about in the bottom left corner of our backpacks, bent in the middle ever so slightly.  They were and are a yummy, convenient food that I happen to keep in my pantry for special occasions but I really like the idea of making something 'convenient' from scratch.  I've made my own Oatmeal Creme Pies, Fruit Gummies, Marshmallows, Chocolate Pudding, and Teething Biscuits, among other things so I thought it sounded like a good idea to make my own Pop Tart-style treats.
These are essentially tiny fruit pies that you can eat with your hands, which is sort of my dream come true.  They do not require a toaster oven, they are delicious on their own.  They also don't require the frosting on the top, which I never liked in a Pop Tart.  But if you are a Frosted Pop Tart kinda person, then I would simply thin out some confectioners sugar with a little water or lemon juice until you get the right texture, and spoon onto the cooled pies.  And you could add sprinkles or sanding sugar, if you'd like.  You can also color your icing with food coloring.  This would be especially cute if you make the cookie-cutter shaped pies that we did below because you could make an orange frosting for a pumpkin shaped pie for Halloween, a pink frosting for a heart pie for Valentines Day, a yellow frosting for a flower shaped one for Easter, and so on and so on.  And as for fillings, you can make mini pumpkin pies by using homemade or store-bought pumpkin pie filling, or apple pies, you could simply use some Nutella for a chocolate-hazelnut pie, you can make a sweetened cream cheese filling as well.  The possibilities are endless here!
*For the Pastry:
(by doubling a standard pie crust recipe, you should end up with around 12 pies, depending on the size and shape you choose to make them.)
-Use store-bought, if you'd like (you will need 2 boxes to have enough for all of the filling) or use my quick shortening pie crust, or my all butter pie crust recipe, but remember to double whatever recipe you choose to use. (I always like to use Whole Wheat Pastry Flour whenever I can in my pastries to make my treats healthier, but use whatever you'd like.)
-Roll out your dough as thin as you can without ripping your dough and either cut into rectangles or do what I did and use large cookie cutters to make fun shaped pies.  (I have the Wilton 101 Cookie Cutter Set, which has every possible shape imagined, large and small)
My son and I chose to do hearts, pumpkins, flowers, and circles.
*Construction
-Once you have your shape cut out, carefully place on a greased cookie sheet and spoon about 1-1 1/2 tsp of your chilled filling (my berry filling recipe is below) in the center and dampen the edges with some water before placing a matching shape over top.
-Crimp with a fork to seal and prick several times on top of the pie for venting.
My little Valentine's Pie-Isn't it adorable?!
You can get creative with your venting…
-Once all your shapes are constructed, spray the tops with cooking spray or brush with a milk or egg wash. Place your cookie sheet or sheets in a preheated 350 degree oven for 20-30 minutes, until the tops are golden brown.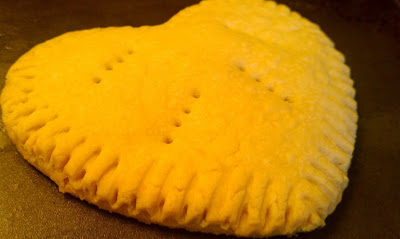 Perfectly golden brown and flaky!
As you can see here, some filling can easily leak out.  So don't worry about it!
-Store these in an airtight container for a few days at room temperature or wrap them tightly in plastic, then in foil, and freeze them for a couple months. 
*For the Filling:
-In a small saucepan, combine 8-10 ounces of fresh berries, (I happened to have blackberries and blueberries so that's what I went with.  And if all you have is frozen, that will work as well. OR use whatever fruit you want!), 1/4 cup sugar (the amnt of sugar depends on the type and sweetness of the berries, so start small then taste your filling to see if you need more), the zest of half a lemon and all of its juice, and a pinch of kosher salt.
-Bring to a simmer and cook on med-low heat until the berries have broken down.  Using a potato masher, smash them until you get your desired consistency.  I happen to like my filling chunky, and I don't mind the seeds because, well, berries have them.  But feel free to puree and strain yours if you'd like.
-In a small bowl, combine 1/2 tsp of cornstarch with a splash of water and mix well.  Add this to the pot and stir well.  Bring to a simmer again to allow the cornstarch to thicken the filling and then remove from heat.
-Transfer to a bowl and chill in the fridge for at least 20 minutes, or place the bowl in a larger bowl filled with ice water.  You just want to make sure you have a cold filling or the warmth of it will affect the pastry when you're constructing your pies.
(note- You may have filling leftover, but it will keep in the fridge for a couple weeks so you can use it as a spread on toast or spoon some into your yogurt or oatmeal in the mornings-delicious!)