This is one of my dream meals.  I love when meat and veggies come together with a hearty, yet good for you starch.  Whether it's in salad form, omelette/frittata form, or in this case, soup- it just makes me so very happy.  I love color, I love texture, I love variety… I love all mish-moshy meals.  So it's kinda nutty that I've never made a noodle bowl before.  I do not know why this is, but it is true.
So I made one.
And damn.
I decided to use an alternative noodle I've had in my pantry for a month or so.  I do love my gluten and grains, but I saw this at the grocery store and was so intrigued.  They're noodles made out of edamame, mung beans and water.  That's it.
Well, I do like soy beans and mung beans, so…
Each serving has:
10 grams of fiber
24 grams of protein
That's insanity.
And they're good!  They were perfect in this meal.  Really perfect.  Do they taste like 'real' noodles?  Nope.  They taste like noodle shaped beans.  But I like beans, so they're good.  My kids loved them too.  And that always makes me happy.  I'll buy them again for sure.
Then I used skirt steak, lots of veggies, a 4 minute egg, and a homemade broth made out of pantry staples that I think came out to taste a hell of a lot like it would if I would have bought specialty ingredients to resemble a real dashi- like kombu and bonito flakes.
The whole family loved it, I enjoyed making it, and I'll be happy to do it all again real soon.
Now it's for you!
MISO BEEF NOODLE BOWLS
Start with your broth.  And the longer you let this go, the more intense the flavor will be.  If you're working away from the home the night you're wanting to serve this, put all the ingredients in your slow cooker and cook on low all day.
In a large stock pot, combine the following…
8 cups water
1/4 cup soy sauce (I prefer buying the low sodium… use what you have)
1/4 cup fish sauce
1/4 cup

seasoned

rice wine vinegar
2 TB anchovy paste
1 small onion, thinly sliced
4 cloves garlic, peeled and thinly sliced
Bring this to a boil, reduce to a simmer, cover and allow to gently simmer all day if you can.
…
When you're ready to prepare the meal, bring another large pot of water to a boil for your noodles.  Salt it heavily.
Add the 7.05 oz package of edamame/mung bean noodles to your boiling, salted water.  Cook 7 minutes, according to package instructions.  Rinse under cold water, per package instructions. Drain and set aside.  (You can reserve the cooking liquid if you'd like to blanch your veggies in this instead of your broth… that all depends on how much broth you have after simmering.  I felt I was running short of it, so I used some of my noodle water for some of my veggies and they still had great flavor.)
In your hot, simmering broth (or reserved noodle water), blanch the following veggies, either all together, or by section, depending on how you want your end result to look- mixed or itemized 😉 Just be sure, if you're cooking them all together, to drop them in the order I give you below, as some veggies take longer than others to cook.  (Also, use whatever veggies you want here!  Make it your own!)
4 large carrots, peeled and cut on the bias
8 oz bag of fresh 'stir fry' vegetables, from the produce department- which for me, included sugar snap peas and baby corn (this was about 1 1/2 cups worth of veg total)… the baby corn takes longer than the sugar snaps
roughly 1/4 of a head of green cabbage, thinly sliced
Drop veggies into boiling liquid, remove once slightly tender (fork tender in the case of the carrots), and remove to cool.
I also added 1 (15 oz) can of straw mushrooms, drained to the mix.
…
For the eggs… plan on 1 large egg per person/bowl.  And these can be cooked ahead of time and refrigerated until ready to serve.
Place your eggs in a large stockpot and cover them completely with water.
Bring water to boil.
Cover the pot with the lid and turn off the heat, leaving the eggs inside the hot water trap.
Set the timer for 4 minutes (this will produce a soft boiled egg with a runny yolk that's very hard to peel (the whites are cooked, but not yet easy to release from the shell).  So I recommend serving them still in the shell this way, peeling off just the top part.  OR if you'd rather have a medium-yolked egg with more firmness that can be removed completely, go for 6 minutes.)
Allow the egg to cool at room temperature slowly, or shock them immediately with cold water if you want to ensure a super runny yolk.
…
For the steak… I recommend between 3/4 of a pound and 1 pound of skirt steak total for the 4-6 servings.  I like a lot of steak, so I generally tend to go to the higher end.
Trim off any large chunks of fat and season one side liberally with kosher salt.
Make sure the meat is at room temperature before beginning to cook.  Always.  
Sear the whole piece of skirt steak in a very hot skillet on high heat (a little light oil can be brushed on the steak itself before searing, but I generally don't use it on a well marbled cut of beef like skirt steak) for 3-4 minutes, or until it develops a nice dark crust.
Season the up side with kosher salt.
Flip.
Sear the other side for about 3 minutes for medium rare (this depends on how thick your piece is, though).
Allow to rest before slicing so it stays nice and juicy for you.
…
Now you're ready to serve!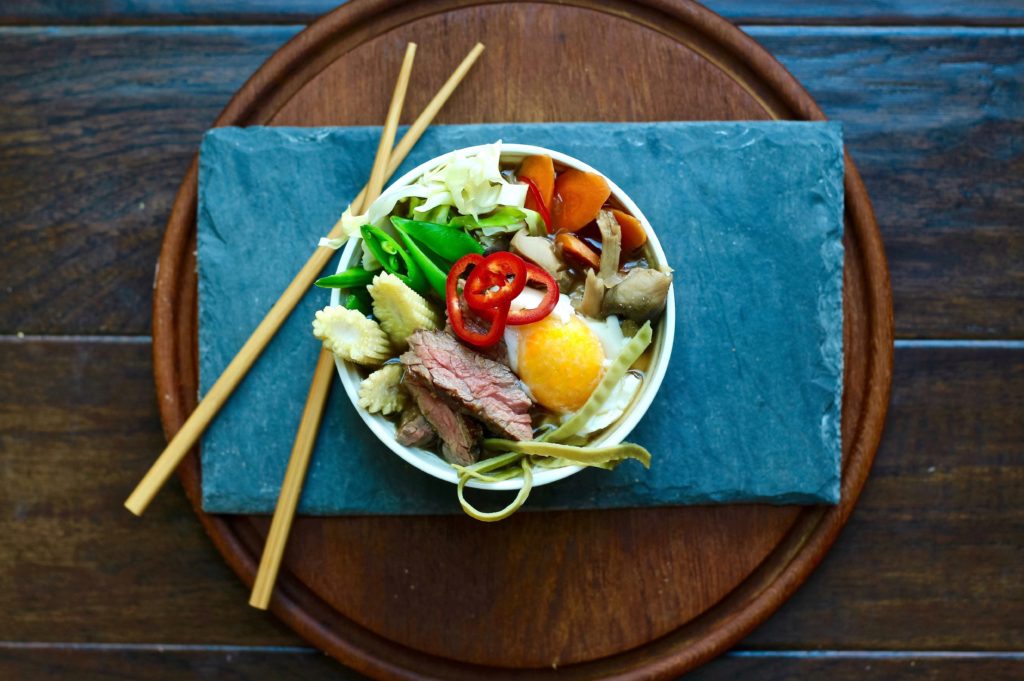 Right before serving, stir a couple large spoonfuls of miso paste into your hot broth and dissolve completely. (Don't do this ahead of time, as miso contains live probiotics who's magical properties will begin to dull if you let it cook for long.)  You can do this to taste… I like a lot of miso, you may not.  If I were making a bowl just for me, I'd stir in one spoonful just for my bowl, so just taste as you go.  (And I recommend Miso Master brand, as they're local to me.  Made in Asheville!  Their white miso paste is so good I could eat it by the spoonful.  And I have.  My Whole Foods carries it.)
Arrange your noodles, veggies (mushrooms too!), steak, and egg in your serving bowls, and pour over the hot broth to as far up as you'd like.
Garnish with sliced raw chilis and fresh cilantro leaves.
Enjoy!  XO