You know the song, 'Steamroller' by James Taylor? Classic blues progression, sexy lyrics, coolest of all his songs..? Well it was the last song I heard when my son and I came home from running a day full of errands yesterday and it became stuck in my head all day long. I think I even went to bed singing it on a stage somewhere in my head. At about 2 o'clock in the morning, while I was deep in sleep, my son came barreling towards me like a Steamroller and jumped into bed on top of me.
Let me use this opportunity to explain my sleeping habits to you. I am not a good sleeper, pregnant or not. It's something I inherited from my mother. It takes me forever to fall asleep and once I do, if anything wakes me up, say a full bladder, achey pregnant back, or steamrolling 2 year old, I cannot fall back asleep for hours. It's just how I've always been and it's unfortunate but the truth. Now, I know that once you have kids it's not about you anymore, blah blah blah..but mama still needs her sleep or it's highly unfortunate for everyone.
So anyway, steamrolling son… He ran right into our room and jumped on top of me and in my half asleep state, I just grabbed him and pulled him next to me and was about to attempt to fall back asleep again when I realized this isn't normal.
Mommy:
What happened sweetie? Why are you awake?
Son:
I hear taits. Taits wake Henny up.
(I heard trains. Trains woke Henry up.)
Daddy: Snoring.
Mommy:
Oh sweetie, you just had a bad dream, it's ok.
Son:
Mommy cose duh and Henny hear taits and taits wake Henny up. Now Daddy cose duh and Henny no hear taits.
(When Mommy closed the door, I heard trains and they woke me up. So now I would like Daddy to close the door so I won't hear trains anymore.)
I have no other translation for this, this is what my child told me at 2 o'clock in the morning so I believed him.
Mommy:
OK sweetie
, let's go back to sleep. Everything's OK, honey.
He grabs on to sleeping Daddy.
Daddy:
Oh hey pal, what's wrong?
Daddy:
OK. Let's get you back in your bed, pal.
Son:
OK Daddy, sake you Daddy
. (OK Daddy, thank you Daddy.)
Daddy picks him up.
Now Daddy is the hero.
Mommy:
You w
ant me to come too, sweetie?
no response.
I came anyway and we took him to pee pee and re-tucked him in. I assured him that everything was OK and that the trains wouldn't wake him up anymore because his door was open, (just to be clear-it was open before too, but somehow those trains still managed to wake him up). My husband and I climbed back into bed and mumbled a few words to each other, something about that being so weird and also very cute, and my husband was snoring again within 30 seconds. I, on the other hand, stayed awake for another 2 hours. I just laid there, praying that Mr. Sandman would come and sprinkle his fairy dust on me. Or is that Tinker Bell? Who's the guy who helps you sleep? Rumpelstiltskin? I just couldn't turn my brain off.
I started thinking about the 60 people I've been hired to feed on Halloween and the wedding cake I'm recreating for my husband on our 6th wedding anniversary, which happens to be the day before Halloween. I started thinking about how this is what my life is going to be after this new baby comes. Being up at 2 o'clock in the morning will soon be normal again. I started thinking about how I wasn't ready for that.
As far as I know, the trains never returned to my son's bedroom and Tinkerbell, Mr. Sandman and Rumpelstiltskin all eventually did their job. We all slept late this morning and my husband cooked us all up a grand breakfast. Tonight when we all go to sleep again I will make sure to get another song stuck in my head. I'm not such a big 'Steamroller' fan anymore.
*A and G's Caribbean Wedding Cake If You Didn't Get Enough Sleep The Night Before And Are Feeling Very, Very Lazy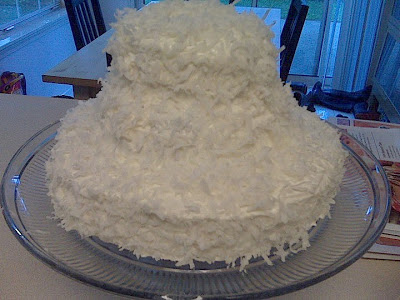 (*this is a picture of the cake I made us last year.)
-In a large mixing bowl, combine 1 box of coconut cake mix, 1 pkg of vanilla pudding mix, 1/2 cup of applesauce, 1/2 cup of vegetable oil, 1/2 cup of coconut milk, 1/2 cup of plain yogurt, 4 eggs, and 1/4 cup orange or mango juice.
-Mix well with an electric beater and then fold in 1 cup of sweetened coconut flakes with a spatula.
-Pour into 2 greased and floured round cake pans and bake according to package instructions.
-Cool on racks.
-When the cakes have completely cooled*, place one cake, rounded side down, onto a cake stand. Spread 1 jar of mango preserves over the top. Place the other cake, rounded side up, onto the other layer and make sure the layers are evenly lined up.
-With an off-set spatula frost the cake with Cool Whip** and make it look like a cloud.
-Take a handful of more coconut flakes and lightly press onto the sides of the cake and sprinkle some generously on top. Allow the cake to sit in the fridge for a day before eating.
(*this cake, like most cakes, freezes very well for a month or so. Just tightly wrap your 2 cooled cakes in plastic wrap, then in foil and place in a freezer zip bag. The day before you're ready to serve, remove the cakes from the freezer and proceed with your mango preserves step, and then your frosting step.)
(**I usually make a cream cheese butter cream instead, but the Cool Whip is a fine, VERY easy substitute)
I've also made it like this, where my husband and I made FONDANT flowers to better resemble the original.