Is it OK to be posting a pumpkin recipe yet?
I mean… it's basically October, right?  So this is totally allowed.  Right?  Look, if I had it my way we'd be eating pumpkin stuff all year round.  I love me some pumpkin stuff.  Especially because canned pumpkin is one of my few canned food loves so you can use it all year round!  Canned pumpkin is the best.  I'll again go on record and say that.  And know what?  My pal Ina Garten agrees with me too.  You can't get fresh pumpkin to do what the canned does.  Wanna know why?  Cause it ain't really pumpkin in that can.   Real pumpkin puree is kinda stringy.  And watery.  The stuff in the can is actually a rare squash breed.  You can read all about it HERE, if you'd like. It's my recipe for Cream Cheese Pumpkin Pie where I give you all sorts of fun canned 'pumpkin' factoids.
So since it's totally allowed for me to be giving you my pumpkin bread recipe now, I totally will.  Full disclosure- I've posted it before, but it's been revamped.  Edited.  And for goodness sakes, re-shot.  These pictures actually look like bread!
My pumpkin bread is actually very, very healthy.  It's high fiber, contains no refined sugar, is dairy free (apart from the eggs) and even wheat/gluten free.  And know what?  It's so good.  It's exactly what you want in a quick bread like this… it's moist, soft, comforting, slightly sweet, and so so satisfying.  It's very similar in style to my Coconut Banana Bread, so if you're looking for another extremely healthy and incredibly tasty quick bread that's healthy for all the same reasons as this one, then you'd love that one as well.  My whole family loves it.  And this!!
Sigh. Isn't it fantastic that it's Pumpkin Allowed season again?
You go, canned pumpkin.  Weeerrrrk.
MY PUMPKIN BREAD 
In a medium mixing bowl, combine your dry ingredients…
2 cups oat flour (just blitz up some rolled oats until it's finely ground…I have a coffee grinder I use only for things like this)
1/2 cup coconut flour
1/2 rounded tsp kosher salt
1 TB baking powder
1 tsp ground cinnamon
1/2 tsp ground ginger
a good 'pinch' each of ground nutmeg, cardamom and allspice
Whisk until fully combined.  Set aside while you get your wet guys in order.
In a large mixing bowl, combine the following…
3 TB coconut oil (I like to heat this quickly in the microwave (in the bowl) first so that it doesn't seize up when I add the other ingredients to it.  Coconut oil is very sensitive to temperature.)
2 large eggs
1/2 cup unsweetened applesauce (Since I bake with a lot of applesauce I buy the packs of 4 oz individual cups for longer shelf life…which equals 1/2 cup.  That also allows me to fill up that applesauce cup and use it as a 1/2 cup measure for the rest of the recipe!)
1/2 cup agave nectar (I always use 'light' because I prefer the milder flavor)
1 cup plain pumpkin puree (this is generally a little more than half a 15 oz can)
1 cup pure coconut milk, from the can (this, again, is roughly half the can and I use mainly the top 'cream' and some of the 'water' so you get a nice richness in the bread from the coconut fat.)
Whisk all the wet ingredients together, making sure the eggs have fully broken down and no lumps are anywhere to be seen.
Slowly add in your dry ingredients while you're whisking and whisk until everything is fully combined, then stop so you don't over-mix.
Pour your batter into a greased loaf pan and smooth out the top evenly with a spatula.
Bake in a preheated 350 degree oven for 30-50 minutes (I don't know your oven, fool!), or until the edges have pulled away from the sides of the pan and a toothpick comes out relatively clean when inserted in the center of the loaf.  Moist crumbs are good on the toothpick… wet batter is not.
Allow to cool (in the pan) on a rack until it's easy to handle, then carefully remove it from the pan to continue cooling naked on the rack.
Resist the urge to bite it now.
Or don't.
Slice and eat warm or room temperature.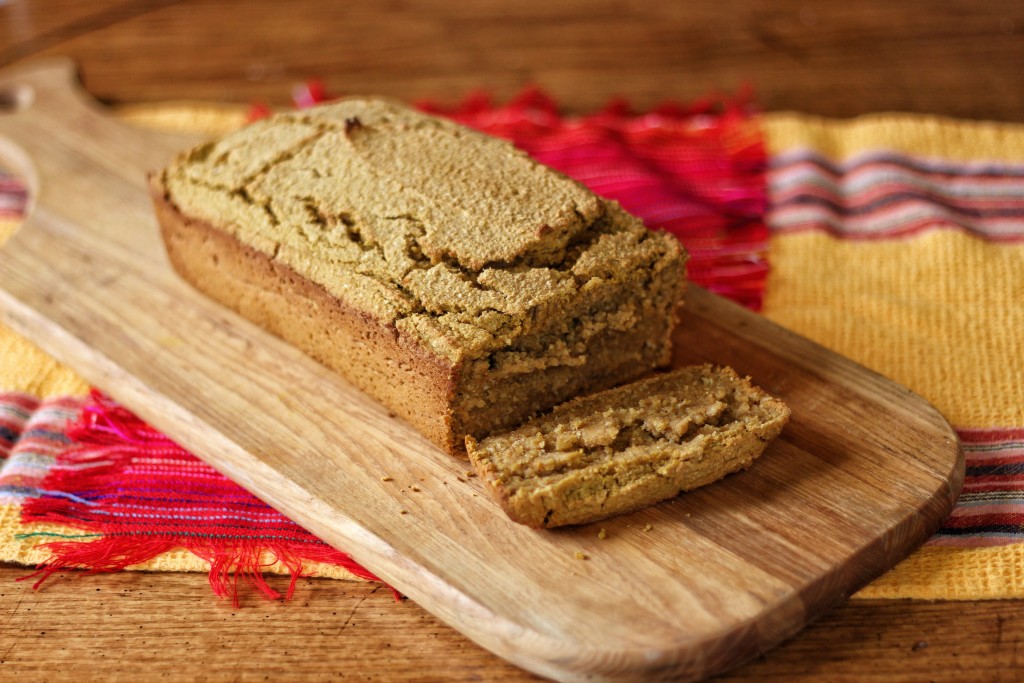 Naked, or clothed in cream cheese.
(I'm talking about the bread here…whether or not you choose to slather yourself in cream cheese when you eat this is completely up to you.  I do not judge.  But I do kinda wanna see that if you do.)
Alone, or on the floor for a rainy day Chai Tea Party with your little pumpkin.
Thanks for reading, guys.  I wish you all a lovely evening.
XOXO, Abbey