National Rosé Day lies on the second Saturday in June.  Though, I don't think we need a calendar telling us when to drink rosé… it's pretty much a good idea from March to September, but nobody asked me.  Rosé has become pretty trendy over the past few years with the tank tops, mugs and tote bags telling us all that Rosé is Bae and Yes Way Rosé!  And instagram has the hashtags to prove it.
But rosé isn't anything new.  And it absolutely went through a tough time in the 70's and 80's when white zinfandel came onto the scene and screwed everyone up.  That's when anything pink was considered manufactured sugar water and it took a long time for people's minds to be changed and get into the idea of (true) rosé again.
But thank goodness they have.
For anyone who doesn't know, good rosé is made from red (or black) skinned grapes by a process called 'bleeding' or saignée, basically meaning that the grapes are stacked in a tank and just the weight of them alone gently crushes them over time.  The clear juice has a very short amount of contact time with the dark colored skins, so the resulting hue of the wine is a very pale pink.  The winemaker then takes this juice and continues the process to make it wine.  And what's left in the tank ends up becoming red wine!  Really concentrated red wines are achieved this way because after that 'rosé wine' has been removed, you have a higher skin-juice ration left in the tank. This method is how the very best quality rosés are made.
There are a few other techniques used to achieve the wine, one being 'pressing', which essentially is just a quicker and more aggressive way to get the juice colored by the skins… the wine maker literally presses down on the grapes and smushes until the desired color is made from the pressed juice.
Another technique is known as 'limited maceration' and that's the most commonly used method.  The skins are just left in contact with the juice until the winemaker likes the color, then the skins are strained and the juice is moved to ferment and finish in another tank.  This is the most popular way to make rosé now because it's pretty much the laziest.  It's not a bad thing!  It's just a side effect of mass production 😉
Then we have 'blending'.  Blending is just what it sounds like it would be.  The winemaker takes red wine and blends it with white wine to produce a pink colored wine.  Only a small amount of red is needed… about 5% or so, so the price of these wines can be on the cheap side.  Most of these wines are darker in color and less than desirable, in my opinion.  The one exception is sparkling rosé.  That's the only way to get a pink bubbly champagne… mixing the chardonnay with a tinge of pinot noir.  Not many still rosés are made by this method, as it's not even allowed in Europe (except in Champagne), so you'd be dealing with a New World rosé in this case.
Technically rosé is the oldest style of wine, dating back to 600 BC when the Greeks brought over grape vines and wine to Southern France, in Provence (the home of the first French vineyard).  The wine the Greeks brought was a very pale pink color, what we know rosés to look like now.  Even when the Romans introduced red wine around 125 BC, rosé still remained popular.  After the fall of the Roman Empire when intruders brought their own winemaking influences to the area, the styles began to shift and more and more types of wine were made.  But fast forward to the middle ages where rosé was being made in the abbeys for money, and they became more and more popular.
In the 14th century, military leaders began to acquire and regulate vineyards in Provence, which sparked the beginning of the viticulture we know today, and the rosé making game began to be more fine tuned.  Kings and aristocrats began to drink rosé exclusively and what once was just ordinary table wine to the area became something far more prestigious and hard to come by… then the whole phylloxera epidemic broke in the 19th century and nobody could have any.  All the vineyards needed to be replanted as none of the vines survived.
Leave it to a natural disaster to muck up hierarchy and level the playing field, yeah?
Once railroads were invented in the 20th century and people were able to travel more, Provence became a destination for tourists, so the production of rosé grew along the Côte d'Azur to meet the demands.
And the rest is history, so they say 🙂
It's always interesting to me how old things become new again.  Fashion, art, cassette tapes… Jane Fonda. You can't go into any wine shop this time of year without seeing end caps full of various rosés- ranging from the delicate salmon colored bottles from Provence or Bordeaux to the relatively obnoxious hot pink jugs that yell white girl rosé!! at you as you walk by.  I'm a big fan of the rosés from Provence, and it's not just because I'm a wine nerd… they're just generally better, in my opinion. I don't like my rosés to be any shade darker than a delicately pale bashful pink (anyone else just think of Shelby and her blush and bashful wedding colors? 😉 ) And I really don't like when I taste strawberries in them.  (That's like my one wine flavor no-no.  We all have them.) I prefer to taste honeydew in my rosés and always accept citrus notes. I like my rosés light and crisp, steely and stoney and they should require zero effort to sip and share and food-pair.
I also don't believe you need to spend a ton of money on a good bottle of rosé.  And I've collected a few of my favorites for you to try!  They're all linked to be purchased at wine.com, so just pretend it's National Rosé Day again once you get your shipment.
Deal?
I definitely prefer Old World vs. New World when it comes to rosé… as generally speaking, you're gonna get a drier juice vs. anything with a lot of residual sugar, like various California rosés have.  But there are definitely some exceptions.  So any of the wines below are all in the style I prefer.  Some are a bit fruitier than others, but none of them should shock you with shuggah.  And as a rule of thumb, you can pair a good, elegant and dry rosé with just about anything, so throw yourself a dinner party and put a few of these bottles (or cans!) on ice, and care not about anything but having fun.
Broadbent Vinho Verde Rosé is one of my favorite party wines this time of year.  It's cheap, it's pretty, it's low in alcohol, so nobody's gonna act a fool at your house AND it's perfect for day-drinkin'.  Win win.  Vinho Verde is lightly effervescent, so it's just incredibly refreshing.
Click the following link to purchase the Broadbent Vinho Verde from wine.com:
Broadbent Vinho Verde Rose – Ros Ros Wine
$10.99
The Tuck Beckstoffer Hogwash Rosé is one I struggled with putting on this list because it's fairly well known and poured now, but it's just a solid wine at a solid price.  So, no shade thrown.  They've raised the price based on popularity, but it's still a good buy.  It's a new world wine, coming to you from Cali, but it's made in the Old World style… so props.  Notes of watermelon, cherries… solid.
Click the following link to purchase Hogwash from wine.com:
Tuck Beckstoffer 2017 Hogwash Rose – Ros Ros Wine
$17.99
Brad Pitt and Angelina Jolie may not have made it, but their rosé is something we can still get some enjoyment out of.  The Chateau Miraval Rosé is citrusy, floral, with a really lovely minerality. It's extremely elegant and well balanced.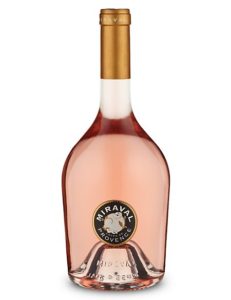 Click the following link to purchase the Chateau Miraval Rosé from wine.com:
Miraval 2017 Rose – Ros Ros Wine
$25.00
The Gloria Ferrer Blanc de Noirs is a special one to me.  It's one of the first bubble bottles I fell in love with.  I've come to love a lot more than this little lady, but it always makes me smile.  So she made the list.  Plus you can find it just about anywhere, so it's a super convenient one to like!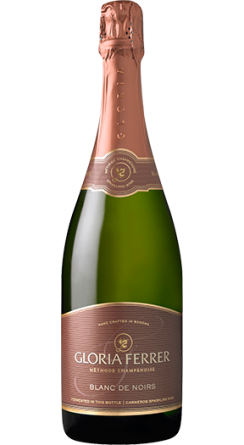 Click the following link to purchase the Gloria Ferrer Blanc de Noirs:
Gloria Ferrer Blanc de Noirs – Champagne & Sparkling
$22.00
The Domaine de la Solitude Côtes du Rhône Rosé is almost a 50/50 grenache / syrah blend and it's dry, crisp and a little more full bodied than traditional Provence rosés.  It's quite lovely.
Click the following link to purchase the Domaine de la Solitude Côtes du Rhône from wine.com:
Domaine de la Solitude 2017 Cotes du Rhone Rose – Ros Ros Wine
$12.99
The Mirabeau Côtes de Provence Rosé is a sexy beast… a good amount of minerality and flavors of red currant and raspberry.  So lush. Easy sleezy pleasy.
Click the following link to purchase the Mirabeau Côtes de Provence Rosé from wine.com:
Mirabeau 2016 Cotes de Provence Rose – Ros Ros Wine
$20
A rosé article wouldn't be complete without a canned wine mention!  I've been a long time fan of the Sofia minis.  They come in a 4 pack and with straws.  Too cute.  Admittedly, the juice inside isn't quite as inventive as the packaging, but they're a big crowd pleaser and perfect for picnics!  It's fuzzy, a little peachy and definitely very fruit forward, but nothing offensive by any means.  And I'm actually a much bigger fan of their new rosé, however it's not even available through wine.com yet, but you can easily find their flagship blanc de blancs!
Click the following link to purchase the Sofia Mini 4 pk Blanc de Blancs:
Francis Ford Coppola Sofia Mini Blanc de Blancs 4-Pack – Champagne & Sparkling
$16.99
And here's what their sparkling rosé looks like that I happen to enjoy more 😉
And if we're on the subject of pink bubbles, I have to mention my fav splurge… Billecart-Salmon Brut Rose.  It's by no means an everyday champagne, but holy moly is it delicious.  No description needed, just buy it if you can and you'll see.
Click the following link to purchase the Billecart-Salmon Brut Rose from wine.com:
Billecart-Salmon Brut Rose – Champagne & Sparkling
$79.99
Here's a couple others that wine.com doesn't carry that should be mentioned:
Backpack Wine Cheeky Rosé – 4 pack of cans.  It's a very solid example of a dry rosé in a very convenient package.  Great for the beach, pool-side etc.  $20.
La Vie en Rosé (available at Total Wine for $12.99 and it's got that bright, crisp honeydew thing I like)
Laetitia Brut Rosé for $36… seriously one of my all-time fav pink bubblers, but it's pretty hard to get on this side of the country 🙁
And that's it!  Hope you learned a little, got inspired to buy something new and enjoy your holiday today 😉
xo, Abbey