Christmas has come early for me this year, people!!  Somehow, some way, I am now an AT&T brand ambassador.  Little ole me.  An ambassador.  Do I get a special hat with a fancy tassel? Nope. But I do get a brand spankin' new Nokia Lumina 920!!!
isn't it gorgeous?!
Yes ma'am.  I just got it in the mail today and I cannot wait to play with it!  This is all for AT&T's 'A Gift That Money Can't Buy' campaign. Here's the link if you wanna check it out: http://www.giftmoneycantbuy.com/
Basically, the site allows teens to give their parents a special digital gift, and in return it hints to the idea that the parents should give their teenagers this new phone.  Clever.  And if you check out the website, you'll see that the parent gifts are awesome.
You can give the one of a kind gift of a guitar solo from Richie Sambora…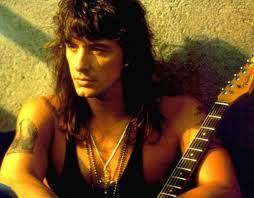 and when he's playing it for you, you can imagine he still looks like this
A joke handed down from Richard Lewis…
Handed down, people.  It's, like, ancient.
A longing look from Luke Perry…
Oh yes, I remember you sir…
There was a feast prepared by Michael Voltaggio on there too, but it's no longer available.  I'm guessing there are some pretty smart teens out there that realized the true value of that one.  I, being incredibly lucky, have had myself a feast prepared by the Michael Voltaggio.  And it was amazing, so I totally get why it's not there anymore.
Each week there will be new gifts available on the website so keep checking it out to see what's new if you're interested.  What does this mean for me?  Well, basically I get to play with this new phone and tell y'all all about it.  So… You will be hearing from me soon for sure.  I'll be taking my food pictures with it and we can all compare the photos it takes to the ones I've been sharing from my iPhone5.  Now all I need is a new recipe to take a purty picture of.  But for now, I sit with glass of red wine in hand, Uptown Fried Steak and Twice Baked Potatoes waiting to be gobbled up, and once these kiddos go to bed I will be playing with my new toy!!