Oh… You thought I meant, like, naked pictures.  Oh goodness me, I'm embarrassed.  No… No, no no.
Gnudi!!  Gosh, I must have misspelled the word.  My sincere apologies.
But, since you're here…
This meal is incredible and amazing and awesome and killer.  I just need to lead with that.
OK.
So… gnudi are Italian ricotta dumplings… similar to gnocchi which are potato dumplings, and not at all similar.
Confused?
Don't be.
If you thought gnocchi were pillows of happiness, holy hell balls are you in for a treat.
Gnudi are simply ricotta cheese, with a little parm, held together by eggs and a bit of flour (depending on who you ask)… so when you bite into one, you get an oozy, melty, cheesy mouthfeel.
It's what heaven would be if it were a geographical location.
And for this dish- I sautéd them in some browned butter until they're golden brown and crispy on the outside but ooeey gooey on the inside, with sage and orange zest and nutmeg… and tossed them with honey-roasted beets… and balsamic-pickled beet greens…. and garnished them with toasted walnuts…
Y'all… you need to make this now.
Or tell me you love me a lot and I'll make it for you.
.
BROWN BUTTER GNUDI
WITH ROASTED BEETS 'n SAGE
Everything you will need:
2 lbs (32 oz whole milk ricotta cheese), drained
3-4 oz finely grated Parmigiano Reggiano
4 eggs
1 1/2 cups all purpose, unbleached flour
kosher salt
fresh nutmeg
4 TB unsalted butter (1/2 stick)
several whole sage leaves
1 large bunch beets, reserving the greens
1 orange (zest and juice needed)
a bit of honey
some balsamic vinegar
big ole handful of chopped, walnuts- toasted
g n u d i   m a k i n'
To make your gnudi, you begin by draining your ricotta at least 8 hours before you're ready to make them.
In a large bowl, with a sieve/fine mesh colander placed inside and lined with cheesecloth, place 2 lbs (32 oz) of whole milk ricotta cheese.  If you're in the mood for going all in here, I recommend making your own ricotta, using my recipe.  If you aren't feelin' it, no worries!  Just get a good quality store-bought variety.  But be sure it's whole milk.
Cover the ricotta with plastic wrap and refrigerate for at least 8 hours.
You should get a good amount of whey from straining it…anywhere from 1/3-1/2 a cup.
If you're ready to cook the gnudi, boil a large pot of salted water + your reserved whey while you make the dough.
Transfer the strained and now thicker ricotta into a larger mixing bowl and reserve the drained liquid/whey for adding to the boiling water later! (no waste 😉 )
To the bowl with the strained ricotta, add the following…
3-4 oz Parmigiano Reggiano, finely grated
4 large eggs, beaten
1 1/2 cup AP, unbleached flour
a few pinches kosher salt
lots of freshly grated nutmeg
Mix with a fork until it's all combined and you get the consistency of cake batter.
When your salted water/whey has come up to a rolling boil, take a large soup spoon and scoop up enough to fill the spoon.  Take another spoon and begin to use it to shape the dough into a football shape.
.
Drop the dough, using the other spoon to help scrape it off, into the boiling water.
They're done when they float to the top.  Then scoop them out using a serrated spoon and place onto a parchment lined baking sheet.
You're probably going to boil about 6 at a time while you're forming the next ones before they start rising to the top.
Transfer them to a towel-lined sheet tray (paper towels work just as well!) to help soak up all the moisture.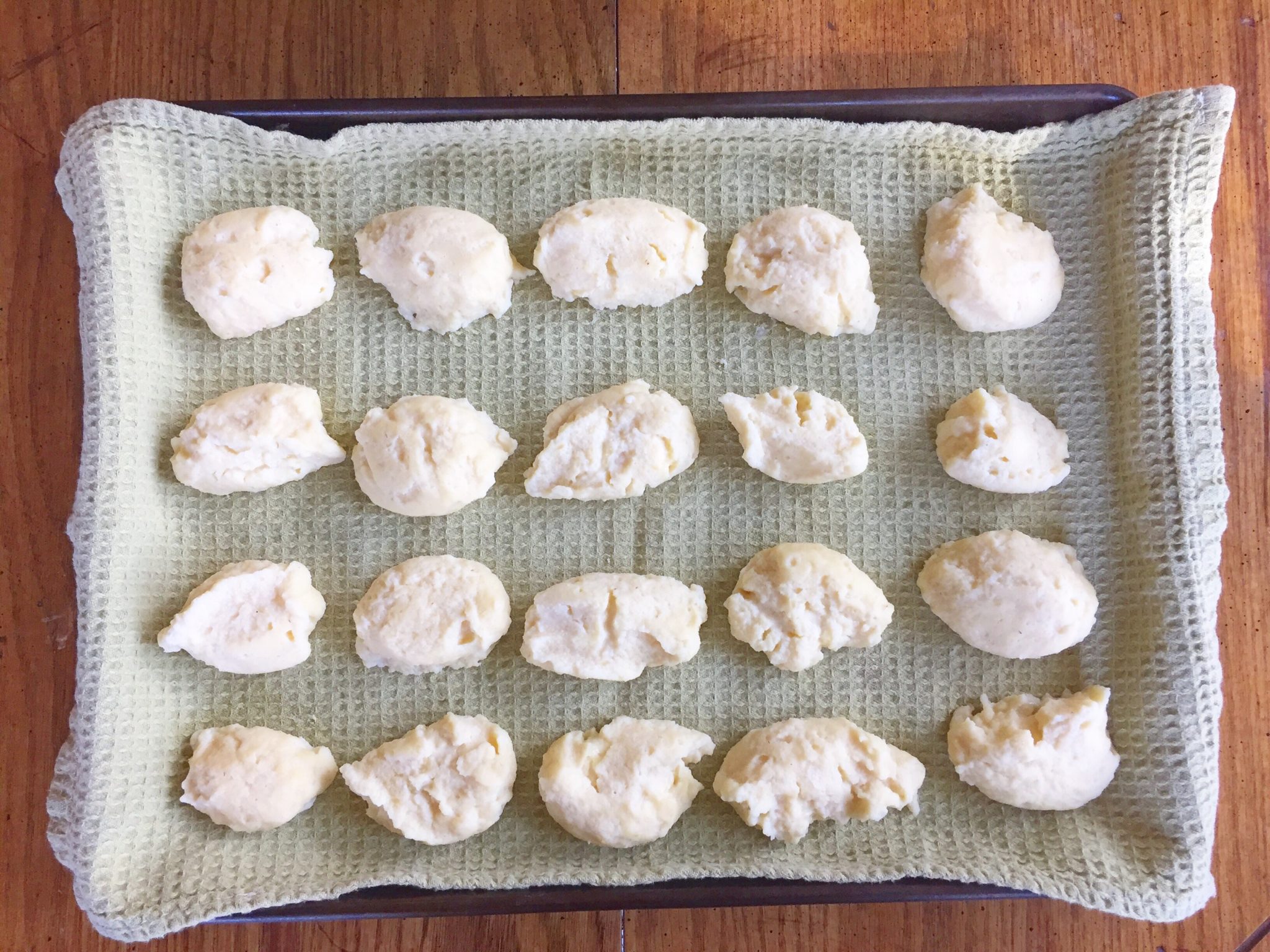 You can do this ahead of time- hours, or even a day… make sure they're in a sealed, airtight container if you do and refrigerate.
Now we roast up some beets!
b e e t s
This is the best way to work with beets-
Slice off the stems and greens of 1 large bunch of beets (usually 3 beets) and place the beets onto a large sheet of aluminum foil (reserve the greens!!).
Close up the foil into a tight packet with the beets inside, and place inside another large piece of foil… close up that one as well.  Place your double-lined foil/beet package onto a sheet tray and put in a preheated 350 degree oven for 1-2 hours, but longer works totally fine and does not adversely affect the outcome.  All you're looking for is a softened beet.
Allow the softened beets to cool in the foil packet completely before working with them.  If you're in a hurry, it's fine…. you'll only burn your fingers…
Unwrap the foil packet and peel off the beet 'skin' with your fingers (or paper towel if you don't want pink fingers 😉 )
Slice each beet into wedges.
*this can be done ahead of time as well*
When you're ready to cook your meal, place the beet wedges on an oiled baking sheet, season with kosher salt, drizzle with honey, and toss to coat them in the oil, salt and honey. Place under the broiler until they become caramelized.
Check every few minutes to make sure they don't burn.  It will take anywhere from 5-10 minutes to get the proper caramelization.. depending on your broiler.
Set aside.
b e e t   g r e e n s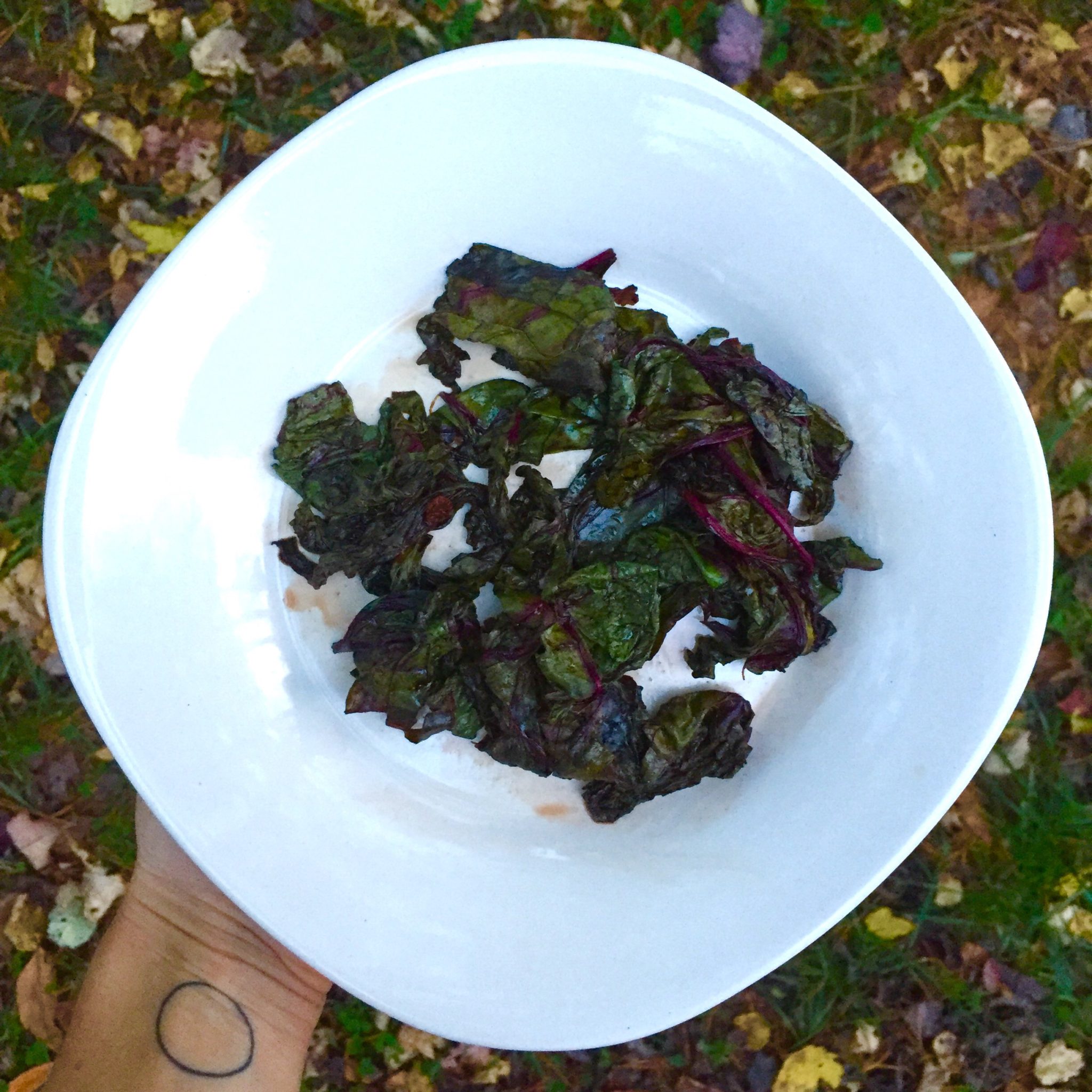 Wash the reserved beet greens thoroughly, to remove all sand and dirt.
Drain/wrap in a kitchen towel to remove all water.
Add to a large, oiled skillet on medium-high heat.  Season with kosher salt and a few splashes of balsamic vinegar.
Cook until wilted and crisped a bit.
Set aside.
b r o w n  b u t t e r i n g
In a large skillet, on medium-high heat, add 4 TB unsalted butter.
While the butter is melting, add in a few handfuls of whole sage leaves to crisp up while the butter is melting/browning.
Season the butter with some kosher salt, the zest of 1 orange (you're only using 1 orange in this whole recipe, the zest and the juice), and several gratings of fresh nutmeg.
Let the butter sizzle and bubble, then once the sizzles stop and the bubbles subside – you have brown butter.
m e a l   a s s e m b l y 
Add in your gnudi, and allow them to brown on one side before flipping to the other (you may have to do this in two batches, depending on the size of your skillet).
Once they've been browned on both sides, squeeze the juice of your zested orange into the skillet and toss/flip the gnudi in the orange/brown butter/sage sauce.
Taste the 'sauce' and if it needs more salt, add some now.
p l a t i n g
Place some balsamic beet greens onto each plate.
Then arrange some browned gnudi (about 5 per plate) with a couple roasted beets over top.
Be sure to get some crispy sage leaves on each plate.
Garnish each plate with some toasted walnuts (you can do this quickly in the same skillet that everything else cooked in, or by itself in a smaller, dry skillet).
And then all you gotta do is enjoy!!
Eat warm.  Eat now.  Eat always.
…
*Note that I used the same large skillet for each of these steps, because that's how I roll.
Thanks for readin', y'all. XOXO