Really, I just wanted to put the words okra and farrotto together in one breath.  Because it's just downright fun.
But it all began with having a ton of garden okra in need of a home… and me feeling wonderfully inspired and wanting to play.
And also a pound of ground veal in my fridge.
Technically, I began the meal conception at veal meatballs + risotto.  Then decided on farro instead of arborrio. Then picked the epic Wade garden one last time and found myself with a ton more okra than I anticipated.  So… I thought, welp… why not make okra risotto?  I mean… okra and rice clearly go together, as so many Creole and African dishes have shown us throughout the years.  So, why not okra in risotto?
I had no reason to not.  And I was excited.
This dish is so lovely.  It's comforting, it's soothing, it's fun and different and yet so very familiar.  I'm quite proud of it.  And I hope you try it.
OKRA FARROTTO WITH VEAL MEATBALLS
. o k r a .
In a large skillet (the one you'll be using for your farroto), add a little light olive or canola oil to lightly coat the pan.
Add in…
1 lb. okra, sliced in disks
1 small onion, minced
Season with kosher salt.
Sauté this until the okra is still crisp on the outside, but tender in the middle – about 3 minutes.
Transfer to a plate and set aside while you make your meatballs and your farrotto…
. m e a t b a l l s .
In a large mixing bowl, combine the following…
3/4 cup quick oats (or food process your standard, rolled oats to make them smaller in size)
1/2 cup milk or half & half
2 large eggs
3/4 cup (loosely packed) pecorino cheese (or romano or parm)
2 garlic cloves, minced (or grate them on a microplane into the bowl like I do)
1 tsp kosher salt + pinch
1 tsp fennel seeds, ground
1 tsp ground sage
roughy 1/4 tsp freshly grated nutmeg (I do not measure nutmeg, but I believe it to be about that amount)
Mix this well with a fork, making sure to beat the eggs thoroughly.
Then add in…
1 lb. ground veal (obviously another ground meat could work as well… I think pork would be the most easy to swap for flavor/texture purposes)
Mix again with the fork until just mixed through.
Check your seasoning by pinching off a small amount and frying it in a skillet or cooking it in the microwave.  Adjust if necessary to your liking.
Form into meatballs a bit larger than golfballs and you'll get 15.  (I used a medium (1/4 cup size) ice cream scoop to measure out mine.)
Place on a parchment lined (or foil or silicone baking mat, etc.) baking sheet and bake at 425 for 25 minutes.
While they are cooking, you will be making your farrotto…
. f a r r o t t o .
Heat 1 quart chicken stock on the stove (homemade is always best…but make sure the salt isn't too high, as the flavor will be concentrating).  Let it stay warm and hang out while you begin your farrotto.
Then, in that same large skillet in which you cooked your okra, melt…
Once it has foamed and begun to brown, add…
Toss the grain in the butter and allow it to toast for about 2 minutes while you stir.
Pour in….
about 1/3 cup dry, white wine 
Stir from the bottom of the pan with a rubber spatula or wooden spoon and scrape up any bits that developed on the surface.
Allow the wine to bubble and cook down a bit, for about 30 seconds.
Drop in…
1 parmigiano rind (you will be stirring this along with your farro as it cooks, and then discarding it later… the flavor will infuse.)
Then begin to add your warm stock, ladle-ful, by ladle-ful.  You want to add a ladle of warm stock whenever the pan is dry from the farro absorbing the previously added stock.  You are slowly stirring the whole time.
You should use up all the stock, but if you find your farro has cooked to your liking before you use up all the stock, then call it a day. (ideally, the grain itself has a slight al-dente to it, with an overall creamy consistency to the entire dish)
Alternatively… if you get to the end of your stock and feel your farro needs more, just add as much as you need.   AND if it's too salty for you (if you happened to use stock that had too much salt to begin with), then you can add water gradually while you cook/stir to even it out.
Once you're ready to serve, stir in your reserved cooked okra and onions.
And add in…
the zest, and also juice of 1 large lemon
You can also stir in some parmigiano/pecorino/asiago cheese at this point as well.  But I find that cooking with the rind gives it that cheesy flavor already.
Serve the okra farrotto with 3-4 meatballs and top with some grated cheese and parsley if desired.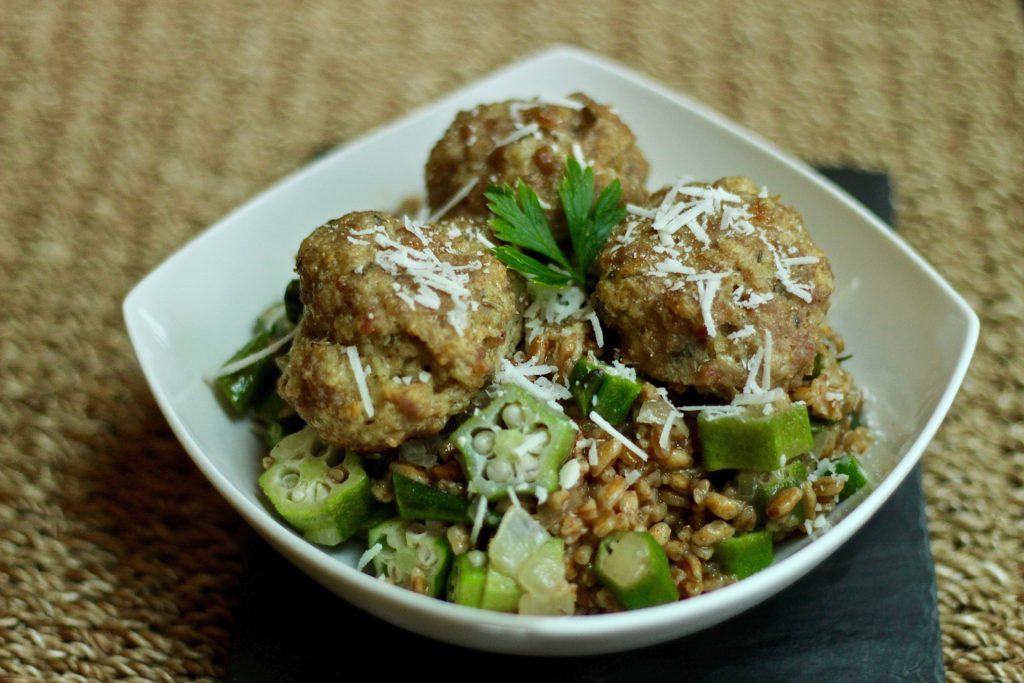 And that is all.  I hope you're having a beautiful Saturday night.  You deserve it!
Thanks for reading, y'all! xoxo