I've said before, I'll say it again- I love chicken pot pie.  I've shared my Southwest Chicken Pie with Pimento Cheese Biscuit Crust before, but never my recipe for the more traditional version.  I don't actually share a lot of 'traditional' recipes because I figure it would be a waste of your time.  There are SO many recipes out there for Chicken Pot Pie, why would one more make a difference?  Many of you have your own ways of making it, and I've made it so many times I've just never written down what I've done.  Recipes like this are just things I make like a robot, but last night I actually took the time to jot down my 'recipe' so I could share it with you.  And I'm glad I did because last night's pot pie is the best Chicken Pot Pie I've ever had.  So now I actually have documentation of what I did that made it so good!
 *Abbey's Chicken Pot Pie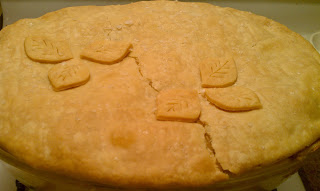 This is actually a picture of the last pot pie I made since my son got a little carried away with the venting process of last night's pot pie.
-You can make your pastry dough in advance and keep in the fridge for a couple days or you can use your favorite brand at the store (If you're gonna use store-bought, the only brand I recommend using is the Pillsbury 'All-Ready' Pie Crust that you roll out, located in the dairy section of the store.)  I have two recipes-One using shortening, One all butter, both are wonderful, very easy to make and freeze well.
-Place a 4-5 lb. chicken in a large stockpot along with 2 celery stalks, broken in half, 2 carrots, peeled and broken in half, 1 large onion, quartered with the root end still attached, 4 bay leaves, a good sprinkling of ground allspice, and several handfuls of salt.  Just cover with water.
-Bring to a boil, then reduce heat and simmer for 2-3 hours.
-When the meat has pulled away from the legs, the veggies have softened, and the fat has rendered, you're done.  Transfer chicken and veggies to a bowl to cool.  Discard bay leaves.  Allow stock to cool slightly.
-Remove the cooled chicken from the bones and skin and shred. Discard the onions but dice the cooked celery and carrots. Set aside.
-Skim the fat from your cooled chicken stock. You will only need about 1 cup of stock for this recipe, but you will end up with about a gallon.  I strongly reecommend you to save this.  Freezing it in small containers or zipbags is a great option.
-While you make your filling, roll out one pie crust and shape it into the bottom and sides of a greased, 2.75-3 quart glass dish that's 2-3 inches deep.  (If you only have a standard 9x9in dish, then you will have extra filling…which is certainly not a problem).  Set aside while you make your filling…
-In a large pan, melt 2 TB of butter with 2 TB of extra virgin olive oil on medium heat.  When the butter begins to foam, add in 1 lb. of frozen, diced mixed veggies, (Corn, Peas, Carrots, Green beans, etc. Using frozen, chopped, mixed veggies here is just the easiest way to do it, and since I poached my own chicken, made my own stock and pie dough, I feel I earned the right to use pre-chopped veggies here! But by all means, chop your own mix.  I also change it up a bit and sometimes add chopped asparagus or mushrooms in the springtime, diced potatoes, anything that you happen to have on hand, fresh or frozen.), and 1/2 lb frozen pearl onions.  Season with kosher salt and pepper to taste.  Stir well and allow the veggies to warm through and become tender.
-Add in your shredded chicken and poached, diced veggies, and toss to combine.
-Sprinkle in 5 TB of all purpose flour and stir well to distribute the flour evenly.
-Season with 1 TB dried tarragon, 1/2 TB dried sage, 1/2 tsp dried thyme, more salt if you think you need it (this all depends on how salty you made your stock), and 4 TB of dijon mustard.  Stir this well and allow the flour to cook for about 1 minute.
-Pour in 3/4 cup-1 cup dry, white wine and stir well.  Allow the wine to cook for about 1 minute.
-Add 6-7 ounces creme fraiche (sour cream is a fine substitute, even cream or half and half could work, it would just thin out your mixture, so you would add less stock in the end).  Stir to combine.
-Add about 1 cup of your reserved chicken stock.  Stir to combine.  It should now be the consistency of those cans of 'cream of…' soup.
-Pour this into your prepared pie crust.
-Roll out your second pie crust and transfer to the top of the dish.  Tuck under the sides of any excess dough or trim the excess dough and make pretty designs with them to be placed on top of the crust.  Vent the center of the dough with 3-4 slits.  Brush with heavy cream or half and half.
-Place on top of a foil-lined cookie sheet and into a preheated 375 degree oven.  Bake for 1 hour-1 1/2 hours, or until the top crust is golden brown.
-Allow the pot pie to cool for 20-30 minutes before serving.
-Enjoy!
(This, like all casseroles or stews is actually better the next day.  I love having leftover pot pie for lunch!)
(Because I use these Money Saving Tips, this entire meal, which can feed about 6 hungry people, cost me only $7.)