So… I've been sick (boo) and have needed to take it easy over the past couple of days.  And that, for me, pretty much equals Easy Family Meals.  I love anything where I can chop and toss into one vessel, then allow the stove or the oven to take care of the rest.  Isn't that just the best?  Especially this time of year when the weather is starting to turn and we all crave juuuuust a little more comfort than usual.
This is actually a very Fall-ish meal.  I'm using the local pork loin roast I picked up the other day and whatever sturdy veggies and such I had in my kitchen today (cabbage, butternut squash, apple, onion).  And it came out so well!  You can change up the veggies and make this meal your own, because it's really just about the method here.  But the most important part is that I brined the pork loin first.
Guys.  This brine is incredible.  I've been using it for years and years.  And I know brining meat is a controversial subject, but I fully believe in brining lean pork.  Whenever I'm serving pork chops or part of a loin (not the tenderloin), I always, always brine it first.  It makes the best, most flavorful pork that you could even overcook and nobody would care.  It's that good.
So thanks to my refrigerator handling the brining of the pork all day, a little chopping on my part, and the oven handling the cooking part, we had ourselves a damn good (and comforting) family dinner tonight.  And I barely lifted a tired finger.
ONE PAN COMFORT: PORK ROAST DINNER
. pork brine .
In a medium saucepan, combine the following…
2 cups water
1/4 cup iodized salt
1/4 cup white sugar
the juice of one orange, with the orange halves tossed into the pan OR a big splash of bottled orange juice 
3 bay leaves
4 cloves 
small handful of peppercorns
Stir.  Bring to a simmer and once the sugar/salt has dissolved, turn off the heat and allow the liquid to cool completely.
Pour into a gallon sized zip bag and place your pork (2-3 pounds to feed 4 people) inside the bag.
(Note- I used a 2.75 lb. rib-end pork loin roast, which is my favorite part of the loin because it has the dark meat and some good marbling.)
Place in the fridge and brine for 8-10 hours.
And allow the pork in the brine bag to come up to room temperature for about 30 minutes before starting to cook it…
. meal time .
In a large, oiled roasting pan, add the following…
1 medium butternut squash, peeled and cubed (bite-size)
1/2 large head, or 1 small, cabbage, thinly sliced (I used green)
1 large onion, chopped (I cook with yellow onions)
1 large apple, cubed (honeycrisp, gala or fuji are ideal)
Drizzle with more vegetable or light olive oil to lightly coat everything.
Season with…
several pinches of kosher salt
lots of freshly cracked black pepper
slightly less pinches of sugar
sprinkling of ground allspice
Remove your pork from the brine and pat it dry with paper towels.
Place the pork in the center of all your veggies (on top of some of them is totally fine!)
Place the pan in a preheated 400 degree oven and roast for 1 hour, or until the veggies, etc. are golden brown and cooked through, the pork has some good color and is cooked to your liking (I use the finger-poke test for my meat, but if you're a thermometer person, you'd technically want to pull it out at 135-140 degrees so it will rest and reach 145-150.)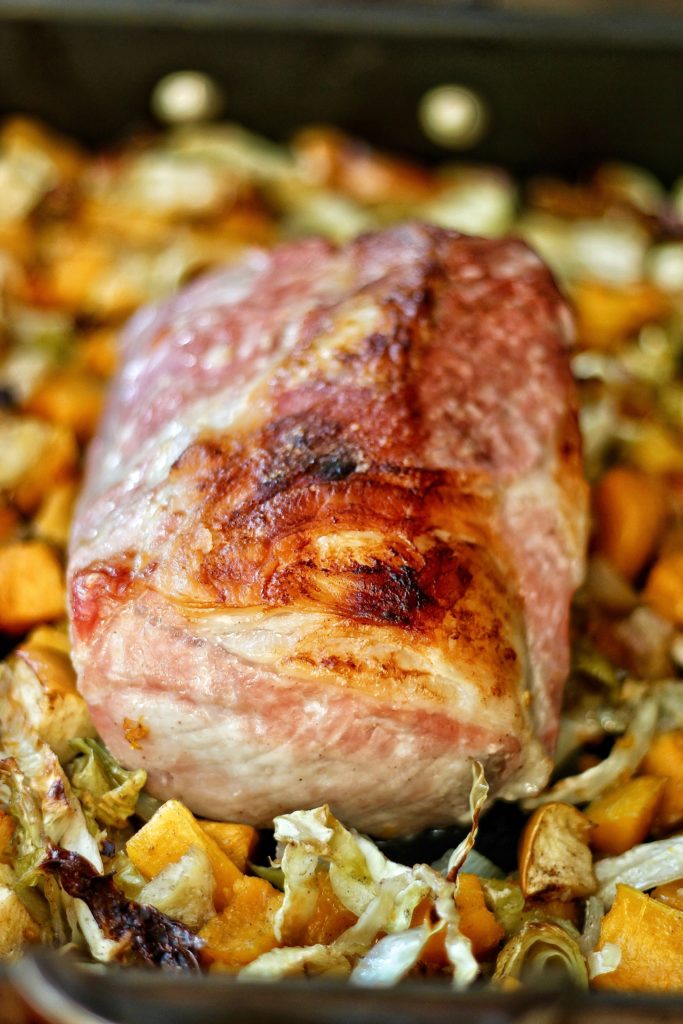 Sometimes if things seem tender and done enough, but they lack in that good, golden brown color, I will blast it under the broiler for a minute or so until it looks perfect!
Allow it all to rest about 15 minutes before slicing the pork and serving it all up.
I'm already excited for lunch leftovers 😉 .
Thanks for reading, y'all, and enjoy your night! xo