This time of year we can all use a one pot / one pan meal. We're all in a post-holiday state of whiplash and if you've got kids like me, you've probably been forced into a game of catch-up or be caught. AND if you're anything like me, you still want to feed you and your family home-cooked meals. It's easy to rely hard on takeout and, my goodness, there's nothing wrong with that. I love me a meal I don't have to cook (counting down the seconds until I get my poke bowl). BUT that's not the point of this post. Or this website. I mean, what kind of site would this be if I signed on to just tell you to go somewhere else and eat. I know it's what a lot of us do more of these days, and I'm never here to judge, but I still like to hold onto the hope that there are a remaining few folks out there who cook most of their meals at home and want more inspo in that department.
*tap tap* is this thing on?
The times have changed so much since I created this space back in 2007. (Times have changed so much in the past 3 years, but that's a whole 'nother novel.) When I started this site, I had just had my first child, and in a few years would have another. We were on a very restricted budget due to downsizing from our Los Angeles life with two fat incomes, to a North Carolina life with one very tiny income and a baby on the way. I taught myself how to make magic happen on an extremely strict budget. We never ate like we didn't have any money and I am still so proud of myself for that.
One of the things I always made sure of, and what helped start the concept for all of this, is that our pantry was always well stocked. When certain staples went on sale, that's when I bought them, and a lot of them. My grocery trips were built strictly based on what the store had in their circular for that week. I had my list in hand, and I stuck to it. Then I built our weekly meals based off those items… and my forever stocked pantry. I didn't buy anything that wasn't on sale. It seemed like such a clear concept to me, but I also found that it was foreign to a lot of people. So using this platform to teach people how to save money and make the most out of what they spent gave me so much joy.
I still think like this as I run my kitchen today, even if our budget has grown… along with the cost of groceries. I still stand by the rule that no matter the budget, there is always room for smarter shopping and meal planning. And one of the best kinds of meals to plan during the extra hectic times are the ones that you can prep ahead and just throw in the oven whenever you're ready. It doesn't require any extra time to do this. It only requires the proper management of time. It's just thinking about when you have the time during your day to devote to throwing some things together. And everyone's schedules are different. For me, depending on the day, my time to prep dinner happens in the morning. I'm an early riser and once my coffee has been had, and I've done my meditation and had my ample quiet time to get me in the healthy headspace to greet others with grace… I'm a machine.
So on most days, whatever we're having for dinner that night has already been prepped before lunchtime. And then I can just pull it out to come up to temp when I get home, and have it ready to bake when I pour my first glass of bubbles.
I really value my me times… because there honestly aren't many that I allow myself to have. The only times of day you'll catch me actually sitting down is when I'm drinking my steaming mug of slap-me-in-my-face-strong coffee at 5 am, or my ice cold glass of sparkling wine at 5 pm. Every other minute of every other day has me doing 6 things at once. I'm not saying I'm doing anything superior here, I'm only saying… this is me.
Anyway, back to the food. This recipe is a classic in my home that I'll throw together when maybe I haven't been to the store in a bit, and maybe there's a lack of fresh dinner veggies on hand to make a simple meat + veg + starch plate for the fam. The setup is not anything new, but it is one of my favorites. It's a Roasted (something) Puttanesca, this time Roasted Chicken Puttanesca. (Here's a super old post of a version made with cod.) I just take most of the ingredients and flavors found in the classic Puttanesca pasta sauce – tomatoes, olives, capers, anchovies, garlic, chili, and instead of chopping it all up for a sauce, they go in big and chunky to roast alongside a protein. And if you're vegetarian (and / or gluten free!), I've even made this sauce to serve over spaghetti squash… just be sure to leave out the anchovy paste if you're a veggie.
Usually when I'm making this meal, it means I'm relying heavily on my stocked pantry and freezer. I always have meat in my freezer so even if the fridge is lacking in fresh proteins, the freezer always has my back. Meals like this are the ones my husband and I have always called 'free meals'. It's sort of tricking yourself into thinking you didn't make a big effort or spend any money on the thing because it was already there for you. It's a really nice feeling.
So for example – when boneless, skinless chicken breasts go on a big sale, I buy them in bulk and freeze them by the 2's in quart sized zip bags. Then I can pull out 1 or 2 bags for my family, depending on what I'm making. Same concept goes to pork loins, which routinely go on a major sale for about $10-$12 for an entire loin. I butcher it into 1/3's and freeze the sections separately. When good quality local shrimp goes on sale, I buy a lot and rinse, dry and freeze… or sometimes really nice pre-frozen shrimp gets marked way down, and I grab that. Ground meat is always in my freezer too, so meatloaf or a meat sauce with pasta can always be had. And then if you have your pantry always good to go, whenever that extra busy week comes and you just can't make it to the store… a dozen meals can be made in your kitchen… for free! 😉
A few meal-friendly pantry items you can always count on finding in my kitchen are :
beans

– all kinds, both canned and dried. Make soups, side dishes, dips, spreads, toss them in salads…

pasta

– various long and short cut varieties. Even if all you had was a box of pasta in your pantry, you can have a meal. But ideally with even just the simple help of just olive oil or butter… some good hard cheese… maybe a lemon… and / or a can of tomatoes and some dried herbs – you've got an actual real one.

alt pasta like Banza

– this is our favorite wheat free pasta brand. It's made of garbanzo beans and is so so tasty. We don't eliminate wheat, but some meals I enjoy using this. The cavatappi is my fav shape, buy it here : https://amzn.to/3IvqTZw

rice

– long grain white, brown, arborio, basmati AND packets of 'instant' microwavable for those super busy days or a quick lunch building block.

other grains

– quinoa (not a grain but treated as one), barley, farro, couscous (not a grain but treated as one).

canned tomatoes

– whole, stewed and spicy diced are always in there for me. Whole for pasta sauces and tomato soup, diced for stews, spicy diced for tex-mex inspired flavors and this casserole my family loves.

tomato paste

canned whole potatoes

– a new addition to the canned goods in my home – it's the best for stews! I never thought I'd say that, but there is a texture they achieve in that can that just can't be mimicked with a fresh one… even if I always have fresh potatoes on hand.

potatoes

! both waxy white and sweet. I have no use for the russet / Idaho, sorry.

onions

– yellow ones from the mesh bag are my go-to, but I also like having sweet onions and a couple red for anything raw. we also grow our own green onions and use those for many a garnish.

fresh garlic

unsalted stock

, good quality in quart cartons- beef and chicken – I make my own chicken stock whenever I roast a bird and freeze it flat in a gallon sized zip bag if I'm not making soup that week, but it's always good to have some for braises, soups and stews.

bouillon

– I don't love the sodium content in most, but for those times when maybe I don't have stock on hand, or I don't need a whole carton…. this helps. (I'm an always backup your backup kinda gal)

anything pickled

that my puffy-prone face can tolerate (see olives and capers as boldface favs, see also every kind of mustard that has been imagined). I buy our fav Sicilian castelvetrano olives in bulk here : https://amzn.to/3VItCC1

every hot sauce you can imagine

. i can take it

all the vinegars

extra virgin olive oil plus a lighter oil

like a grapeseed or canola for high heat cooking.

every dried spice and herb imaginable

except the ones that don't work and should be banned like dried cilantro and basil. and we also grow a lot of fresh herbs too, but dried is great to always have on hand.

sustainable and good quality canned tuna and clams / also jarred clam juice

– I can make linguini with white clam juice like 🫰
THIS INCREDIBLE MUSHROOM UMAMI POWDER THAT I ABSOLUTELY ABUSE : https://amzn.to/3OURUH0

Lizano Sauce from Costa Rica

– I use this in place of wherever I would have otherwise used Worcestershire sauce (mainly my meatloaf) because the flavor profile is so similar me, the sodium content is hilariously lower / better, and it's actually got healthy ingredients in it like vegetables! Buy it here : https://amzn.to/3WTz1Yb

coconut aminos

– just like with the Lizano, most brands have far less sodium than soy sauce and I feel better using it. Buy my fav brand here : https://amzn.to/3icr7dx

breadcrumbs

, unseasoned
natural sugar subs – honey, molasses, date syrup (buy my fav medjool date syrup here : https://amzn.to/3X4aG1y

all the nuts and nut butters

– I use cashews in place of pine nuts for a basil pesto bc the flavor is great and it's super cheap
I just had to force myself stop listing things I keep in my pantry. It was hard but I did it for you.
Anyway. All this to say that this meal, this One Pan Roasted Chicken Puttanesca, is really great and something easy to prep ahead… perfect for right now when we all seem to need it the most. It's comforting, simple, has really bold flavors, and is a stunner to look at too (even un-baked, she's a beaut! – see below). So whether or not you're going out to buy everything for it today… or you're treating your family to a free meal tonight, she's a winner.
One Pan Roasted Chicken Puttanesca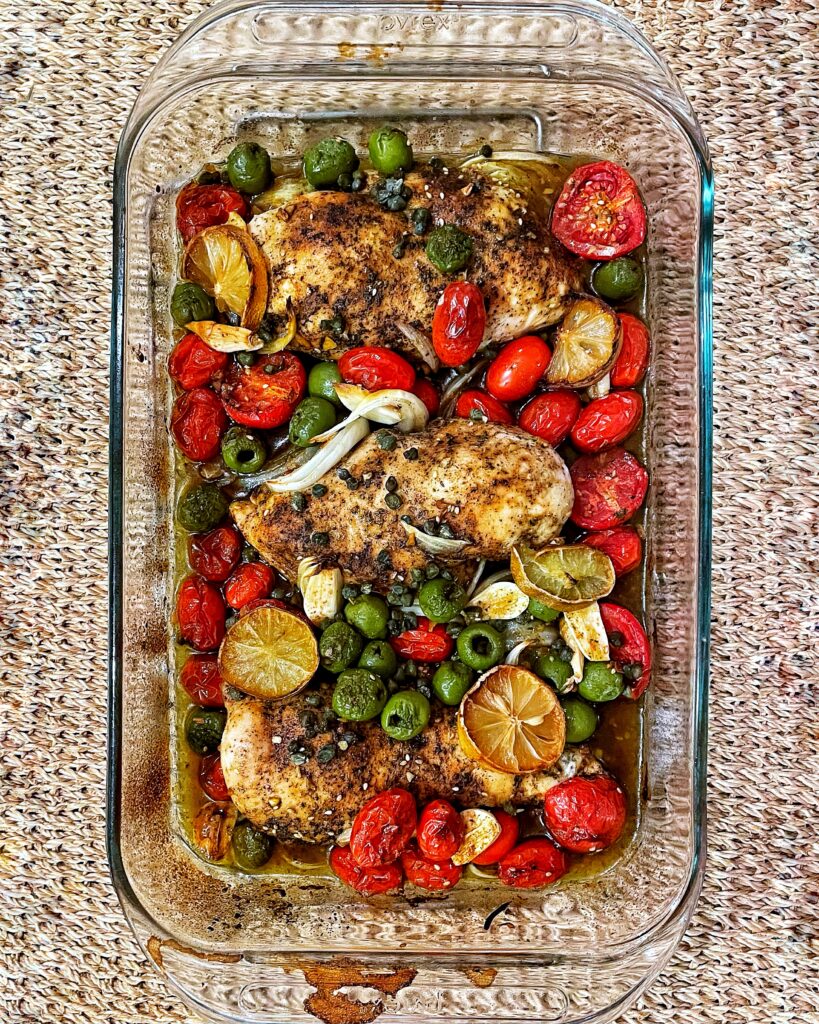 In a 9×13 inch greased glass baking dish (or larger if you're making more), add the following :
3-4 boneless, skinless chicken breasts. (If they're super big, you can feed 2 people with 1… just use your best judgment and feed who you gotta feed!)
poultry seasoning + dried rosemary if your blend doesn't have it
garlic or onion salt
(if you're using dried onion or garlic powder instead of a salt blend, just be sure to add salt)
Nestle in the following :
A couple handfuls of grape / other small tomatoes (slice the bigger ones)
The same amount of your favorite olives (buy mine in bulk here : https://amzn.to/3VItCC1 OR the fantastic Greek Frescatrano Olive : https://amzn.to/3B4Gknc )
Same-ish amount of brined capers
1/2 a sweet or yellow onion, sliced
4 cloves of garlic, peeled and halved
1 lemon, zested over everything and then sliced.
Season any naked veggies with salt.
Drizzle with a good amount of olive oil, all over. Oil the chicken well since she's a naked boob.
If making ahead, cover now and place in the fridge until cooking time.
About 30 min before you're cooking, take it out to come up to room temp and preheat your oven to 375. (This takes one hour to bake, so calculate 1 1/2 hours before you want to eat that you're taking her out.)
Before baking, squeeze the juice from the lemons over everything and throw them back in the pan (don't do this too soon or the acid will start to break down the proteins in the chicken and change the texture).
Bake in a preheated 375 degree oven for 1 hour, or until the chicken is firm and juices run clear if you poke it. If you're using a thermometer, you're fine to take it out at 160 or right before… it will continue to rise in temp as it sits.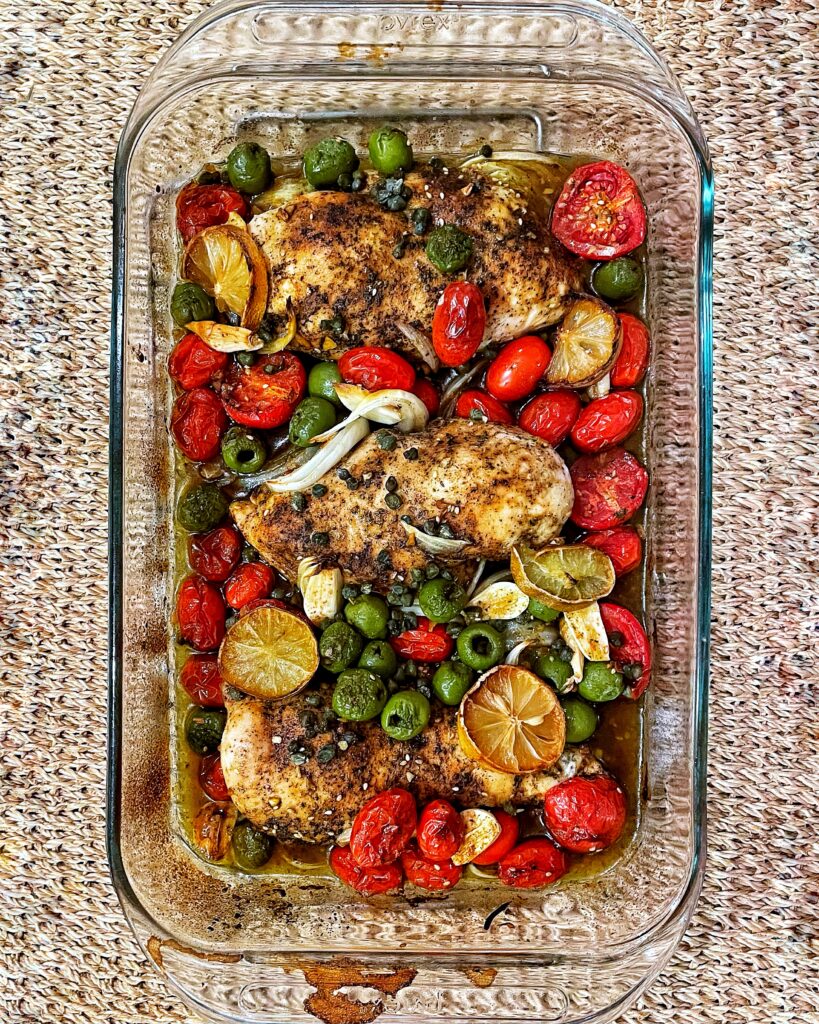 I garnish with fresh parsley and serve it with rice and whatever green veg I have…. or sometimes the free meal version just comes with the rice 😉 . The juices are incredible in this dish, so the rice is great here.
…
Aaand that's it!
Thanks for reading, y'all. much love x