Usually on my fashion posts I'm giving you one complete outfit- with the accessories and sometimes hair/makeup to go along with it.  But this time I wanted to do something a little different. I wanted to take one basic piece- one very simple piece that most every girl has in their closet… something classic- and give you 5 different looks for it.  And each look uses other basic items and accessories, so it's easy to adapt to your own closet.
Why 5 looks? No idea. It just felt good.
So the classic piece we're working with today is the t-shirt dress.  They'll been around forever, sometimes called tunics, and usually come in a basic flat color or simple print.  I mean… I wore these things in the 80's and 90's, so they've been around for a bit.  And I just got one from a local shop called Fiore Boutique ($30 on sale).  (For anyone local to me, their NC location is in Northlake Mall.) The one I'm working with here is a white and black striped, short sleeve t-shirt dress with a high-low hem.  But again, most any will work with these…
So here we go!
These are just a few of the fun ways the t-shirt dress can be styled this season…
A simple black bootie, a fedora, chunky wrist porn, a big earring and a long necklace.  It's a casual daytime look that still feels well put together.  In the really warm months you can switch out the shoe for a sandal and keep everything else the same.
Then I decided to show you how you could take this daytime outfit and take it into the night just by packing a few extra things with you when you leave for the day…
I took the hat off and put the hair back in a messy pony (because we had a bit of hat head).  I cinched the dress with a jeweled belt, kept the same bootie, took off the wrist bangles and just kept the chunky cuff.  I shortened the necklace to a more dressy spot on the torso, and threw on a white blazer with the sleeves rolled up 3/4 of the way.
So there's one full day and evening of wear for you right there!
Then I took it to girly town.
Gosh, I haven't been to Girly Town in a while.  Wonder what they're up to there…
Opaque, black tights with a black platform pump, chunky pearl bracelet (that's actually really a long, multi-strand pearl necklace wrapped around my wrist several times), a large blush toned, stone cocktail ring, large 'pearl' studs and a big ole top bun with a black, leather bow clip.
And then, let's see… if it's really chilly out, you'd probably wanna go boots and jacket, yes?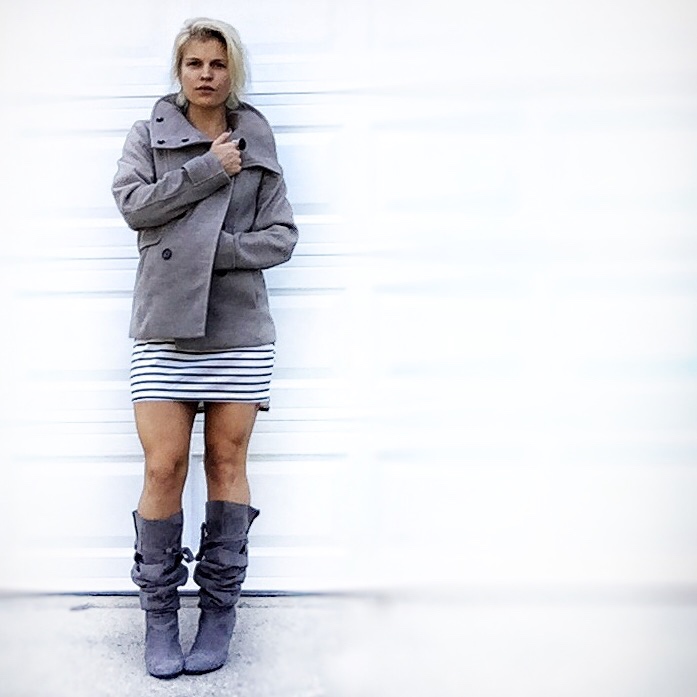 Scrunchy tall, grey boots, grey pea coat, hair up in a messy clip, simple large silver earrings and a long silver pendant necklace (not seen).
Op! There it is.
And then, last but not least, the most simplest way to have fun with any outfit…
Throw on a red shoe and keep everything else minimal.
Cocktail ring, silver hoops, black shades, classic red pumps and a smile.
So there you have it!  One thing, five ways.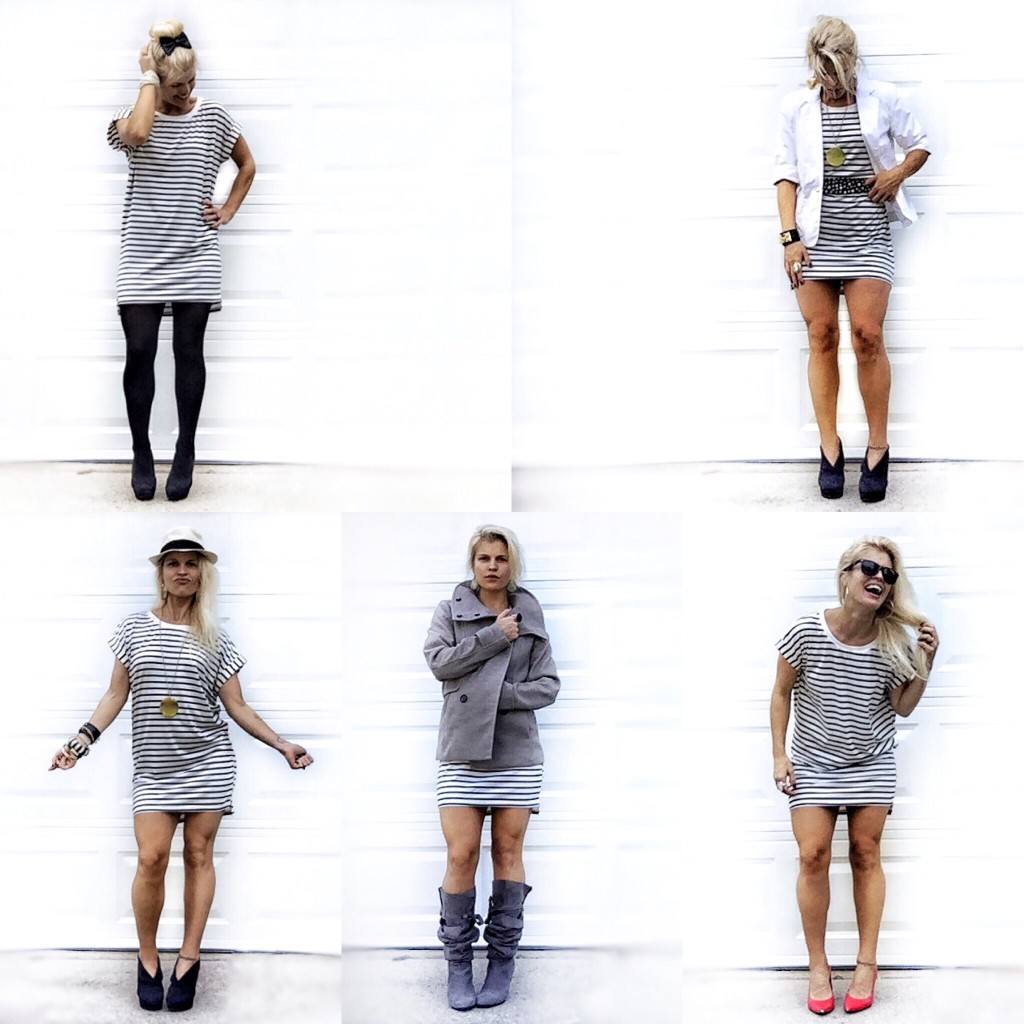 Proof that you don't need to buy a ton of clothes to have a ton of outfits.
…
Note-If I didn't include a link with an accessory cred it's because that item is no longer available for purchase and couldn't be located to share with you. But like I said earlier, most of the items are basic pieces so you should be able to adapt it all to what you already have!)
Thanks, Fiore Boutique!  Your store rocks and I had a lot of fun playing today.
And thank YOU all for reading 😉
XOXO