My son's third birthday party was this weekend. He initially wanted a Lego party, but it slowly morphed into a 'Lego and other retro toys' party. The house was filled with different colored balloons, we had legos, a table stacked with games like Candy Land, Twister, Hungry, Hungry Hippos, and Trouble. I had craft tables covered with butchers paper, one for crayon coloring and the other with the Play-Doh we made several weeks ago along with rolling pins and cookie cutters. We went 'fishing' for prizes and I made a Lego pinata out of an old diaper box and some oatmeal canisters. I had board game-themed party food and drinks and a Candy Land table dedicated to all sorts of candy. My whole house was transformed into party central.
My son requested a Lego cake months ago and I've been brainstorming and sketching ever since. I finalized the design a few weeks ago and put it all together on Friday. I worked for 2 hours on it and was so incredibly proud of what I came up with and couldn't wait to show my son. We both had nasty colds and he was well past his nap-time because I couldn't find a stopping point in my obsessive cake decorating. When I finally finished the cake, I came into the living room and scooped him up to show it to him.
We galloped into the kitchen and I said,
'Look at your cake mommy just made you!'
And he burst into tears.
I said,
'Honey, what's wron
g? You don't l
ike your Lego cake?'
And through his tears he screamed,
'NO!'
At this point he was sobbing. I was dumbfounded. And royally pissed off. I worked my butt off on this damn cake, through pregnant belly and achey back, sore throat and stuffy nose, I slaved over this thing that I thought was perfect, and he has the right to tell me he doesn't like it? Who does he think he is? How dare he? I wish I could tell you that I got over it quick, but maybe it was the sick and tired in me that caused me to get so upset. I even cried about it. Isn't that sad? I cried because my 3 year old told me he didn't like something I made him. I even called my mother seeking comfort and she just laughed. Hard. Then I got pissed off at her. (Can't you hear all those beautiful violins playing?) Now I'm rested enough to know he was just really over-tired and didn't feel well. I could have asked him if he wanted a chocolate covered race car and he would have cried at that point. Poor guy. He woke up from his nap that day and wanted to go see it again and hugged me and told me he loved it. That's my sweet boy. 🙂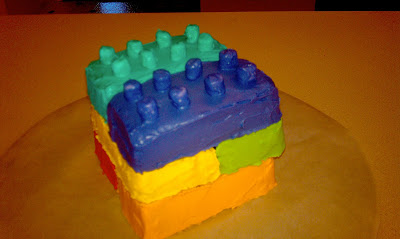 Everything at his party seemed to go well, I think the kids all had a good time and I think the parents probably cursed my name with all the sugar I sent them home with. I always get nervous throwing a party for kids because my friends all have children that are either a year or two older or younger than mine, and I want everyone to have an equally good time. My plan seemed to work out well except for the fact that I accidentally pummeled one of the young kids with Snickers bars when I was cleaning out the pinata. I do hope she's OK. And I also managed to cause an otherwise responsible and perfect mother to feed her child vodka by accident. (She thought it was water, and I apparently didn't have a big enough label.) I do hope he's OK.
Other than those potentially hazardous mishaps, it was a great party. I'm still exhausted and need a big break until I get Christmas Busy again. We all stayed home yesterday to put up our Christmas tree and house decorations. Man, I love the smell of a Christmas tree, it always makes me happy. Sometimes you can find me inside the tree when I'm having a rough day. Try it, it helps. Anywho- We have a family tradition that Christmas doesn't begin in our home until our son has his birthday celebration. That way he doesn't get jipped on his birthday festivities. While my husband hung our outdoor lights in the rain, my son and I built a Gingerbread Train. I've never been a gingerbread house kinda gal, I didn't grow up with it and so I guess I just don't understand them. We always made gingerbread men and women with my mom and I loved doing that, but we never built the houses. I saw a kit at the store before his birthday that was for a Gingerbread Train and I couldn't resist buying it, even though it isn't my thing. I knew we would have fun doing it.

Oh I wish I could say this is the picture of our train. No, this is the picture the box promised. It promised that everything inside the box is all you need to make THIS train. How hard could it be? I'm kinda artsy. I'm kinda creative. I can handle this. Ha. Now I know why I don't do these. It was a large pain in my pregnant butt. The directions weren't clear, the candy was all busted up inside and everything was NOT included in the box. The pieces kept falling apart and I had to stop the caboose from collapsing with one hand while I was gluing the car together with the other. But my son had such a great time decorating it, which was really the only point.

He got to do it all by himself, I just supervised and watched his creative juices flow.
Aint it purty?
My favorite part is the rearview 🙂
I'm very glad today is Monday, because that means I already threw the party that's been on my shoulders for the past several months, it means our house smells like evergreen, and it means we're one step closer to what I believe will be the best Christmas ever. It's easy to get caught up in the hectic preparation of the holidays, the busy shopping, list making and oven-slaving we do so much of. But please, before you forget why we do them all, take a moment to stop and smell the Christmas tree.
If you're looking for a great Gingerbread cookie recipe, I highly suggest the recipe my mom used for us when my brother and I were little. It's Martha Stewart's Basic Gingerbread Cookie Recipe.