Remember when the last week of school was the most exciting part of the year?  Apart from the entire month of December, the last week of school is absolutely thrilling as a child.  It was hard to focus on anything but your upcoming freedom, you rarely had any assignments, the teachers started showing movies every day, everyone was nicer to each other in the halls…sheer joy.  I can still remember the excitement like it was yesterday.
When did that change?  Oh yeah.  When I graduated and decided to be an adult.  Right.
Now that I'm a mother I experience the flip side of the end of the school year.  It's definitely one of those moments where I'm forced to remember that I'm not a kid and things aren't about me anymore.  (I wonder when I will officially feel grown up?)  I'm not excited, I'm not thrilled, no more sheer joy…to tell you the truth, I'm a little scared.  And I can now understand what my mother must have been going through so many years ago with my brother and me.
What the hell am I going to do with you for 3 months?!?  
That's all I can think of.  I'm terrified.  I have 2 more days before my life changes.  And I'm counting down the minutes, let me tell you.
I love my kids.  Of course.  They're 2 and 5, they love each other deeply and are, for the most part, amazing children.  Yes…I love my kids.  But I seem to love them more when they're apart.  Once those little people get together, nobody has a good time.  One child has something the other wants AT ALL TIMES.  Even though there are a bazillion toys to choose from, that one damn matchbox car that big brother has MUST BE seized by little sister.  And each time little sister gets a gummy bear for having a milestone, big brother simply must have one too.  Why?  Because they don't seem to understand independence and individuality at this age.
Why does she get the pink bowl?  I want the pink bowl!!  
Need yellow truck!!  NEED!  YELLOW!  TRUCK!  NOW!!!!
So in order to keep the peace, I must have everyone doing something at all times.  That is so freakin' exhausting.  Remember when summer meant relaxing by the pool with a book?  Riding your bike with your friends in the neighborhood?  Having NOTHING TO DO FOR 3 MONTHS?
When did that change?  Oh yeah.  When I graduated and decided to be an adult.  Right.
We're members of a pool, so I'll be there…A LOT.  We have lake access through the local college, so I'll be using those passes…A LOT.  We have a yard, so I'll be hosing them down…A LOT.  But there are only so many playgrounds to put in rotation, so many picnics to pack, so many long walks to go on before you begin to feel like you're in a giant, hot blender.  My husband has it easy.  Nothing changes in his summer other than the fact that he sweats under his tie.
The one silver lining I can see right now (and I said it, at this same point, last year) is that I can feed my son peanut butter whenever the hell I want to and no child will drop and go into shock, no parent will complain and everyone will be happy.  God Bless the Peanut Butter, right?  I'm just gonna feed them both as much peanut butter as I can for the next 3 months.
Because, frankly, it's the one thing I have the freedom to do this summer.
~~~~~~~~~~~~~~~~~~~~~~~~~~~~~~~~~~~~~~~~~~~~~~~
These are my teacher gifts for this year.  (I give my scones a lot as gifts and hopefully no one is complaining about that!)  I attached a little note to the gift that read, 
'…because maybe you're going through Peanut Butter withdrawal too!'  Thanks for a wonderful year!'
These scones are delicious treats for the peanut butter lover in your life.  They embody everything that we love about peanut butter…sweet, salty, savory, creamy, and when you add the banana chips, you get a surprising, sweet, crunchy treat in every bite.  Soo good!!!
*Peanut Butter Banana Scones
(Recipe makes 8 large scones)
In the bowl of your food processor, combine the following…
-3 cups AP flour
-1 cup white sugar*
-1 TB baking powder
-1/2 tsp kosher salt + 2 pinches* (probably more like 3/4 tsp…)
Pulse to mix all the dry ingredients together.
Add in…
-1 heaping 1/2 cup of peanut butter
Pulse again to mix in the peanut butter.
Add in…
-1 1/2 sticks VERY cold, unsalted butter that you've cut into cubes (place the cubes in the freezer for several minutes while you begin to get it super cold)
Process again until the butter is fully broken down to pieces no larger than a pea.
With the mixer on, slowly drizzle in…
-roughly 1/2 cup of COLD half & half, heavy cream or at the very least whole milk
You want to add the 'milk' very slowly and stop when the dry has become moistened.  You don't need to wait for a dough ball, but you want everything to be moist enough that when you press the dough together with your fingers, it stays together from the warmth of your hands.
Transfer the dough onto a lightly floured surface and add…
-roughly 3/4 cup-1 cup of banana chips, crushed (with your hands)
Mix in the banana chips with your hands, making sure to evenly distribute the chips, but be quick so you don't warm up the dough too much.
Shape the dough into a thick disk
Slice that disk into 8 triangles, as if you were slicing a pie
Place each disk onto an UNGREASED cookie sheet, a few inches apart from each other, (like my children, they need as much space as possible).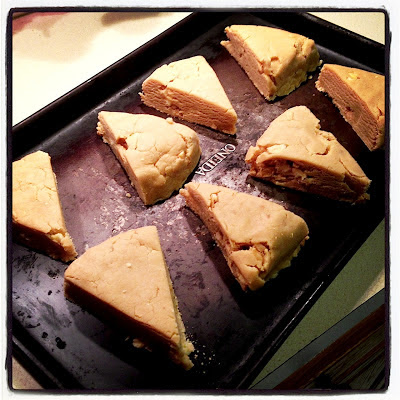 Can you see those beautiful, flaky layers?  That's because we chilled the butter and made sure we didn't warm it up by over-handling with our hands.
Bake in a preheated 375 degree oven, ON THE TOP RACK, for about 21 minutes, or until the edges have begun to turn a slight golden brown.  They will still be soft to the touch, but once they cool they will firm up.  Don't take them so far that they're all the way brown on top.  The beauty of these scones is the fact that they remain 'creamy' on the inside.
Allow to cool until easy to handle on the cookie sheet, and then transfer to a rack to cool completely.
Serve room temperature.
Store, airtight, at room temp for up to 3 days or in the fridge, airtight, for about a week, or in the freezer, airtight, for up to 3 months.  I recommend freezing them wrapped in plastic, then in foil, then placed in a large zip bag for optimal results.
(*if you're using an unsweetened and/or unsalted peanut butter, adjust the salt and sugar accordingly…you may just need to taste the raw dough and see if you need it sweeter or saltier before forming it.  Tough job.)
(For more similar recipes, check out my Banana Brown Sugar Scones, Peanut Butter Banana Bread, PB&J Scones, Raw 'Just' Banana Ice Cream)
(For ideas on how to wrap homemade gifts, such as these scones, check out this post.)