Hello. Hi. Howdy.
So I was asked to create recipes using McClure's Pickles… basically just play around and have fun with several jars of pickles.
Ya know. Normal human stuff.
But before I get into that… I'll explain things a bit. I get asked a lot what it is that I do… like, for work… and since summer, I've luckily been able to just say that I'm the Director of Food and Wine at Summit Coffee Co.… which is a lot easier than saying what I've been doing for the years before that. But basically, the other job I have (besides stay-at-home-mom-to-two and doing a terrible job keeping a blog alive) is this right here: I work with several brands and companies to create content, etc. around them – either in the form of photograph advertising, recipes, or just plain building hype… or all of the above! (A lot of it goes straight to instagram and isn't published here on the blog.) The brand types are really all over the place (watches, snack bars, hair products, canned fruit…to name a few) and I only accept the jobs I actually believe in… so, yes – I am being asked by the brands to utilize their products, but it's still my opinion and voice on everything, and I refuse A LOT of job offers if I would never use that product or go to that place, or say those things, etc etc etc.
So, when these here pickles from McClure's came a knockin', I said YES PLEASE.
Love a good pickle.
And although I'm a purist when it comes to pickles… meaning I don't really do much with them except…. eat them… right out of the jar, I immediately knew what I wanted to create with them.
BLOODY MARYS.
Ya'll, I'm pretty damn picky about my bloody marys too. And funny enough, I've never written a recipe for one! I just make them, tasting them as I go, and stop when it's amazing. But there are always the same things in them. This time I thought the addition of pickle juice would be super rad.
(And I am not in any way trying to compete with McClure's very own Bloody Mary mix… I'm sure it's purely delightful. But I'm a 'make your own mix' kinda gal 😉
I had the choice between McClure's Sweet & Spicy and Garlic Dill… and I was thiiis close to going with the Sweet & Spicy, but its sweetness is stronger than its spice, so I figured I'd be better off using a stronger and classic dill pickle flavor…. with the benefit of a hearty kick of garlic!
There are whole cloves of garlic in the jar and the pickles themselves are cute little guys. They're crisp and flavorful and exactly what you want in a pickle.
…also perfect for these Bloody Marys!!
The addition of the pickle juice just adds an extra tang and extra something that keeps you going back for more sips!
Oh. Also. Let it be known that I make (and order) my Bloody Marys with gin.
Yup. GIN. VODKA
Why? First of all, gin just has more and better flavor. Period. And secondly, it's just super good in a Bloody. It's a insider trick and secret and you'll get mucho respect from proper bartenders if you order them this way.
You're welcome.
And I like to rim my glass with not just Old Bay (classic, gotta give respect), but also with one of my favorite Mexican spice blends that I discovered last year in Mexico and smuggled home with me… only to find it's totally easy to get here in America. It's called Tajín and there's lime zest in it… such a great seasoning for meat and veggies. It's chili powder forward and I just love love love the hint of lime. And the combo of the two spice blends is perfect here! (I've seen it at Food Lion and Aldi, but I'm sure it's elsewhere.)
So today my job- on a Monday- was to create a Bloody Mary using pickle juice and take its glamour shot after I spent the morning in meetings and working in the café, and before I picked up the babes from school and fed them Chocolate Bread for a snack (recipe coming soon!), checked their homework, made sure they cleaned all 2,000 parts in the shower, prepped the dinner pizzas with the homemade pizza dough I made and froze over the weekend (new recipe for THAT should also be coming soon because it's new and improved and easier and it's what I wrote for Summit!)… all the while keeping my mind's eye on the chilled bottle of champagne I have waiting for me and the dream of a very hot bath and movie for mama in bed.
It's a weird job I get to do sometimes, but it keeps things interesting.
Wonder what I'll have come my way next!
Happy Monday to you all.
You deserve a Bloody Mary.
And a pickle or four.
Pickled Bloody Marys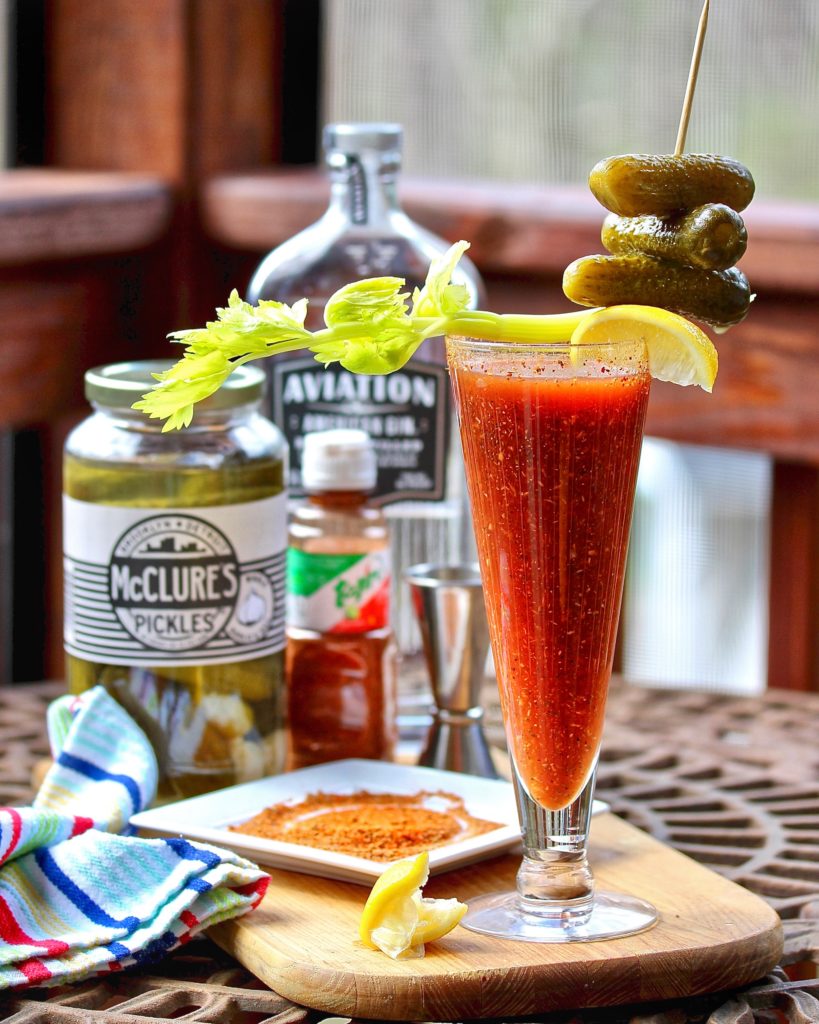 In a glass pitcher / measuring glass, combine the following…
2/3 cup V8 (I have a severe sodium sensitivity so I always have to go Low Sodium, but for sure the Original has far more flavor…also the Spicy Hot V8 is bomb… but their Low Sodium Spicy Hot is hard to find. If you choose to use the spicy V8 varieties, please go light on the spicy elements in the recipe and add more as needed.)
1/3 Clamato (daddy's OG trick)
2 Tablespoons McClure's Garlic Dill pickle juice
2 ounces gin (I prefer Aviation here…not entirely because Ryan Reynolds is the perfect combination of sexy, hilarious, talented, adorable and wholesome father a.k.a. super hero dream bomb boat)
2 teaspoons prepared horseradish
2 teaspoons hot sauce (note – I use Frank's Red Hot or Crystal's, which are both thicker and less spicy than, say, a tabasco or texas pete… so go with 1 teaspoon if you're using a thinner, more potent hot sauce)
2 teaspoons worcestershire sauce
1 teaspoons fresh lemon juice (this is 1 fat wedge's worth)
1 teaspoon celery seed (not celery salt, but that could work… just would be less of the concentrated celery seed flavor and more salty)
1/2 teaspoon finely ground black pepper
1/8 teaspoon cayenne pepper
Stir very, very well and make sure there are no horseradish clumps and no black pepper and celery seed floating at the top.
On a small plate, dump out equal parts :
Mix 'em up.
Wet the rim of a tall glass with a lemon wedge.
Dip the rim of the glass in the seasoning blend and coat it well.
Add ice to the glass.
Pour in your bloody mary mix.
Garnish as you wish, but I keep it simple with a celery stick (from the heart is where it's the sweetest 🙂 , a lemon wedge, and lots of those yummy McClure's Garlic Dill pickles!!

…
thanks for reading,. ya'll! Follow me on Instagram for more fun!