The first time I ever saw Jewel perform was in the summer of 1997 at Lilith Fair. I was 15. I had lawn seats and couldn't see the stage. My girlfriends and I sat on blankets surrounded by other girlfriends and blankets. It was hot. I wore a lime green tank top with straps that tied at the shoulders, showing my belly button and the large birthmark to its right, and white denim shorts. I was hit on by a woman for the first time as Jewel sang 'Near You Always'. I felt grown up.
By that time in my life, I had become close friends with a girl who had the darkest and curliest hair I'd ever seen in real life. Her name was Janette and she had moved from New Jersey in the 8th grade. She had a funny voice to all of us small town Southerners. People kept making her say 'water'. She was this magical creature, unlike anything we had ever seen before. She was louder than us, prettier than us, wore better clothes than us. I desperately wanted her to be my friend. She sat behind me in Social Studies and we would talk. A lot. We discovered that we both loved to sing and we made each other laugh, and that was all we needed to develop a friendship at the time. We were the complete opposite of each other on paper. I was quiet and blonde. And she was not. We were perfectly mismatched and oddly in-sync. I was the oil to her vinegar and when you put us together in the right, delicate manner, we blended without breaking.
Janette lived with me in my tiny bedroom while we were in high school when she got kicked out of her house. She slept on the floor. She would borrow my clothes and sometimes return them. I wrote a song for her in high school called 'My Harmony', because whenever we sang, she was always the harmony. She always took the high, and I took the low. I recorded the song in my uncle's music studio and presented it to her as a gift after I went away to college and felt like I was leaving her behind. I still have the cassette tape. And she still has the hand-written lyrics.
Together, we fell in love with Jewel and her music. When her Pieces of Me album came out in 1996, we wore it out. We knew all the songs by heart, sang them loudly in cars- with windows rolled down, in hallways before Spanish class, in bedrooms when we were supposed to be sleeping… It was the soundtrack to our friendship. That album is the reason why I picked up my mom's guitar (neck too wide and action too high for my tiny hands), and taught myself to play. It's the reason why I started writing music. Those 14 songs shaped a lot of who I still am today.
I quoted lyrics from track #9, 'I'm Sensitive' in the school pageant my senior year of high school.
(Yes. Yes, I was in a pageant. Me. But, as you'd imagine- I didn't fit in… I had double black eyes due to a horrible car accident I was in just days before. I covered them up with the yellow concealer Maybelline makes because I had read in Cosmo magazine that the color yellow cancels out the color blue. I never told anyone, out of fear they'd consider me too un-pageantlike. I sang an original song with my mom's acoustic guitar, on a wooden stool under a spotlight, in bare feet and faded jeans for my talent. I wore the previous year's prom dress as my formal gown (because why buy a new dress when this one still works?) It was a champagne colored organza, full length gown that made me feel like Cinderella. It quietly swooshed when I walked. I still own it. Because it still works.)
The quote I chose when I walked to the mic at center stage to introduce myself, wearing my mother's long, green wrap skirt and espadrilles, was:
'I have this theory that if we're told we're bad, then that's the only idea we'll ever have.
But maybe if we are surrounded in beauty, someday we will become what we see.
Because we are everyday angels.'
A lot of people said they wanted world peace. We were given a certain amount of words we were allowed to say and I chose those.
I didn't win (unless you count 2nd runner-up). A pretty girl named Shamyra Parker in a sequined, bright blue gown, who did a dramatic reading of 'Phenomenal Woman' by Maya Angelou won. But what I love about 17 year old me is that's exactly how I would be today if someone asked me to enter a pageant. I'd make up my own rules.
I've always thought black sheep were beautiful.
Janette and I moved in together a year or so after high school and lived in Wrightsville Beach. At that point in time Jewel had already released her sophomore album, Spirit. That CD lived in our cars. Janette got a fish and named it Jupiter after track #7. I picked out 'What's Simple Is True' (track #2), on my blue Samick and played it on the cold, crooked floor of that old beach house until my fingers bled and back hurt from hunching over. I sang it sitting down on a wooden stool in a coffee house on College Road, and standing up at a mic too tall for me in a bar on Delburg. I sang it on a carpeted dorm room floor to a boy who told me I sounded like Joni Mitchell. He then played 'Imagine' for me on my guitar. I fell in love with him in that moment. And he broke my heart in those that followed.
Janette and I saw Jewel play in Raleigh on that tour. We sat in the best seats we could afford and didn't care that we couldn't see her. We could hear her. We were together, and we could hear her.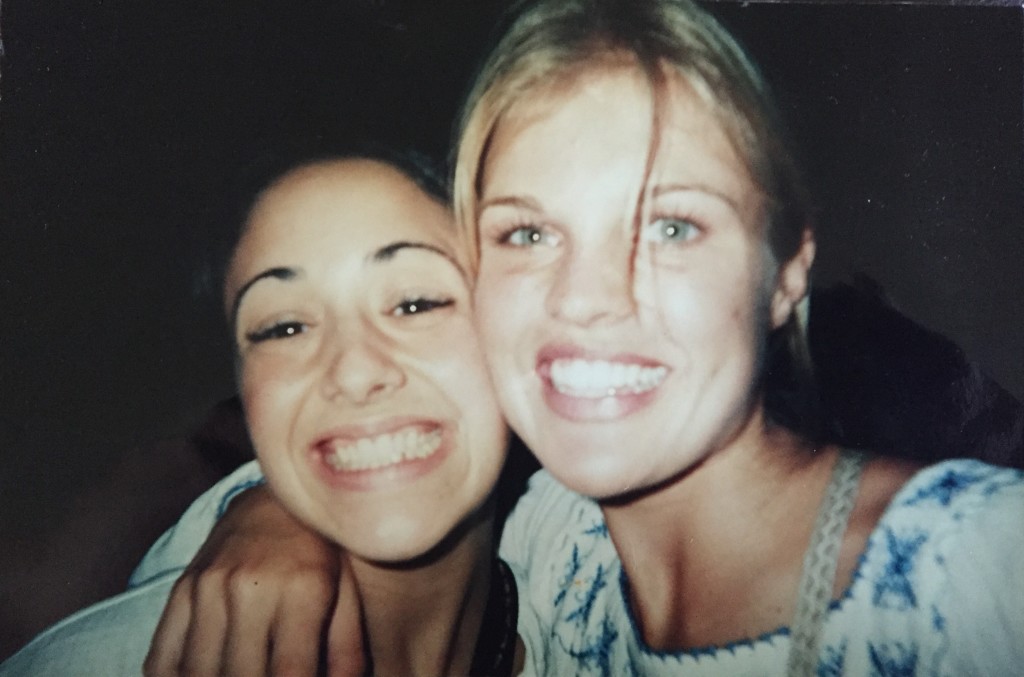 We got lost that night driving back to my uncle's house. We ended up in Greensboro.
By the time Jewel's third album, This Way, was released, Janette and I were still living together but beginning to drift apart. And once she released 0304, we had lost each other. I started going to Jewel concerts with my now husband and mother instead of Janette. I saw her perform in Atlanta at an outdoor arena where we packed a picnic and my mom spilled red wine on the woman in front of us.
I grew up and got married and started a family and didn't have time for music or Jewel. I would buy anything she came out with, as if on auto-pilot, but hardly listened to it. The last time I saw her in concert was in 2005 when I lived in Los Angeles and made my husband drive us to the Thousand Oaks Civic Arts Plaza. It was an acoustic tour, not attached to any specific album, just because she felt like touring that year. She asked the audience for requests and I yelled out 'Quiet Warrior' and she laughed at the obscurity. I felt special.
She came out with a children's album after she had her own child called 'The Merry Goes 'Round' in 2011 and I played it for mine. Every Christmas her songs would come on my iPod Christmas playlist. I would see her on various talk shows and still get a little tickle in my tummy at the sight and sound of her.
By the time I had both my children and had settled back into feeling like myself post-baby, Janette and I found each other again. It had been 14 years since we had spoken or seen one another. We picked up the pieces of our friendship at that dark restaurant table that evening and began again where we had left off.
A few years ago we got together and sang again- something we hadn't done in over a decade. I picked up my blue Samick, picked out one of the songs we bonded over in high school 18 years before, and just started singing. While our husbands and children were downstairs- building a friendship of their own- she and I sat on the floor of her playroom, barefoot, and sang again. No rehearsal, no perfection, just playing around like we used to.
Foolish Games clip from abbey wade on Vimeo.
My favorite part of that video is how she looks at me when I'm singing and how I look at her as she does. And how we both smile when the harmony is right. She perpetually taps her feet to music, and sways when she sings. I rock and close my eyes when I play. We both take our shoes off.
Oil and vinegar, blending without breaking.
When I got the email this year that Jewel was touring again and coming to the town where Janette and I had once lived, I sent an excited text her way and told her we had to go. We had the opportunity to meet Jewel on this tour and it's something we both knew we had to do. So we cleared our hectic schedules, left the kids at home with husbands and drove all the way back to our old home.
We met her.
She was perfect. I asked her questions. She answered. She laughed. She played. She sang. She gave us a private concert before the real one began where she sang us a new song. She forgot the lyrics halfway through and we had to google it for her. She thanked us and kept singing.
My 14 year old dreams came true that day. And I'm still trying to put that into the appropriate words. But we were happy, Janette and I. Together, we were so very happy.
Once the public concert began, we sat in the second row, in the orchestra pit. We could touch the stage. We could see her fingers move. We felt wonderful.
She opened with a song I had dreamt of her singing the night before. You could hear a pin drop in that opera house theatre.
jewel somewhere over rainbow from abbey wade on Vimeo.
This woman puts on such a magnetic show. Her voice is strong and pure. Her heart is attached to every note she sings, every chord she strums. It was just her and her guitar and you didn't even realize there wasn't a band. Her sound is so full. Her presence so large. Janette and I sat in mostly silence and open mouths for 2 hours. We held hands when we remembered the younger us and sang along to the songs that brought us there. I wouldn't have changed a thing about the whole experience.
When she sang 'Angel Standing By', track #13 from 'Pieces of You', I didn't breathe. I forgot how. I didn't need to. It was the most beautiful noise I had ever heard in my entire life.
We continued to have an amazing weekend, Janette and I. We laughed and talked and shared, and the pieces of us scattered around that old beach house came together again. It felt like we had come full circle. On our final night, we walked out onto the beach, shoes in hands and stood before the ocean. The sand was cold, the wind was light, the ocean loud.
Sometimes people enter our lives for brief moments. They teach us things we need to know at that time, then they leave us. People always come to us for a reason. Figuring out that reason isn't always easy, and we may not know it until they're gone, but we always learn things from the people whose paths we cross. Sometimes they leave. And sometimes they come back. Sometimes a love is so strong that no amount of time or space could keep you apart forever.
It's our job, as adults, to grab ahold of the people who make us feel more like ourselves and hold onto them so tightly that they could never disappear for good. The people who make us think more. The ones with whom you could sit in silence for an hour and it wouldn't matter. Love is a strong force that should conquer all. And if we could all just relax a bit and settle into the fact that things will always work out as they should, we could enjoy more of that love while it's there before us.
You were meant for me. And I was meant for you.
If you can say and believe those words with the people in your life, that's all you need. Those two sentences are so powerful. And yet so simple. Because what's simple is usually what's true.