For someone who wasn't raised very religious, Easter has just always meant family to me.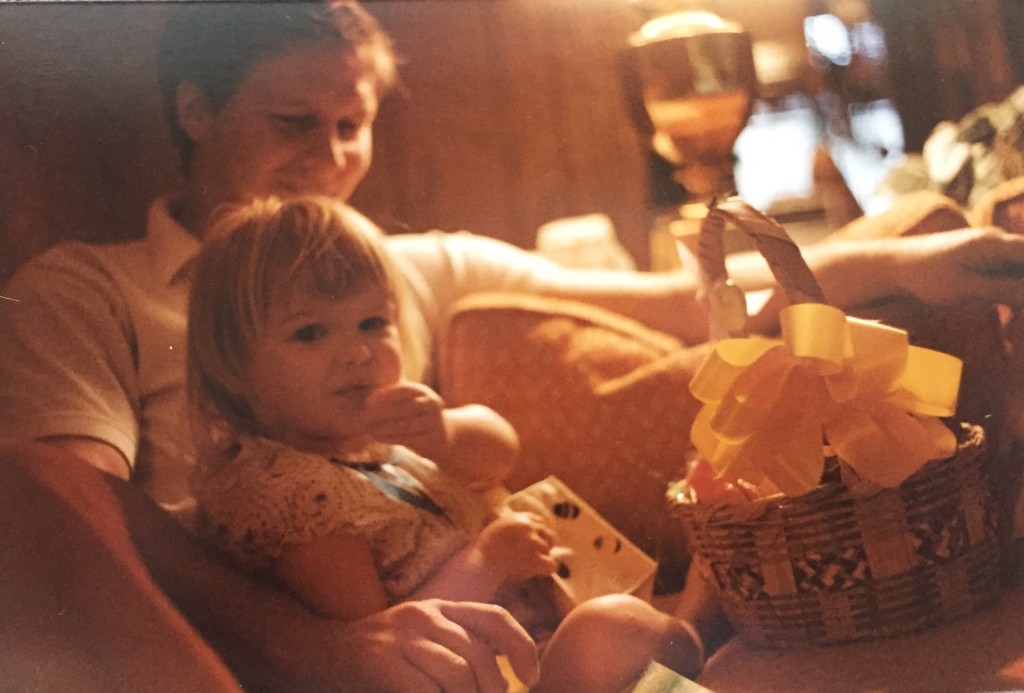 When I was little, most of my Easters were spent in Wrightsville Beach with cousins, then as I got older, we spent them closer to home with other cousins. My Nama was usually present for both.
So Easter makes me think of her more than anything, if I'm being honest. I think of her whenever I get dressed that morning- I think of how she used to take me shopping at the mall for my Easter dress and shoes, how she'd prop me up on her bathroom counter top- curl my hair and curse it at the same time (because my hair just does not curl), then have me pose for pictures on a staircase, or in front of a bush she felt beautiful enough, until my camera smile started to fade, and face began to ache (because she took forever to take a photo) and until the non-curls had officially left my hair and she was, yet again, cursing them.
Every Easter I wear her pearl ring she gave me for Christmas when I turned 18.
It's a ring I coveted as a child and couldn't find my breath once I found out it was actually mine.
So it goes on my finger before anything else every Easter Sunday. I pull it out of my jewelry box in my bedroom, inside the navy blue, velvet ring box it's always lived inside, and place it on my right hand. I hold it out in front of my face and look at it, with the same smiling eyes I did as a child, bring it to my heart, and close my eyes. I do that for her. It's a way for me to have her with me again. It's the same reason why on every Christmas Day, I make her roasted pecans.
We do what we can to keep the spirit of the people we've lost alive. That's what gets us through life without them.
So really, Easter for me and my family has always been a chance to gather with as many people as I love and cook delicious things for them… in elevated, ladylike fashion. On any given Easter Sunday, you'll find me dressed in pastels and pearls, (once a year, baby) cooking up a feast for as many lovies as I can find, with champagne in hand. (Even though the heels have usually come off around noon, leaving me only presumably ladylike from the ankles up.) And the kids are generally running around, hyped up on Cadbury Egg Crack.
It's a fun day in my house.
I make Carrot Cake Scones (<–it's an old post… so be kind, y'all 😉 ) for Easter morning breakfast for us all to eat while the kiddos tear into their baskets. And this year, I stuck to the general plan. However… this year, I was up at 4 a.m.- starving and otherwise without purpose. So I ate my scone in the dark, nekked, then sleepy-walked back upstairs (because… maybe I could sleep again post-scone?) Turns out I was right (hooray!). I woke up, two hours later, to the delicious sensation of my baby girl cuddling with me on my pillow. Pretty groggy from my recent scone nap, I cuddled back (because… delicious).
We headed downstairs and I proceeded to watch my babes eat their scones (and also chocolate) while I drank my coffee on the couch, and soon thereafter the living room looked like a recycling bin.
Just. Paper. Everywhere.
Cadbury Egg high had taken over, and I absorbed the sitting for as long as I could before duty called. This year, my baby brother was coming over again. And by baby, I mean 32. My kids love that man.
So the Cadbury Egg Crack seemed to last a little bit longer than usual with him in the house. They take turns showing off for him whenever he comes over. They're pulling him in a dozen different directions, and he lets them. It's so touching to watch the person you grew up alongside playing with the ones you gave life to. Watching my baby girl and boy play the way he and I did, with him around, is like nothing I can fully explain.
It's heart magic. And we're just not supposed to be able to explain heart magic.
We moved next to a brunch of Pimento Cheese Biscuits with Peach Preserves and Prosciutto, fresh fruit and the option of either mimosas or bloody mary's.
We chose both. (If you're a serious bloody mary person, please, please, please check out my favorite craft cocktail makers: The Napa Valley Distillery and their version called The Real Dill.)
And then after a couple of those went down, (heels off) I took the kids to collect eggs from the Wade family hens, (a literal egg hunt) knowing that by the time we came back, they'd have a house smattered with hidden plastic ones for them to find.
It had been raining all day, so our usual backyard egg hunt had to be brought inside this year. The kids and I walked back in the door to little, oval pops of color all over the house, thanks to my husband and brother. The kids didn't seem to mind the change.
The pork for dinner was already in the oven, smelling more than awesome at this point, and knowing I still had some finishing touches on the meal to make- mainly more gnocchi to form- I was more than happy to grab the littlest and put her to work after her eggs had been found.
I got everything else prepared, managed to get cleaned up and out of pastels and pearls and into Beatles shirt and boxers, and we had ourselves a supah fine Easter dinner:
Fennel and Rosemary Crusted Pork Shoulder with Minted Pea Puree and Caramelized Carrot Gnocchi with Brown Butter Golden Raisin-Caper Sauce
(recipes to come).
We sat on the floor of the living room (our dining room is still covered with kitchen cupboard items…we seem to be in a never-ending state of renovation) and there may or may not have been a rumor going around the floor of this being the best meal anyone had eaten in awhile? I mean… not to spread rumors… it's just what I heard…
Then I headed back into the kitchen, wine in hand, to get dessert finished. We were having Coconut Buttermilk Pudding with Salted Pecan Granola and Caramelized Pineapple (recipes to come). I had made the pudding and the granola the day before, so all I needed to do was get the pineapple yummified. And, I think it goes without saying that the smell of melted butter and brown sugar is one of life's greatest things. (As was that dessert… rumor has it.)
I had taken my ring off with the gnocchi dough and set it aside in the kitchen. Then I forgot about it as the night carried on. When I went to clean today, I came across it again. It made me smile. I've yet to tuck it back in to the navy blue velvet ring box in my bedroom. I kind of like how it's still hanging around a little bit longer… Sort of like Nama standing before me all those years, hunched over, trying to take the perfect Easter picture.
Letting something you love linger before you for longer than you think is necessary is… sometimes necessary.
That's heart magic. We can't explain it. It just is.
I tucked myself into bed early that night, tummy and heart full. I had my Nama holding my hand all day, my baby brother playing with my babies, my husband by my side… and lots of food and drink made with a tremendous amount of love. You simply cannot beat that, no matter the date on the calendar.
Regardless of what you believe or celebrate, I just hope you all had a little heart magic yesterday.
PIMENTO CHEESE BISCUITS
In the bowl of your standing mixer, combine the following dry ingredients…
2 cups all purpose white flour (you may need more)
1 TB baking powder
1 1/2 tsp kosher salt
1/8 tsp cayenne pepper
Mix to combine.
With the mixer on med-low speed, add in…
1 1/2 sticks very cold unsalted butter, diced
Mix this until the butter has broken down to pea sized pieces into the flour mixture.
In a small measuring glass, combine the following…
1/2 cup cold buttermilk (full fat and real, please)
splash of white vinegar
2 cold egg yolks
Whisk the yolks into the liquid with a fork. Slowly pour into the butter/dry ingredient mixture while it's mixing.
Mix until you have a (slightly sticky) dough.
Slowly add in, while mixing…
1 1/2 cups grated EXTRA sharp cheddar cheese, which is roughly 6 ounces… it doesn't need to be an exact measurement
2 ounce (small jar) diced pimentos, drained well and patted dry (this is 1/4 cup)
Once the cheese and pimentos have been evenly distributed, turn the dough onto a lightly floured surface, and with floured hands, shape into a rectangle, about 1-2 inches thick.
Cut, with a bench scraper if you have one, into 8 rectangles and transfer each rectangular biscuit onto an un-greased cookie sheet. (Why rectangles? Because even though I'm no rocket scientist, I've got the food smarts y'all. Check here for the video explaining why, and my recipe for Whole Wheat Buttermilk Biscuits. And again, it's an old post. Because…bangs.)
Brush the tops with some half & half or cream and place on the top rack of a 450 degree oven.
Bake for 15 minutes (this is my oven, yours may have you checking them around 12 minutes to be sure you don't overbake them…you're looking for firm centers and light, golden brown edges).
Allow to cool on the sheet until easy to handle. Serve warm, if possible. Or room temperature. And they're supremely delightful split and toasted, slathered with peach preserves and piled high with prosciutto or country ham… with or without the addition of a runny egg 🙂
But also, they're perfection on their own, and with the people you love more than words.
…
Thanks for reading, y'all. Love XOXO